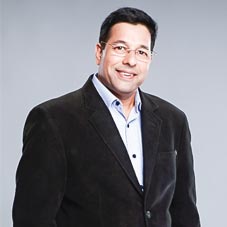 The brainchild of UR CFO, S.Sriram's journey of driving successful financial operations of companies began at the entry-level of handling the Finance function. Thereby, learning the nuts and bolts of all the aspects of the Finance be it Accounting, MIS, Budgeting and Planning, Taxation, Banking, Insurance, or Treasury. Slowly and steadily, he climbed the corporate ladder to lead organizations as a CFO. His initial days in a reputed and well-established group like Godrej, ingrained core values, processes, policies, and internal controls. Post his stint at Godrej Sara Lee (the makers of Good-knight and Hit brands), he got an opportunity to be a part of a start-up within the Godrej group, which expanded the horizon helping him to witness the challenges faced by a start-up.
Having a very rich experience in the manufacturing sector, he then decided to learn the nuance of Finance in the Service sector and towards this, he joined Leo Burnett, a Publicis Groupe company. At Leo Burnet, Sriram was responsible for handling several roles from being the Finance Head for the Western Region to being the interim CFO. Having spent a large part of his career in well-established groups, he moved to a completely unchartered domain of a start-up in the cosmeceutical sector. Apart from the core Finance function, he spearheaded the Equity infusion into the Company by VC/PE funds.
The extensive expertise and rich experience in leading the financial function in businesses of all sizes have made him a maestro in the market. Indeed, the journey wasn't a cakewalk. Considering his journey to be a true inspiration for several budding entrepreneurs, CEO Insights engages an exclusive interview with S.Sriram, Founder & Chairperson, UR CFO Consultancy pvt ltd.
What different roles have you been undertaking at UR CFO?
The role of CFO comprises various facets of the Business and need to be agile and adapt to the given situation. The tagline of UR CFO "UR Growth Our Motto" itself speaks a lot of our perspective while we
approach any client. For instance, in respect of some of our clients, we participate in the Board meetings of the company as a CFO and help the promoters drive the business on the growth path. We recognize that each client is unique and their requirements will also be unique. The approach of 'one size fits all' will not work and hence we customize our offerings to each client based on their requirements.
What are the key drivers that UR CFO deploys to ensure that the client's finance is used appropriately to meet its short/long term needs?
As a virtual CFO of our clients, we help in crafting a growth strategy. We deploy capital budgeting tools, including Scenario building and Sensitivity analysis to evaluate various projects. We ensure that we deploy the financial resources in a manner that optimizes the financial returns and at the same time is in line with the long term strategy of the organization. We also ensure that the funding has an appropriate mix of long-term and short-term funds in line with the application of the funds and the growth plans of the organization.
UR CFO is the trusted brand for being a Mentor, Partner and a CFO for a start-up and also being a one-stop-shop for all the Finance function of large well-established corporates
What were the initial challenges that taught you the basic lessons of managing diversified functions of organizations?
As in any start-up, the initial phase is the most challenging. But it is also true that unless one faces this trial by the fire, one will not succeed and be equipped to handle bigger challenges. Just like Thomas Carlyle states "No pressure, no diamonds".
The initial phase reinforced in me the importance of laying down a very strong value system which constantly guided me in selecting the right opportunities and passing on opportunities that would require the value system to be compromised. The initial phase also taught me to be agile and solution-oriented when it comes to the identification of value accretive solutions for our clients, without compromising on the compliances. This was also the defining moment for me and the team, by clearly identifying our Vision, Mission, and Objectives. This guided us in
deciding on what business verticals to pursue and which are the business verticals we do not wish to be present.

How does your vast experience in Corporate Finance, Business Control & Accounting help you to chalk-out efficient business modules at UR CFO?
We bring to the table a unique mix of strong processes and policies which exist in large well-established groups like Godrej and Publicis Groupe and the agility &solution orientation required in start-ups.

This unique mix helps us in recommending the right solutions for our clients. Also given our lean structure, we can bring the most cost-effective solutions for our esteemed clientele. This is although each of our CFO Partners comes with more than 2 decades of senior leadership experience and collectively we bring more than 100 years of experience to the table.

Highlight the milestone that bestowed you with utmost satisfaction?
My journey has been a very enriching with several milestones that I cherish. If I were to single out the most satisfying milestone, it would be the day when the CEO of Publicis Groupe called me and asked me to take interim charge of the CFO role. This was truly a recognition of all the efforts I had put in making the Western Regional Finance, which I was leading, to be one of the best Regional Finance team.

How has your family supported you in your career so far? Also, how do you manage to balance between your personal & professional life?
Any start-up is extremely demanding and consumes you completely, there is no fixed timing, there is no fixed schedule and one has to keep on addressing several critical issues single-handedly. During this phase, it is extremely important that you have the right kind of support system. I am truly blessed that my family has been very supportive and especially my wife who kept on encouraging me and at the same time, ensuring that all the personal (home front) responsibilities are completely taken care of, no wonder, they say, "Behind every successful man is a Woman".

S.Sriram, Founder & Chairperson, UR CFO
Personal Front
Sriram has been an athlete a long distance runner since childhood. He is very passionate about running. He loves to travel and explore newer destinations, the local culture and cuisines. One of his favourite destinations is Himachal Pradesh.