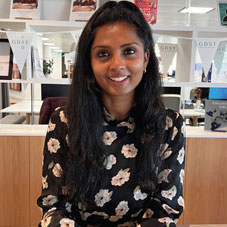 Tashi Shetty is a marketing professional on a mission to drive positive change in society and make her mark in the gender equality space. In her current role as Head of Marketing at the GDST, her driving force is to unlock the power of creativity to celebrate the importance of empowering girls through education.
Tashi studied Social and Political Science at the University of Cambridge, followed by a degree in Management Studies from Judge Business School. She brings to the table over a decade of experience from various organizations including CNN in New York, House of Commons in London, and IPP Media in Dar es Salaam.
In an indepth conversation with CEO Insights magazine, Tashi shares her professional journey and the various lessons she has gathered on the way. Let's hear from her.
You possess over a decade of experience working in the marketing sector. What inspired you to foray into the industry and what has your path to success been like?
I was drawn to the world of advertising as an opportunity to bring transformational ideas to life. At its best, advertising has the power to shape society for the better.
It is an incredibly stimulating space where data and creativity meet to create magic. I started my career at an independent advertising agency in London, which developed integrated communications strategies for global brands such as Timberland and Patek Phillipe. After a number of years of working in advertising, I moved on to pursue a long-held ambition to build a more equal and inclusive world and was drawn to the Girls' Day School Trust (GDST) and its commitment to gender equality. I worked my way up to the role of Head of Marketing and am responsible for building the brand and reaffirming GDST's position as a global leader in girls' education.
Define Girls Day School Trust as an organization and tell us about its current position in the market.
The GDST is the UK's leading family of independent girls' schools. Our first schools were established in 1872 by four brave women with a radical vision, at a time when girls did not have access to education. Their mission continues to be ours today to provide a forward looking and inspiring education that prepares girls to go out into the world as change makers, to be instrumental designers of the future in ways our founders did 150 years ago.
The Girls' Day School Trust is a family of 25 schools across the UK delivering innovative learning environments that are designed for girls - girls who will go on to design the future
With over 20,000 students and 4,000 staff, the GDST creates learning environments that are designed for girls to learn without limits so that they can go on to live lives without limits.
What are some of the latest strategies that you have adopted to optimize operations and engage new audiences, as the Head of Marketing?
Whilst there has been great progress for women over the last 150 years, we cannot take anything for granted and our mission remains as important, urgent, and as relevant as ever.
Overall, our marketing strategy centers around celebrating the power of an education designed for girls, showcasing how and why these girls will go on to design the future. We have developed a multichannel brand awareness and engagement program to connect with new audiences and capture hearts and minds. A flagship piece of content we recently created is the Spotlight Series, a powerful series of 25 hero films featuring students from each of our schools, showcasing their unstoppable spirit and ambitions to shape the world. The films are designed to challenge gender stereotypes and in their first few weeks of launch, led to over 20 million impressions through our digital campaign. In addition, we have developed Raise Her Up, a parenting podcast series (which now reaches a global audience in 144 countries), and have also formed a range of partnerships with TEDx, Women of World Festival (WOW), and the International Coalition of Girls Schools (ICGS), in our mission to build a global movement to stand up and speak out for girls around the world.
To mark the GDTS's 150th anniversary, we commissioned a landmark piece of research, the Girls' Futures Report, to assess what girls and young women feel about their future, their ambitions, and challenges. This enabled us to understand how to better equip them to prepare for the world and reinforce our position as thought leaders.

What are the methodologies that you follow as a leader? Tell us about your leadership approach.
I aim to set a compelling and ambitious vision for the future and motivate my team to fulfill their part, giving everyone a sense of possibility and responsibility. I embrace change and enjoy experimenting with new ideas to help foster a culture of creativity and innovation.

I believe kind and respectful leadership that is anchored in values is the most authentic. If the leader of an organization is driven by a vision that they care about deeply, it can be infectious, transformative, and have a positive impact on organizational growth.

What is the future destination that you are heading towards?
In the future, I hope to continue forging a path toward building a fairer society and remain fearless and focused to make a difference through my work. In the near future, I will be joining the board of an NGO in India that has transformed thousands of lives of the most marginalized sections of society. Organizations like these fight for justice and remind us to celebrate the progress that is being made toward a better future for all.

Tashi Shetty, Head – Marketing, Girls Day School Trust (GDST)
Tashi is a dynamic marketing professional with an international background and a passion for driving positive change in society. With over a decade of experience in building global brands and developing marketing strategies across multiple sectors including education, retail, and finance, Tashi blends creative and commercial experience to drive business transformation and work towards her overall goal of building a fairer, more equal world for everyone.

•Favorite Hobbies-Travelling and discovering new cultures, HIIT training at F45, reading (especially dystopian fiction)
•Favorite Cuisine-Indian
•Favorite BOOK-The Handmaid's Tale by Margaret Atwood
•Favorite Travel Destination- Jungle hikes in the Peruvian Amazon Rain forest, the vibrant streets of Havana, and the magic of the savanna at sunset in Kenya