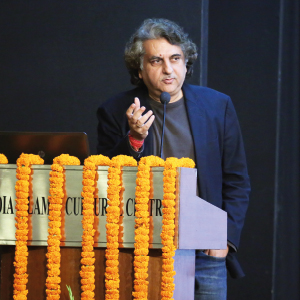 Way back in 1987 when owning a portable computer was considered amazing, Ranjan Chopra (Team Computers, Managing Director) was eager to translate his deep knowledge in repairing computers and other technical devices into delivering service and maintenance of computers. Being an IIT alumnus with work experience from Philips India and Raba Contel, Ranjan overcame the shortage of working capital successfully and laid the foundation for Team Computers, which solely handled IT hardware. Instilling the highest values, desire to think, dream, create & serve, and amalgamating both technology & efforts in team building, into its wide range of smart services & solutions, Team currently stands as a pioneer in carving IT infrastructure & information solutions, and envisages to outshine as the quintessence of a company that executed its deep-rooted dreams. In an exclusive conversation with CEO Insights, Ranjan has articulated Team's excellence in project and end-to-end solutions deliverance for IT infrastructures with a professional human touch.
What does 'Team' signify in your brand's name and what are the avenues you leverage to satiate your customers?
Since Team's inception, we have been carving our forte in imagination, planning and behaviour. Practicing a three faceted approach of capitalizing our strengths, fuelling expansion of built practices and constantly investing in developing upcoming technologies and customer segments. Besides working on the regular assignments, our team of adept and passionate employees ensure fostering the customers' ideas and implement them. We edify our customers on the technology we deploy and ensure that they get well acquainted with it. This is done through regular communication on its usage, change management for end user technologies, training & regular customer support. Clearly, our motto is not just to deliver a full-fledged experience to each customer, but also to help the other stakeholders (partners, members, organization & society) succeed in their endeavours. As quoted by an exteam member,'Team is an
organization that builds entrepreneurs'.We discuss with our customers, primarily entrepreneurs; about their future business plans and assist them in choosing the right technology solution aided by our research team for them. For reshaping the existing industry and invent a new future.
We are translating our decades of experience in solving complex IT problems into the provision of 'Zero Incident Program' - an incident-free environment with maximum uptime
How are your diversified services inscribed with technicalities of the trending technology?
With our extensive experience in the IT realm and the latest centers of excellence (CoE) in wireless, enterprise mobility, AVSI and Information Security services, Team pioneers as a one-stop-shop. It entails a suite of high quality, fast, flexible and affordable solutions across areas of computing and mobility devices, networking, data centers, security, Cloud, email productivity and AV. While framing these solutions, we are particular about executing our customers' IT goals. All this at a less cost, less setup time, warranting high-end performance and expandable computing power, storage & bandwidth. We partner with AWS, Google Solutions and Microsoft Azure. Further, we are translating our decades of experience in solving complex IT problems into the provision of 'Zero Incident Program' - an incident-free environment with maximum uptime. We assist the clients' businesses by providing an intricate analytics strategy that enables them to harness the power of essential data and deploy the best of technology in creating intelligent solutions. Additionally, we analyse, design, implement, test, integrate the customer's systems and efficiently build tailor made, scalable, compatible & flexible applications with the available resources. This ensures saving time, cost and energy.
To seamlessly manage these services, Team's Managed Services team focuses on deploying latest in technology, maintaining solidly built security, rendering 24x7 remote support, automating processes, predicting costs. All of these results in reducing paper usage, thereby maximizing business continuity and minimizing loss. With our deep-rooted emphasis on leveraging the next generation
technologies like IoT, IIoT, AI and ML into these services & solutions, we stand as the first company to institute the services of Qlik in India. Our BI platform presently holds partnership with 40+ technology providers - including Qlik, Tableau, Alteryx, Power BI,and SaS, all leaders, featuring in the Gartner Magic Quadrant.

The Head of Google Business Practice, Prashant Dheer Gupta, perfectly quoted, 'Our journey in digital transformation has witnessed various accomplishments across industries since 2007. This is due to the focus vested on G Suite, automating 95 percent of the mundane work for workers, leaving them free to do higher tasks'. Talking about our determination, our Director- Infrastructure Solutions, Mahesh Tomar says,'No stone is unturned in adapting to the emerging changes in digital transformation, its agility, security, geoexpansion, mobility, Cloud and connectivity'. That's what Team is all about!

How do you manage to constantly train your team while accumulating their ideas in developing efficient solutions?
The super-dedicated team of engineers work proactively on incident root cause analysis, automation, proactive maintenance, end user support, innovative mobility and workforce management for an unbeatable customer experience. We so respect our employees' ideas, besides the seamless innovation to the development of Q-insure (Insurance Analytics framework) and Kockpit (plug-and-play analytics for CEOs and CFOs) which validate our team's creative ideas. While organizing training programs regularly for people; with comprehensive team building, we look to expand, in terms of revenue, mobile applications, collaboration, security; geographically in the years to come.

Key Management:
Ranjan Chopra,Managing Director
Holding extensive entrepreneurial learning with Qla and Zorba, Ranjan has established Team Computers to assist the promising entrepreneurs, in embracing their failures, learning and making new mistakes, as important facets of learning. Also he has been spearheading the leaders in executing various digital projects.

Offerings:
● Infrastructure Solutions
● Cloud Solutions
● Business Analytics
● Business Apps
● Enterprise Mobile Apps
● Managed Services

Offices: In 28 cities across India