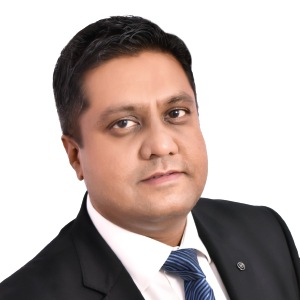 The ubiquitous rise in population, urbanization,adverse weather issues, crime and terrorist attacks in India has led to significant investments in systems and sensors to improve security and safety of citizens,as well as ensure smooth and efficient city operations. These multiple systems generate huge volumes of internal and external data, creating a need to consolidate the information and further more - be able to frame effective solutions for taking the right action in each situation. Serving this demand is Qognify, the leader in big data solutions for physical security and operations.
Heading Qognify in India is Dilip Verma (Regional VP,Qognify India),harbouring 16-year experience in consultancy-based selling for various technologies. Active in India since 2003,Qognify has become a leading software solutions player for the security and operations market, and the "de facto" standard for critical infrastructure and smart city projects. Qognify is a spinoff from NICE (NASDAQ: NICE), invested in by Battery Ventures who had purchased NICE's physical security division in 2015. The new company has successfully transitioned into an independent organisation, leveraging its longstanding industry experience as well as the trust of its large install base comprising of around 5000 worldwide.
Following are excerpts from an exclusive conversation between Dilip and CEO Insights that sheds some more light on Qognify's vision, solutions, view of market trends and an estimation of what is coming.
How does your solution portfolio capture enormous data from an intricate network of security systems and accordingly proffer smart solutions? Could you provide an example of where you see most need for that?
Qognify offers a comprehensive solution which include:
A key element in the Qognify safe
city solution is Situator a Situation Management system that analyses and correlates all the structured and unstructured data involved in resolving these critical incidents, by time,space and severity, providing situational awareness and the ability to effectively manage any critical situation. Situator offers a unique module - Operational Intelligence Centre(OIC), which takes the solution to the next level.

OIC enables users to leverage the massive amounts of big data that Situator captures, monitors and correlates, turning insights from big data into actionable intelligence. If we look at city life, for example, extreme weather conditions are a challenge that urban centres are increasingly facing. OIC can help to anticipate the impact that weather conditions might have on a wide range of safety, travel, economics and emergency services issues. It comprises an advanced "rule engine" which analyzes and detects deviations in leading indicators, which are often precursors to incidents. This allows organizations to prepare for impending incidents, initiate a proactive response and mitigate their impact.

Vision Hub is Qognify's next-generation, web-based video management solution (VMS), which delivers extended video surveillance and security management capabilities. It is a smart,strong and scalable VMS that not only manages video to the very highest standard, but also increases situational awareness and effectively manages security incidents.

In my role overseeing the Indian market, I would definitely highlight the need for safe and smarter cities as a driving force behind the accelerated development of advanced security and operations solutions.

We also have an array of video and data analytics solutions and are expanding into mobile field applications

How do you think your Smart City solutions can support the transition of the present Indian cities into safe, secure and smart hubs?

We plunged into the Indian market back in 2003 by delivering a suite of solutions to the Parliament House,Mumbai Airport and Delhi Police. Qognify is presently engaged in transforming 18 Indian cities into smart cities, our smart city solutions are designed to reduce the impact of mushrooming population and urbanization rates, the rising traffic congestion and
pollution levels by introducing safe, secure and efficient public transportation systems.

Prior to devising these solutions, we engage in holistic planning through our simulation and planning platforms to customize them on par with the city's pain areas and growth plans. More over, we are witnessing a transition of these smart cities into cognitive cities,that include the constant engagement of their citizens via mobile and other advanced technologies.

How do you frame your marketing strategies? what are your plans for the coming years?

We focus on our key advantages and as a major differentiator we always highlight innovation: Qognify has dozens of patents registered, as well as pending. We promote and have very active bi-directional communication between the field and our labs. Our sales and service professionals are constantly feeding our engineers with information and ideas -the market feedback is what drives development of the most advanced technologies.

We use a mix of traditional and innovative marketing vehicles to carry this message to the market spanning from participation at trade shows and industry events and all the way to advance social media geo-based campaigns.

I could not be prouder of our work in India: together with leading integrators, we are implementing safe as well as smart cities projects, including Ahmedabad, Nagpur, Vaizag&7 cities in Rajasthan, and quite a few other cities across the country.

We plan to keep on doing what we have been for the last two decades: working with security conscious organizations where the cost of interruption is high, to help them mitigate risk, maintain business continuity and optimize their operations.

Dilip Verma,RegionalVP(India)
Equipped with multiple tiers of training in the security realm, a strong educational background and 16 years of experience in consulting-based selling for home land security, physical security and infrastructure management systems,Dilip established Qognify in India as a leading software solutions player for the security of critical infrastructure safe and smart city projects.