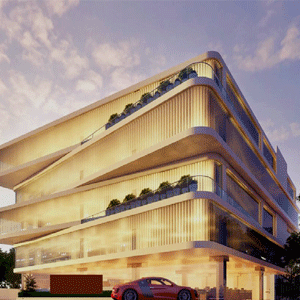 The co-working space market is blossoming due to the substantial rise in the number of startups and their increasing initiatives towards engaging employees by offering them a great environment & amenities. Catering to this growing need in India's biggest startup hub is Tellus Spaces, an entity offering comfortable corporate workspaces with conferencing facilities, which are located just 20 minutes away from Bangalore Airport.
Tellus offers functional workspaces with customizable cabins ranging from 3-16 seaters, which are available on monthly, daily and hourly packages. Being a startup enthusiast with a passion for financial trading, Tanushree Roy (Founder) supports her clients with various services that help them take their companies to the next level. In an exclusive conversation with CEO Insights, Tanushree reminisces her journey, delineates her company's offerings, and divulges the unique factors that distinguish it from the rest.
What inspired you to embark onto the co-working space industry and setup Tellus Spaces?
Hailing from a business family, I was always intrigued by entrepreneurship. Although I had interacted with many people through our family business, coming across people from all walks of life during my tenure at Indian School of Business as an MFAB student facilitated me to encounter different thought processes. It encouraged me to diversify business, rather than sticking with the old business category.
Tellus was incepted in 2018, as I
found co-working space industry as a goldmine with ample opportunities waiting on the horizon. To attract travellers & corporates from all over India, I chose a location close to the airport. Bangalore was the perfect location to start the venture, since Kempegowda International Airport is one of the largest airports in India with strong footfall of passengers. Furthermore, we were determined to set Tellus apart from other co-working spaces, most of which are situated in the heart of the city. We are perhaps the first co-working space in North Bangalore area. These strategies helped us to increase our customer base and move-out to a bigger 10,000 sq. ft. space in November 2018.
Our offices feature brand new modern furnishings with fully equipped plug-and-play data access
Kindly throw some light on your company's workspaces, amenities and your clientele.
Every state/city has its own theme. We have brought-out the unique flavour of Karnataka as the theme for our space. Our offices feature brand new modern furnishings with fully equipped plug and play data access. Our clientele includes early stage startups, corporates, freelancers, artists, city hoppers and clubs like toastmasters. Due to our close proximity to the airport, we also attract a lot of businessmen, who use our quiet, private meeting rooms with seamless conferencing facilities and AV equipment on a daily or hourly basis. Our board rooms are perfect for city hoppers to deal with a quick meeting with a client or a day long workshop. Meanwhile, our virtual office service endows our clients with a great business address to give them the much-needed local presence at nominal costs. Our business clients include Exicon, Comprinno Technologies, Purview, Ray Life Sciences, Decathlon, Toast Masters, and others.
Explain about the customer support that you provide in order to ensure that they enjoy a hassle free experience.
In the very beginning itself, we map the customer's requirement with our service portfolio based on their response to our well-prepared questionnaire. Our well trained service team continuously follows-up to ensure that they are happy with our services. Our team addresses every need of our clients, be it serving drinks and food to our client's guest or delivering couriers. We also have a well-integrated cafeteria for our clients.

We conduct weekly meetings with entrepreneurs and aspiring entrepreneurs in our workspaces to brainstorm various strategies that would help them take their company forward. We support them to successfully complete bureaucratic processes with government bodies like company registration and lend a hand with technical & marketing aspects. I even connect them to my friends in different businesses. We don't try to just provide spaces, but create a synergy between professionals from various industries to share their views with each other.

What is the future roadmap set for your company?
We named the company Tellus, which stands for Earth in Latin, since we envisage to establish a Tellus working space every where. We intend to choose locations nearby airports, where we would be almost the first co-working space company to enter. We have Ahmedabad, Hyderabad and Dhaka next on our geographical expansion list. We have mapped-out a two-year plan to build our brand and reach-out to a wider range of people from different cities. We are also looking forward to establish tie ups with more communities like toastmasters club and exchange our thoughts.

Key Management
Tanushree Roy, Founder
AMFAB graduate from Indian School of Business with experience in the pharmaceutical industry, Tanushree is passionate about various aspects in financial trading and startup culture, which she has ingrained into the Tellus' DNA.
Location:Bangalore