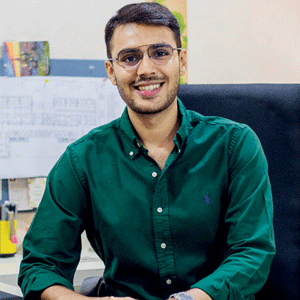 A recent survey by Propstack portrays that the co-working facilities are expected to replace over 25 percent of office leases that are coming-up for renewal this year, thus augmenting the competition among conventional office spaces. In fact, the co-working or shared workspaces surpass the conventional office spaces in a plethora of aspects; for instance, less expensive and budgetfriendly pricing that involves no additional investments apart from the monthly rent. Most importantly, enhanced learning, better work ambience, and stronger community place co-working space a notch above other workspaces in the market. Comprehending these subtle nuances of co-working spaces is The Address, currently outclassing as Gujarat's largest co-working space spanning over 46,000 sq. ft. of area. Poised in the fastest growing metro city of India Ahmedabad across SG Highway a prestigious thoroughfare; the firm stands in stark contrast to its peers by adopting not just the concept of co-working, but serviced office space too among its workspaces.
In an exclusive conversation with CEO Insights,Yash Shah (Founder & CEO, The Address)has elucidated on the magnificence of his company, its spectrum of co-working spaces, and many other aspects.
What kindled you to lay the foundation for The Address, and how has its journey been so far?
It all started when I was working for the company FlySpaces, Southeast Asia's No.1 workspace booking platform for all kinds of workspaces. Here, I was handling around 100 co-working spaces in the Singaporean market and learnt a great deal right from the basic concept to forming community, people's requirements, service
delivery and many other elements. My stint at this firm has in fact played a crucial role in motivating me to introduce the concept of co-working and serviced office spaces across Ahmedabad. When I came back to India, I was pursuing business leadership at IIM Bangalore and simultaneously overseeing the establishment of my company. In May of 2018, I unveiled The Address which to this day greatly attunes with the Indian as well as Ahmedabad's environs.
The very brand name of our company itself echoes a perfect address i.e., a picturesque location for each of our clients
Initially, we were very uncertain if the people of Ahmedabad would accept our co-working concept. But to our surprise, they showed great acceptance, especially companies with an area spanning 2,000 sq.ft. The very brand name of our company itself echoes a perfect address i.e. a picturesque location for each of our clients. Today, we are extremely elated that our efforts to edify people on the concept and benefits of co-working & serviced office spaces have truly paid-off! In just one year, we have grown from 189 to 506 seats.
There's something for all at The Address! Brief us about the workspaces that you offer along with its amenities.
We have a spectrum of single workspaces, work desks, fixed desks, cabins, cubicles and others, designed exclusively by our inhouse designers, and offered for a period of one hour to one year or even more if need be. Especially in cabins, we have a wide range starting from single seaters for just one person and the visitor, to our most privileged premium corner cabins. We have this premium corner cabins established on the topmost floor of Ahmedabad's tallest tower with a double sided view of the city's beauty. Among all, an office within an office, basically a cabin for upto 10 people with multiple amenities stands out as our flagship offering. On the other hand, we charge our clients per seat starting from Rs.7,700-15,000.
Amenities are blended into our co-working spaces. In fact, we have bifurcated the workspace into two different floors one as the working floor with specialized pantry for people to have access to everything they require,and a separate floor for relaxation. This relaxation area includes gym with shower and personal trainers, inbuilt library, and dedicated areas to play pool & table tennis. Moreover, for people who wish to work with a view of this relaxation area, we have created an exclusive business centre for events and formal meetings.

How does the tagline 'Your Destination of Growth' blend within your company's operations?
We ensure that the staff to client ratio is always at 1:7 while providing 24x7 support staff, IT team, facility managers, community managers, and others to take care of any problem or query of clients. Today, we take pride in our 3-5 percent churn-out rate, which clearly shows that hardly few have left us since the inception. This is primarily because they find it hard to leave the community they belong to here, wherein each person helps one another in working better. Some of our present clients include Lodha Group, Piramal Realty, Cars 24, and many others.

Walk us through your company's goals for the future.
By August, 2019, we are planning to go completely green across our ceiling by incorporating vertical gardens as well as ceiling gardens,thereby spreading awareness among people, and also remoulding our space into a better one. To reach the target of procuring 1,000-1,200 seats by 2020, we will be plunging into Mumbai and Pune by Q3 of 2019 and post that into Kolkata, Hyderabad, Chennai, Jaipur and Indore.

Key Management:
Yash Shah, Founder & CEO
With rich experience in the realestate realm, Yash outshines as the linchpin behind The Address, a place eminent for its prestigious location and affordable pricing.

Location:Ahmedabad
Offerings:
•Fixed Desks
•Virtual Office Facility
•Premium Cabins
•Premium Corner Cabins
•Meeting Rooms