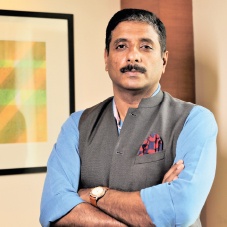 The most fundamental building blocks making-up any business or enterprise are its people, be it employees or customers. It is therefore prudent for companies to invest into keeping customers and employees engaged. Terragni Consulting, a strategy consulting company that solves complex human engagement challenges, believes that it is critical for companies to keep their customers and employees happy. After all, happy people tend to be more engaged, are great brand ambassadors, more forgiving overall, and tend to contribute more.
Putting to use a unique amalgamation of neuroscience, data science and behavior science, the Pune headquartered organization impacts customer and employee behavior massively. Having developed an expansive arsenal of solutions and platforms, Terragni along with its European sister concern Buyer Brain has become a force to reckon with in the human engagement industry. In a detailed conversation with CEO Insights, Dr. Anil Pillai, Director, Terragni Consulting, and Director, Buyer Brain, explains the complex client challenges that the firm addresses and its unique approach to problem solving.
Terragni Consulting is known as a 'Human Engagement Company'. Tell us about the unique approach the firm employs in terms of tackling employee and customer engagement challenges.
As a strategy consulting firm, we solve and implement some of the most complex human engagement challenges faced by organizations through a unique combination of neuroscience, data science and behavior science. The unique approach helps us dig deep into the friction that is inhibiting engagement within the organization. Our team thus designs solutions that shift employee and customer behavior by eliminating friction and designing desired motivations. Our unique focus on deep conscious & non-conscious insights from customers, dealers and employees allows us to contribute to our clients' top line or bottom line growth.
What are the various solutions and platforms developed by Terragni
Consulting? Also, how are these solutions implemented to ensure optimum output?
Based on our deep knowledge of various industries and actionable insights, we have developed a plethora of solutions and platforms such as 'EAS' for customer and distribution channel friction & sludge and 'EAS' for employee friction & sludge. Additionally, 'The Purposeful Manager' assesses and addresses the focus and energy a leader brings to her/his rol,e while 'MRI' assesses how customer centric is your organizational culture & teams. Lastly, we have designed Terragni Experience Grid (TEG), a template that prioritizes organizational focus areas & resources towards implementing engagement initiatives and Terragni Experience Assessment (TEA), which assess the comprehensive customer and patient experience being delivered by your organization.
Our solutions allow companies to assess and enhance customer experience & customer loyalty across the entire customer journey, along with assessing & enhancing patient and caregiver experience across the entire healing journey
All of the aforementioned solutions are designed by leveraging our team's deep knowledge base and actionable insights. Having mastered various domains and verticals, our globally awarded frameworks and industry proven models are used by organizations across verticals such as insurance, banking, lending institutions, healthcare, retail, auto, manufacturing and consumer goods. Implemented with a razor sharp focus, we ensure that all our implementations are grounded, rigorous, in touch with reality and connected to hard-nosed business outcomes.
Being a customer centric organization, what are the various employee engagement challenges that your services mitigate?
Our people engagement practice focuses on solving employee challenges pertaining to identifying the talent gap in your organization, and matching it to corporate & customer demands. Our team specializes in identifying, recruiting and on-boarding the right talent in key executive positions along with coaching & nurturing initiatives for existing talent. Our solutions are designed to eliminate employee friction and enrich employee
engagement. Other than measuring, creating and sustaining a customer centric culture, we also ensure to create and sustain behaviour shifts in teams towards engagement & enhanced performance. Leveraging our unique Neuroscience based platforms, our team performs assessments to identify high potential employees.

How do Terragni Consulting's customer engagement services help companies cope with the various roadblocks they face?
Our customer engagement practice focuses on solving market and customer challenges such as assessing & eliminating customer friction using Terragni's unique Neuro science based platforms. By making use of neuroscience, data science and behaviour science, we can map & redesign B2B, B2C & B2B2C customer & distribution journeys and touch points.

We solve business challenges that enhance growth by enhancing customer engagement and redefining existing behaviours. We design behaviours, habits and motivations that enhance customer engagement. Our solutions allow companies to assess and enhance customer experience & customer loyalty across the entire customer journey, along with assessing & enhancing patient and caregiver experience across the entire healing journey.

Tell us about Terragni Consulting's clientele. Also, what is the road map ahead for the firm's journey in the near future?
Spanning various industries, we have worked with market leaders such as Legrand, Bajaj Allianz, Axis Bank, Bajaj Electricals, Minda, John Deere, Sherwin Williams, Renault, Reliance, Kone, Dr Reddy's, BASF and Skol Beer, among various others. Most of our focus areas are in their growth stage. We believe we have a significant early mover advantage and hope to aggressively build on it further. In the coming years, we foresee AI playing an interesting role in our growth story.

Key Management
Dr. Anil Pillai, Director
A certified neuroscience performance coach with deep expertise in cognitive, behavioural and human sciences, Dr. Anil resolves complex challenges through neuroscience-based emotion insight and behaviour design. His research, work and passion is in the area of emotion insight, behaviour change, habits, motivations and cognitive barriers to engagement.

Offices: Pune (Headquarter)

Offerings: Human Engagement, Customer Experience & Friction, Acquisition, Retention, Growth, Loyalty Executive Search, Executive Coaching, Development Center, and Customer Centric Culture.