Thiagu Bhojan: An Industry Veteran Leveraging Years Of Expertise To Mark Success In Engineering Services Industry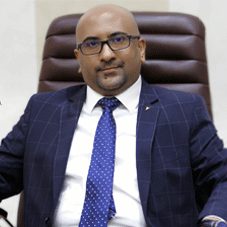 The global engineering services industry is expected to grow from $830.48 billion in 2020 to $938 billion in 2021 at a compound annual growth rate (CAGR) of 12.9%. This growth can be attributed to the companies rearranging their operations and recovering from the COVID-19 impact, which had earlier led to restrictive measures. The global engineering services outsourcing industry is expected to expand at a compound annual growth rate (CAGR) of 22.9% from 2021 to 2028. Owing to the increased collaboration between Engineering Service Providers (ESPs) and Original Equipment Manufacturers (OEMs), the Engineering Services Industry is expected to emerge as one of the primary factors contributing to the growth in the adoption of engineering services.
A Saudi based firm, 3T Group (Top Tag Trading) is renowned for delivering world class, reliable, sustainable and cost-effective engineering equipments, solutions and outstanding support services to its customers. Led by industry veteran - Thiagu Bhojan, CEO, 3T Group - Saudi Arabia, today, 3T Group is a celebrated industrial distributor with core capabilities in the space of Compressed Air, Industrial Refrigeration Compressors and Packages, Process Gas Compressors, Process Chilled Water and HVAC Chiller Solutions, Pumping solutions, Industrial Valves, Spreading and Maceration equipment, Process Safety solutions. 3T Group serves Oil Refineries, Petrochemical, Steel, Power, Mining, Construction, Cement, Chemical, Food Processing, Dairy, Beverage Bottling, Cold Rooms, Hospitals & Hotels and other Industrial markets.
In an exclusive interview with CEO INSIGHTS, Thiagu Bhojan, talks in detail about his professional journey, 3T Group - Saudi Arabia and their operations.
Throw some light on your educational as well as professional background prior to 3t group. What are your skill sets and strengths that contribute towards your journey of becoming great leader?
A person's professional journey starts right from the day he/she steps into college. I studied at Bannari Amman Institute of Technology which played a major role in shaping my exposure in the early days. I still remember spending most of my time outside my classroom during the final two years of my engineering which were focused on organizing & hosting various educational & thought leadership events. The best outgoing student award conferred during my graduation helped me kickstart my corporate journey with a great amount of confidence.
Starting my career from German multinational conglomerate Siemens in early 2000s to moving the up the ladder to another US based automation major - Rockwell Automation, I honed my skills and refined my knowledge on key account management and perfected working with global accounts of the organization. Most importantly, I was mentored by good leaders from whom I learnt various nuances of customer centric sales, gained a solution selling approach and strengthened my competence to take the next leap.
As we marched ahead in life, with the help of my endorsers, I moved to Siemens in Dubai where I worked on OEM initiative handling - a wide portfolio of products with some of the largest clientele in the Lower Gulf Region. It was a multi cultured environment with over 80 nationalities.
I knew I was in the right path when the next big challenge came my way from Multivista Global to establish their automation products distribution business from grounds up. This was the most fascinating part of my professional journey where I could put an entire decade of learning into use. It was a high pressure, quick turnaround business which provided immense lessons for independently handling a business and I grew it into a self-sustaining and a multi-million dollar
business. This is where I learnt how to do lot of things at one time.
As I approach the mid of my career, I'm proud that my achievements have been centered around teamwork at various organizations. Today, I am happy to share that some of my achievements include "Award for OEM Initiative Program" by Siemens Germany and "Best Division Awards" at Multivista are noteworthy.
Tell us about your journey at 3t group so far. What were the initial challenges that you had faced and how does your industry experience help you to chalk-out efficient business modules at 3t group?
I came on-board 3T - a start-up organization and Saudi owned business, during 2016 to establish the industrial equipment distribution business. Being one of the early employees to join, I had to don different hats to manage sales management, marketing, business development, Business operations, Human Resources, statutory and much more.
I believe, as a leader you need to have an entrepreneurial mindset where every day has new milestones, achieving one by one and watching the business grow has given me utmost satisfaction
During early days, when we had just began to establish the brands we represent, being totally new and market not performing as impressive as expected, my constant source to stay self-motivated was this quote from Jack Ma, Co-Founder of Alibaba Group that a says - "Never give up. Today is hard, tomorrow will be worse but the day after tomorrow will be sunshine - The secret to success is to keep your dream alive. You must keep your dream alive because it might come true someday."
The experience of working for large corporates where I learnt systems and processes came in handy. In a young firm, I have the advantage to create the system from scratch based on what suits best for my business and customers. One can opt to be very flexible unlike the larger ones where you cannot change even a simple step in the chain. The learnings I had at Multivista came in handy as both were similar business models. In fact, today they are also one of our partners and it was with my knowledge and skills that I was able to replicate the best practices of distribution business from them.
While challenges are part and parcel of life, my journey has also been as exciting as a skydive and my safety gear is always my team who stand supportive. I consider my team at the core of this business, each one of them are entrepreneurs for their individual businesses and are allowed to run it in this fashion. This brings tremendous amount of responsibility and they are able to bring vision and value to their core areas.
As a CEO of 3t group, what are the strategies/methods you put forward to align your organization with your vision and mission? Also, how do you address the various demands of customers?
At 3T, we constantly strive to create value to our esteemed customers by offering them world class engineering solutions and outstanding support services that are reliable, sustainable, lowest total cost of ownership and enabling our customers to be successful. We vest our focus on considering opportunities which are aligned with the mission of our business.
Over the years, our clients have been fast-evolving, and the times are still challenging. Industrial distribution business is a strong business built on relationship and bonding between manufacturer and their channel partner. Our team of skilled professionals identifies, evaluates and partners with leading manufacturing companies to bring their products & technologies to our customers in Saudi Arabia. At an organization level, we always make sure that the customer is at the Centre of every activity.
As an authorized distributor, in addition to supply chain and warranty, we at 3T also provide product support, technical assistance, quality assurance along with security and compliance. The installation of an altered or modified product poses a threat of
operational safety and security, intellectual property infringement and inability to comply with standards imposed by regulatory bodies in Saudi Arabia. These are extremely critical for a running industrial plant and we look at different ways to excel in each of these aspects.

With my corporate experience at Siemens and Rockwell, I had first-hand experience to grasp the expectations of manufacturer, their vision for the market, limitations and strengths. Now being on the other side of the table, in addition to fulfilling the partner's requirements, we are also focused on bridging the market gaps, thereby exceeding the expectation of our customers while providing value to the industry we serve.

How are you aligning with rules & regulations and certifications to meet the requirements of the government?
As a company with strong ethical culture, we have defined our boundaries clearly and there is no compromise to this philosophy. In the recent times, Saudi Arabia has been in news regularly for all the transformation happening within the kingdom. These are the best times for small businesses aligned with the Saudi Vision 2030. The changes and initiatives put forth by the country's leadership to reduce its dependence from Oil is commendable. Our adherence to compliance standards is core of our business model and provides the required impetus to grow along with the economy. The new rules serve as a good fit to us, we want to be a strong local player and a valuable partner to our customers in making them successful.

How has the growth of the firm been so far? Also, what are the factors that have contributed towards the success of 3t group?
For a young venture, the initial years are always full of ups and downs and we are grateful that we have successfully passed these stumbling blocks. We could endure the Covid-19 difficulty, as our team was always ready to brace for impact and in fact we have come out with flying colors. With the true growth phase of 3T just beginning and so is the post Covid economic recovery in Saudi, we are quite excited the way things are shaping up for our business. We already have our geographical expansion plans in place, the first being our adjoining GCC countries. While the travel restrictions have delayed our plans, in a way, it's a blessing in disguise, giving us ample time to study the markets and prepare our entry strategy.

How do you manage to strike a balance between your personal & professional life? Who do you look up to for inspiration or mentorship?
I believe, as a leader you need to have an entrepreneurial mindset where every day has new milestones, achieving one by one and watching the business grow has given me utmost satisfaction. Throughout my entrepreneurial journey, my family has always been my pitstop where I refuel myself. They refresh me in record time so I can go for the next lap. There is only personal life and professional is just one of the roles we play, I'm very pragmatic about the roles I play and that makes it easier. Having said it all - 'Family always comes first' and my world stops when I have to attend to family needs and that's when my team takes over to support me. Having a strong second line and delegating activities and overall trust in the team helps every leader in having a good work life balance.

What would be your message to budding entrepreneurs across the industry?
I'm glad I did not have a choice overload. Today, when I look back at my professional journey, I see a common factor which fueled my ambition –"taking an idea and successfully executing it". Building an organization grounds-up has been my strength and an achievement, turning an idea into a vision has given me immense satisfaction. As an individual, I feel elated when my team approaches me to share their challenges or achievements without hesitation. Start-up environment is not everyone's cup of tea. You should be someone who loves to take challenges head on, flexibility to work in unpredictable conditions and most importantly taking things into stride and moving on. Also, never believe when people say life gets easier when you work hard during your early days of career, you got to work with passion every day and there is no destination in this journey, the goals you set become your milestones and for that, you got to be on your toes constantly.