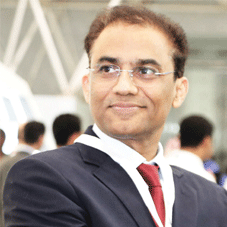 Saudi Arabian Packaging industry including the corrugated cartons has matured over the years. United Carton Industries Co ( UCIC ) is the market leader in Saudi Arabia in the corrugated segment with a capacity of approx. 400,000 Tons Per Annum. With estimated revenues of $300 Million, it is by far the largest corrugated manufacturer in the MENA region. The company serves the well-known MNCs as well as the best in class domestic industry through its 5 state of art plants which are benchmarked with the best in the global arena.
Saudi Arabia's corrugated industry has transformed over the years with a CAGR growth of 4% - 5% and the customers' expectations on Quality and Service have grown faster to accommodate the business needs. Technology has been the key driver to improve productivity and quality. UCIC has recently introduced Single pass Digital printing on the corrugated board which is also the first in the MENA region. All this has been possible because of the combined efforts of the company's leaders, and the progress has been administered by Mohnish Rikhy, the President of UCIC. Mohnish Rikhy has been an inspiration for everyone at UCIC. His sheer determination and experience in this field have enabled him to take UCIC to great heights. Following is an excerpt of an interview with Mohnish where he talks about his qualifications, work experiences, and future for the company.
Can you share a brief detail about your educational and professional background with us?
An FMCG person all along, joined UCIC with no experience in packaging. Started my career with Nestle and then worked with Unilever, Pepsi and in Russia. Being an MBA graduate, I knew that one has to take a leap from the comfort zone at certain point and decided to join at UCIC, and that risk taking was the major turning point of my career. Joined United Carton 15 years back as the Head of Sales and Marketing. The first one and a half years were challenging in the new industry. Being the President I am accountable for the business for over 7 years. I have succeeded at UCIC due to the 1300 colleagues and the board who supported me in my failures and successes.
Can you tell me how you keep yourself updated with the recent technologies in the market?
The corrugated industry has not evolved ahead of its time. According to me, the corrugated industry is slightly behind the curve rather than ahead. We always set the benchmark looking the best practices globally, it is mainly from our global suppliers.We built an ultra-modern new plant benchmarking the best in the world in terms of automation, technology and quality. The objective is to provide JIT services to the industry to help them reduce working capital. The new world class plant with an investment of over $60 million came into operation in 2017.

We had a vision of building the best in class plant and the corrugated industry across the globe acknowledges this manufacturing facility. The growth strategy of acquisition and organic growth worked well before we hit some turbulence due to Covid in 2020. With the fundamentals in place and Vision 2030 of the Govt. of Saudi Arabia taking shape very quickly, the incline and growth is evident. We started the digitalization drive in 2018. UCIC Web online customer portal is a landmark in the corrugated industry globally.

Our customers can upload, download and approve technical drawing on the portal apart from tracking the order from request to delivery. All relevant documents relating to invoices, quality, contracts etc. are available 24/7 to our customers. Apart from bringing accuracy, the lead times for orders have dropped significantly. The digitalization journey has already entered our shop floors to improve productivity and data management.

Can you tell me what makes UCIC different and unique from the other competitors in the market?
Our quality and services keeps us unique in the corrugated industry. Whatever technology or digitalization, the fundamentals of quality and service remain unchanged. Technology and AI are tools to achieve this end result. Our quality and service management systems have ensured shortened lead times, responsive engagement and high quality for our customers.

The bottom line is driven by value addition; and it is important to know the sensitive zones of the customer to help them resolve their issues. The fundamental of customer understanding remains the same. "Customer knowing you is as important as you knowing the customer; driving the customer needs is as important as being driven by the customer needs". Attitude over skill is another common sense approach we follow at UCIC.

To keep ahead, we have introduced
robotics, automation, and AI across our plants. Introducing single pass Digital printing in 2020 is another example of initiating the change in the industry. This digital machine is the first of its kind in the MENA region. The robotic feeder is an another step further to drive technology. No CEO can do this without the broad vision and a committed team around him.

How do you manage to keep a balance between your personal and professional life?
Once you grow up, life teaches you that the balance is essential. We learn it through our experiences. Simplicity is key and I tried my best to be away from the management jargons, even at work place. Our mind set and outlook bring happiness and relaxation in our life. I tried to keep away the professional outlook mechanism once I am entering home. I spend a quality time with my family. Once these fundamentals are clear, then a balance will come naturally in our life. The little success I achieved was mainly due to the family support and upbringing.

How are you planning to lead your company in the future?
Our main target is to convert the pandemic situation into an opportunity, and that's what we did the previous year. In 2020, we introduced digital printing in corrugated. We brought the technology in Saudi Arabia during the peak of the pandemic. We brought a new green field plant in 2017. Certainly, going ahead, digitalization is important. We are also looking how can we expand into other packaging fields related to the corrugated industry. Another focus on is the geographical expansion of our company.

On the other hand, setting and preparing our mind set deciding the future of individual and the organization. When the world is talking 'We', we are trying not forget 'I'. The most controllable factor is 'I'. I need to introspect, I need to take accountability, I need to add value, make a difference in the environment where the accountability is diluted by using management phrases that suit the argument. The weakest link in the value chain needs to be addressed, trained so as WE succeed. I perform, and WE matures and coordinates to succeed. While teamwork is key, each member of the team has to lead in her/his area. The task which an individual is leading is his/her accountability and every member including the CEO reports to him/her to ensure timely completion. Irrespective of the positions, colleagues lead tasks at UCIC.

Mohnish Rikhy, President, UCIC
Mr. Mohnish has been working with UCIC for the last 15 years
Location: Saudi Arabia