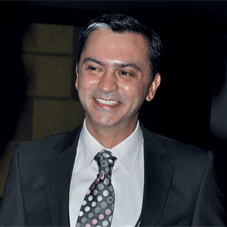 Most people across the world prefer ethical shopping today in view of promoting sustainability, supporting local communities and protecting the environment. Despite ethical shopping gaining huge momentum, the rich and diversified arts, culture and values of India are being forgotten and on the verge of extinction. The other disadvantage is that sustainable products available in the market hold a high price tag. Thanks to TJ&A Global Online Private Limited for revolutionizing the retail industry with product lines that not only celebrate fabrics and techniques in India but also promote sustainability, affordability and employment to the artisans at the core. In 2019, TJ&A Global Online was incepted with a vision to be a one-stop destination for the above product lines by the highly ardent duo – Prakash M Thawaani & Jigisha P Grouver (Co-Founders).
A Commerce Graduate from Mumbai University, Prakash spent his early years in Dubai working with Carrefour, Geante, and Panda Hyper Markets in the retail industry and returned to India in 2005 to work with Landmark Group, JLL and Arvind Group. Jigisha is also a Commerce Graduate from DAVV University with General Management Program Certification from IIM Kozhikode and Diploma in Designing. Her entrepreneurial skills triggered her to lay the foundation for an Indore-based fashion studio while she had stints with Landmark Group and Amazon later.
Having worked with various multinational conglomerates for about two decades, Prakash and Jigisha decided to quit their jobs and kickstart a business that promoted local art and craft and also make it global by fusing it with western lifestyles and culture. That's how TJ&A came into existence as a retail startup that seamlessly creates unique value proposition to its customers. Today, the company is making great strides in the North American retail market through its online home furnishings brand – REDEARTH and online fashion accessory brand – STUDIO99 along with B2B business in North America and Middle East.
To learn more about the excellence of TJ&A Global Online, delve into the following excerpts of an exclusive colloquy between the duo and CEO Insights.
TJ&A Global Online brings to its customers a curation of home, fashion and culture. Brief us about its diverse business verticals.
Celebrating rich folklore of India and embracing a fusion of cultures, our REDEARTH brand offers handmade and handloom home & kitchen accent pieces such as throw pillows, bed throws, poufs, floor cushions, bedding sets, wall hangings, plant hangers, sustainable shopping bags, and table linen. Our other brand STUDIO99 develops on-trend/fashion products such as crossbody bags, backpacks, tote bags, weekender bags, pea coats, puffer jackets and other wardrobe staples across a range of styles, durability and price. We also operate our second line of business that provides product design, development and sourcing services for fashion clothing, accessories and home textiles products to B2B clients.
Since customer satisfaction is at the kernel of our operations, we ensure to understand their requirements from time to time through automated algorithms that identify big trends and forecast demands
Where can customers avail your products?
In July 2019, we launched our brands in the US online marketplace. Amazon was our natural choice during the first business phase wherein we operated through 14 categories and witnessed an exhilarating growth. We are currently working on unveiling our brands on our website besides few more marketplaces in Q2 of 2020-21 whereas Canada and Mexico launch are slated in the following quarter.
How do you ensure to maintain utmost customer satisfaction through your offerings?
Since customer satisfaction is at the kernel of our operations, we ensure to understand their requirements from time to time through automated algorithms that identify big trends and forecast demands. Besides, we have enabled our teams to educate the suppliers to quickly respond to changing demands of our customers while working on building a supply chain system that can deliver the product from mind to target market in 60 days. We also deploy CRM software to garner honest feedback from customers, segregate them based on severity, and address them effectively, while being alerted on negative feedbacks and reviews to resolve them on a real-time basis.
To further render seamless customer experiences through our
products, we have partnered with local artisan group and contracted with regional factories. With an aim to replicate inventory in multiple fulfillment centres in order to reach customers faster and simultaneously reduce delivery costs, we have partnered with a warehousing facility in the US with 30+ fulfillment centres. On the other hand, we familiarize our customers with our products by leveraging various marketing levers such as dedicated marketing software/tool to optimize our SEO & PPC-led campaigns. We are also in the process of expanding our social media presence, affiliate & email marketing, and Google PLA during this year.
Jigisha P Grouver, Co-Founder
Walk us through your hardest milestones.
Despite having an easy option of conveniently opting for China sourcing, we held our conviction close to our roots and chose to go 'Glocal'. We decided to spread the rich heritage of our craft to the other side of the globe. The biggest challenge was to find the right set of suppliers who were committed to the cause and would sync with our business proposition. We still face challenges in terms of streamlining the processes with the suppliers and artisans to ensure a continuous, robust supply chain.
What innovations are you currently working on?
We diligently innovate on both our products and processes in accordance with our customers' needs while being cognizant about the turmoil our artisans go through. Our goal is to find a balance between low job security due to fluctuating demand for these products and also the labour costs involved. We experiment with various techniques and adopt them in various product lines that have not been explored conventionally. Some of our innovations entail blending traditional and contemporary weaving techniques, automations across CRM, PPC, WMS & inventory management, and expansions into untouched or less-explored categories in handcrafted space.
Prakash M Thawaani & Jigisha P Grouver, Co-Founders
Holding extensive experiences in the retail industry, the duo stands at the forefront of TJ&A Global Online to upscale it to newer heights.
• Office:
Bengaluru
• Brands:
REDEARTH & STUDIO99