Trayee Capital: A Boutique Financial Consulting And Advisory Firm Focussing On Creating Value For Customers

In today's competitive world, organizations need to have solid, effective business plans and ideas to stay ahead in the race, as a result, experienced financial consultants and advisory firms requisite knowledge of current businesses. Understanding the importance of financial management, various consulting firms and agencies are providing solutions concerning debt management and one such financial consulting and advisory firm is Trayee capital.

Situated in the Telangana, Trayee Capital is a boutique financial consulting and advisory firm focussing on creating value for corporate and financial investors in the region by enabling capital appreciation and resolution of stressed situations. Trayee was set up with a motto to appreciate capital and engage in business with a single focussed agenda to add value to the customers.

With the objective of helping SMEs build a decent business, Trayee Capital offers services such as Structured Finance, Credit Rating Advisory, Business plans, Research Reports, Debt Syndication, Stressed Assets, Virtual CFO Services and many more. "We perform complete profiling of the company to understand the strengths which can be taken forward and what are the challenges that they are facing.

So, when we start applying different tools that for example, for a particular company their rating is not really good. So, we try to understand the problem of why they are incapable to get ahead of the rating. We come down to a granular level where we are taken of their
credit rating perspective and their banking perspective. Most of the SMEs don't have highly qualified PFO, because it is a significant expense for them. The organization is trying to bridge the vacuum so that a large company or a midcap company can afford to have a PFO," says Venkata Shantaram, Managing Partner, Trayee Capital.
With the objective of helping SMES build a decent business, Trayee capital offers services such as structured finance, credit rating advisory, business plans, research reports, debt syndication, stressed assets, virtual CFO services and many more
Trayee has a team of highly networked and experienced professionals with subject matter expertise in credit risk assessment, structured finance products, writing business plans for start-ups or for business expansions, and equity IPO's. "All the employees in the office are treated equally with respect.
We follow such a culture where the employees support each other. We are trying to build the firm together and there is no work pressure for the employees. We want to grow decently and want to keep our clients happy, we want to keep
ourselves happy, have a good worklife balance," added Venkata Shantaram.
The major factor that differentiates the firm from that of its counterpart is the simplicity that the firm maintains. Motivation, transparency, referral segment and the ability to create some awareness level has contributed to the growth of the firm. "We are very particular about the cases we pick. We always have a clear conversation with the clients regarding their problem as we don't promise them until and unless we feel we can add value to their problems. We are very straight forward and strict in the way we deal with the client," elaborates Venkata Shantaram.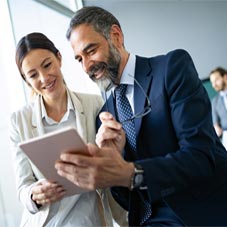 The firm with a positive outlook aspires to increase its revenue and clients in the years to come. "Trayee Capital has built a formidable presence in the area of debt syndication and project finance with rich experience. As the lead arranger, Trayee capital has arranged both long and short term as well as domestic and overseas funds for various sectors such as Iron & Steel, Cement, Power, Infrastructure, Paper, Hospitality, Healthcare, Hospitality, and Agriculture," concluded Venkata Shantaram.