Thandra Consulting: Leveraging Advanced Strategies To Enhance Clients' Business Through Competitive Intelligence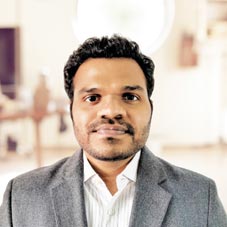 A business consultant serves as an impartial partner who can give the organization a fresh outlook and help organizations improve their performance and efficiency. Business consultants immediately detect the issues that are holding back an organization from reaching its full potential. This can lead to important improvements that can be extremely beneficial to an organization.
In the same way, Thandra Consulting offers customized consulting services to their clients in the area of competitive intelligence. CEO Insights interviewed AmrithThandra, Director of Thandra Consulting wherein he shared the advanced strategies implemented in the company in order to provide the best consulting services to their clients.
Tell us about the key points about your company's business consulting services.
Thandra Consulting specializes in competitive intelligence, and we aim to assist our clients in better understanding their competitors. We provide them with a 360-degree perspective, which includes not only looking through the lens of the client's competitors but also from the perspectives of the end customers. Our services help our clients in identifying their customers' buying criteria and why some customers choose their competitors' products and services over their own. There are some in-depth insights that Thandra Consulting offers to the clients in order to prepare their business strategies.
What advantages do your company's services offer to customers that other companies in the market fail to deliver? Explain your USP?
Most of the companies try to analyze competitors through competitors' viewpoint in terms of financial data and business, product strategy etc, but our methodology is different, along with competitor's perspective we also provide an understanding of the business from a customer's perspective to our clients. For instance, a 360-degree approach consisting of different buckets like brand equity, market positioning, sales effectiveness, market share, product strength and many more.
Thandra Consulting has partnered with Salesforce Company, we have an application called CI-Boost, a competitive intelligence dissemination tool
Another major reason that makes our services unique and different from other companies is our partnership with Salesforce, we have an application called CIBoost, a competitive intelligence dissemination tool, available on the Salesforce AppExchange. You can also consider this as our USP, so whatever best practices we suggest to our clients, we are completely capable of bringing that into action and implementing those recommendations. Also, another USP I can mention is the fresh perspective that we provide to our clients which is developed after conducting intensive research, especially while working with large conglomerates in the B2B space.
What are the latest technologies you use in the process? Also, how do you ensure the safety of candidate & business data?
At Thandra Consulting we use Salesforce technology, as I mentioned earlier, the strategies and solutions that we provide to our clients are developed on the Competitive Intelligence (CI) Boost application. Competitive Intelligence is broadly divided into three parts – Data Collection, Data Analysis and Data Dissemination to relevant stakeholders. Our app helps in data dissemination to the sales teams, so that they can understand well about their competitors such as
how they are functioning in the market, what are their strengths and weaknesses, and why some customers are choosing their competitors over them.

Also, using Salesforce we provide complete data security to our clients and also the data that is gathered by our team that is used while developing business strategies, therefore there are no security issues. The entire process that we carry out at Thandra Consulting while offering our consulting services is appreciated by our clients as they find it unique that we have our own strategies for solving their problems and that is why most of our clients come back to us.

Are you coming up with innovations or upgradations to enhance your existing services?
Thandra Consulting offers bespoke consulting services. We offer customized services to every client based on their requirements. We have a huge repository of frameworks and always try to be innovative while delivering our new approaches, depending upon the kind of problems the clients are facing.

What is the future roadmap set for Thandra Consulting? How are you updating yourself with the latest technologies/industry trends in order to make your company reach its future goals?
When it comes to updating myself and my team at Thandra Consulting, we have a rule that every day we spend at least an hour out of work on learning anything new that is trending in the market. It might be doing research, attending webinars or listening to any business podcast. And about the future plans, we will be focussed on CI-Boost Application and our services and in the next three years, we want to be a million-dollar revenue company.

Amrith Thandra, Director
AmrithThandra has completed his MBA from Warwick Business School, England. Before establishing Thandra Consulting, Amrith has been part of several prominent companies for almost a decade such as Siemens and Bajaj Auto. He is focused in solving sales challenges with competitive intelligence at Thandra Consulting.

Location: Hyderabad