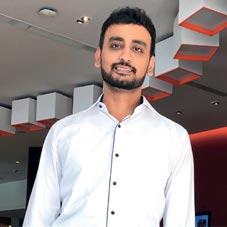 Over recent years, agile has been gaining huge momentum among organizations helping their network of teams to operate through rapid learning and decision making. It is high time people start looking at an agile organization as a living organism and not as a mere machine. Breathing the same motto is tryScrum, a Management Consulting firm that has been humanizing organizations through agility. The firm strongly believes that there is a close relationship between coaching and leadership effectiveness. Besides, it trusts that humanizing organizations can be accomplished through creative leadership. Hence, the firm stands at the forefront of the leadership training industry by bringing great value to its clients and unleashing their creative instincts through agile leadership training, coaching, and consulting services.
Today, tryScrum takes utmost pride in outclassing as one of the top-rated and trusted brands in Trustpilot with 150+ reviews, 2000+ satisfied customers (35 percent repeated), and a global network of 2000+ alumni. The most common feedback from these customers is that the training was relevant to their pain points at work and helped them with the thought process of identifying different ways of approaching the problem statement instead of getting stuck with one solution.
To know more about tryScrum and its excellence, delve into the following snippets of an exclusive interaction between its Founder – Venkatesh Rajamani and CEO Insights.
What places tryScrum an edge above its peers in the industry?
We are an intrinsically aligned community of coaches and trainers with extensive industry experiences, mission, and value alignment, strongly committed to enabling organizations to achieve sustainable change. We breathe
common values including passion, be creative, embrace growth & learning relentlessly, deliver AhA services, and have fun! All these values are blended with the inner and outer orientation of our firm – inner orientation is to keep our trainers and coaches in the best version of themselves every day, and outer orientation is to serve our customers diligently by being the best version of ourselves.
tryScrum takes utmost pride in outclassing as one of the top-rated and trusted brands in Trustpilot with 150+ reviews, 2000+ satisfied customers (35 percent repeated), and a global network of 2000+ alumni
Cast some light on your programs that breathe your tagline – 'Think Transformation, Think tryScrum'.
Our programs are offered under three main categories – aspirant beginners who are striving to become Scrum Master or Product Owner, leaders who are endeavoring to build an agile organization and change their work structure, and anybody who is looking to expand their skills coaching. We provide intense brainstorming sessions and case study-oriented workshops while blending relevant examples for the participants.
What differentiates our workshops is that we continuously iterate them and not run them in mundane fashion with the same content for years. Hence, we take regular feedback from customers at the end of every workshop and try to adapt as much as we can during the next workshop. Moreover, the aforementioned programs are offered to our candidates at a price range of Rs. 22,000 to $1000 along with a course completion certificate, while our alumni are presented with valuable workshops and benefits. International participants, on the other hand, are offered virtual workshops according to their time zones.
Walk us through the various methodologies and technologies that you deploy in these programs.
We ensure to deploy at least three of the world's best models, which are owned by only a very few companies in the world into our
programs. Besides, our high-end digital tools & technologies assure that the workshops always run smoothly. During the Covid-19 lockdown, we have successfully delivered several virtual workshops! In the near future, we will be going digital through our tryScrum Labs platform wherein our subscribers can avail free access to huge volumes of content for a lifetime.

At the backend of these programs is our ace team of coaches and trainers who have been trained at the world's renowned coaching programs like ICF, Brain-Based Coach (BBC), NeuroLeadership, Leadership Circle Profile, and many others.

How do you ensure to maintain the quality and authenticity of content?
Every workshop will have two facilitators – one to deliver workshops and the other to monitor the logistics and help participants. Apart from this, we record some of our classes to observe it from a different perspective and make necessary changes accordingly. The authenticity of content is maintained by continuously inspecting and adapting the material from respective bodies and also taking permission before using the content. Our coaching programs are accredited by ICAgile – The International Consortium of Agile.

What are your plans in the Future?
We will be unveiling new training workshops soon while we aim to add a few new trainers to our team and expand our global footprint to new locations by the end of this year. We do not scale just because we should; we take enough considerations before adding someone as a trainer at tryScrum.

Venkatesh Rajamani, Founder
Venkatesh is a Professional Scrum Trainer with Scrum.org, a Certified Enterprise Coach & Certified Team Coach with Scrum Alliance (2nd person in India to hold this credential), Management 3.0 Facilitator, Brain-Based Coach (BBC) with Neuroleadership Institute, Leadership Circle Practitioner, Certified Disciplined Agilist from DAC, and Design Thinking Expert with IDEO. He is also an ICF (ACC) Associate Certified Coach.

Quick Facts:
• Office: Chennai, Coimbatore & Netherlands
• Offerings: Agile Training, Enterprise Coaching & Consulting, Taster Mentoring, CEC & CTC Mentoring, Virtual workshops, Professional Coaching.