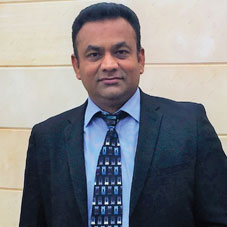 Operations directors have been around since the dawn of business, as they are key decision-makers who ensure that everything runs as planned. From manufacturing to logistics, the operations direc tor is responsible for overseeing all aspects of organizational tasks. The executive leader will have a clear understanding of what the customer's needs are and be able to execute skillfully. Ensuring efficiency at every level of the organization Turab Ur Rahaman is forming coherent plans to achieve organizational goals.
Turab is a graduate of IIM Indore and has a comprehensive history working in the logistics domain. As per his professional achievements, he has worked with multi national firms, which helped him gain insights into the industry. CEO Insights engaged with Turab Ur Rahaman, let's hear from him.
Tell us about your educational background and professional history. What has been the success mantra to your journey towards growth?
Since the day I graduated from college, I have worked as a full time professional in Logistics. I have been employed with about four multinational corporations throughout my career and gained various insights from each of them. My daily routine is driven by the need to always learn new things and to feel satisfied that I gave the day my best effort while still knowing that my best is yet to come.
In the past twenty-seven years, I have never been afraid to take a chance on a new joba new position or a new assignment, even in a foreign nation where I had never worked before. Even if I don't have much experience with them or if no one else wants to take them on, I constantly want to try out new
assignments,jobs, and projects. My success motto is that I always work hard, maintain my sense of reality and guide my colleagues.
How would you describe SAB Express as an organization and its position in the market? What makes it unique from its competitors?
I have always appreciated visiting Saudi Arabia again and getting to know the locals, the team, and the culture. You are free to carry out your duties as required by the business, thanks to the Board of SAB's extremely pragmatic attitude to business. The company's flexibility, responsiveness, and ability to serve as a one-stop shop for all of a customer's logistics needs continues to be its distinct value offer.
Be your own role model. I do not have any role models, and I would like to chart my unique path. No one else can be like you
What is the leadership approach and guide lines you follow? How did you overcome the challenges you encountered in your professional journey?
I gained an understanding of the need for humility, setting an example for others to follow, going above and beyond for clients, defending employees when they make mistakes, and having an open-door policy. The people I have worked with have shaped me into who I am, and all of these lessons have helped me through good times and bad. For me to succeed, one of my supervisors would always advise me to surround myself with individuals who were more capable than I was.
Being a leader often means having to reevaluate your choices, whether they pertain to your career or your business. A leader shouldn't be afraid of failing. To advance and shift directions, I have twice taken a step back in my career. It was challenging to accept at first, but I always believed that if I trusted my skills, I could rise back to my position. One of the most difficult issues I have faced is working on company M&A. Value destruction, inadequate communication and
integration, and cultural challenges are the main reasons why about seventy percent of acquisitions fail. It can be exceedingly challenging to make an acquisition or merger successful if these difficulties are not addressed.

What market behaviour that you anticipate and what opportunities do you foresee?
New technical developments have raised the bar for service, IT capabilities, and other factors, and each organization is now required to make investments to meet these expectations. The logistics industry may experience changes as a result of AI, BOT technology, blockchain technology, drone deliveries, and the Internet of Things. For businesses to stay relevant, it can be difficult to adjust rapidly to these developments. Many logistics organizations find it difficult, but it also offers a special chance to take advantage of these advancements and launch your business.

What advice you would like to give to budding leaders of your domain?
In order to become better leaders, many aspiring leaders look to their role models and try to enact them. My straightforward counsel to them would be to not follow anyone because each person is different in terms of their personality, circumstances, financial status, and I.Q. talents. I do not have a role model, so I want to chart my own path. Last but not the least, none other than you can be like you.

Turab Ur Rahaman, Director Operations, SAB Express
Turab Ur Rahaman is demonstrating his leadership skill by spearheading major operational tasks at SAB Express. With his dedication and competency, he is providing the best logistics services in Saudi Arabia.

•Hobbies: News and current affairs, Quizzing, Toastmaster
•Favourite Cuisine: Mughlai
•Favorite Book: How to Make Friends and Influence People by Dale Carnegie
•Favorite Travel Destination: Paris.

•Awards and Recognitions:
•Won The Moving Hearts award by TNT for his contribution towards CSR activities in 2009.
•Featured in TNT's annual report in 2008 as one of the thirteen employees among fifty thousand with a Can Do attitude for the business achievements.