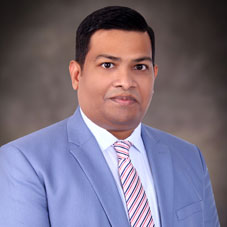 Indian leaders are playing an increasingly significant role in the growth and development of Saudi Arabia. With a large population of Indians residing in the country, their contributions to the economy and society are crucial. India and Saudi Arabia have strengthened their bilateral relationship recently, with trade and investment ties being a significant focus. Indian companies and business leaders are making strides in various industries, including energy, construction, and technology. Additionally, Indian experts play a crucial role in advising and implementing multiple initiatives in the country.
Overall, the growth of Indian leaders in Saudi Arabia reflects the growing importance of the India-Saudi relationship. Sandeep Mandapalli, the director of operations in Nabatat Contracting Company has 17 years of experience in the industry. He established the Industrial Services Division at Nabatat and expanded its reach in various fields.A successful professional and entrepreneur, Sandeep Mandapalli holds a double MBA in HR and Supply chain management. While he has specialization in operational strategy and efficiency. A graduate of Andhra University, he currently works as an Operations Director in Saudi Arabia and runs his recruitment firm named SVENLY JOBS in India.
Give a brief account of your professional journey.
I started my professional journey at ICICI Bank before moving to Saudi Arabia in 2008. At AL Yamama, I held various roles and was eventually promoted to training and outsourcing manager. In 2019, I took on the challenge of establishing the Industrial services division at Nabatat. I am proud to say that I successfully grew the division within three years and expanded its reach in various fields. My hard work was recognized, and I was promoted to
Director of Operations in 2022. I then took on a new challenge and started Radiant, a company focused on introducing new recycling technologies. I signed joint ventures with Korean companies to bring cutting-edge technologies to the oil and gas industries to solve corrosion problems in industries.
Also signed joint venture with a company to recycle food waste to curb the biggest challenge for Saudi Arabia since years.
My success mantra is to keep things simple and to have the right people do the right job.
What are the challenges and benefits of your career journey? What are your success mantra and operational efficiency strategies?
I believe in maximizing operational efficiency by focusing on several key factors. My priorities are improving customer service, building inventory, and documenting the working process. I think having the right people doing the right job is crucial for success, and I invest in my employees by training them. Automating repetitive tasks and keeping operations simple are also essential to me. During my journey, I faced challenges convincing my colleagues of my ideas and making unrealistic client commitments. However, I found success by sowing the seed of trust with clients, and they rewarded me with their loyalty. I consider this trust a critical factor in my professional growth. My success mantra is to keep things simple and to have the right people do the right job. I always remember that the simpler my operations are, the less time I will spend managing them.
Can you describe Nabatat Contracting Company's position in the Environmental Services industry and how have you maintained the company's competitiveness in the market under your leadership?
As the director of operations of Nabatat Contracting Company, I am proud to say that our company is recognized as one of the pioneers in the environmental services sector in Saudi Arabia. Our ability to provide and execute innovative and unconventional solutions in various fields, such as infrastructure works, operation and maintenance
services, sewage treatment, Industrial cleaning services, and more, has set us apart from the competition. We are also committed to contributing to the country's sustainability program by recycling food waste. The administrator prioritizes customer satisfaction and retention, leverages company's competitive advantages to attract new customers, and seeks customer feedback to maintain a competitive edge in the market.

What is your leadership style, what qualities do you look for in a team member to ensure success, and what is your ultimate career goal?
I believe in a leadership style that provides guidance, support, and training to the team while giving them the independence to perform their duties. I prioritize creating a comfortable work environment and involving everyone in decision making. To build a successful team, it's essential to define clear objectives and have a mix of skills, knowledge, and experience. I look for team members who are committed, have good conflict management skills, and are willing to invest energy in the team's success.

My ultimate career goal is establishing a reputation as an successful operations specialist by helping companies to be an excellent example in driving the operations. I want to be known for my expertise and provide guidance and training to the next generation. The greatest joy I have experienced in helping people find employment and I aim to continue this fulfilling work.

Sandeep Mandapalli, Director of Operations, Nabatat Contracting Company
Sandeep Mandapalli is a dynamic and success driven professional with extensive experience in business development and strategy. He has a strong passion for innovation and growth and a proven track record of driving results and successfully leading teams.

Quick Facts:
•Hobbies:Playing cricket and reading management and leadership books.
•Favourite Cuisine:continental
•Favourite Book:How to become CEO?
•Favourite Travel Destination: Philippines
•Awards & Recognition:Recognized as the Best operations specialist.