Sajid Sayeed: Emphasizing On Creating Lasting Experience In The World Of Motorsports Event Management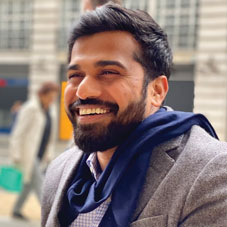 The world of event management is vibrant and dynamic, constantly pushing the limits of creativity and innovation to bring people together for unforgettable experiences. Sajid Sayeed, the Event Director of Saudi Motorsport Company, stands out in this exciting industry. He is known for his ability to create and execute truly exceptional events. With his passion for bringing people together and his wealth of experience, Sajid is a driving force behind the success of many memorable events in Saudi Arabia. In this magazine feature by CEO Insights, we explore the life and work of this remarkable event management professional and uncover the secrets to his success. So get ready to be inspired by one of the most creative professionals in the world of event management.
Could you give just a brief account of your professional background now?
I am an aircraft maintenance engineer by qualification. Despite growing up in Dubai, I completed my higher studies in Bangalore and worked in the aviation industry for a year before moving on to other opportunities. In my leisure time, I started working in the event management industry, with my first project being the IPL (Indian Premier League). Slowly, this became my full time career. I worked for companies such as Total Recall, where I was involved in planning and executing many significant events. I later moved to Dubai and joined companies such as Artaaj and Blink Experience, working on large-scale events such as the Red Bull Air Race, Diriyah Season and the Special Olympics, as well as major government projects. In 2021, I joined Saudi Motorsport Company, launched by the Saudi Arabia government body, where I am currently leading the Formula One project for Saudi Arabia and other motorsports events.
I have over 15 years of experience in the event management industry,
during which I have gained a wealth of knowledge and experience in leading and organizing large scale events. My focus has been on motor sports events, specifically Formula 1 and Formula E, and I have a track record of delivering these projects successfully and making them memorable. In addition this has given me a deep under standing of the local & international markets and the unique challenges and opportunities of organizing events in this region.
Changing your focus from just thinking of what you want and how to do it to understand the purpose behind it,'the Why', leads to a more fulfilling life
What is the motivation that fuels your daily routine?
The satisfaction of creating an experience for people that leaves a lasting impact and brings a smile to their faces motivates me. The ability to change the country's face through the events I plan and execute is a rewarding experience that keeps me motivated every day. The attendees should have a beautiful and memorable experience at the event. This is what drives me to go above and beyond in planning and executing each project to the highest possible standard.
Define Saudi Motorsport Company as an organization and what are the impacts delivered through your offerings?
I am proud to say that we are considered a benchmark for all future motorsports. Saudi Motorsport Company holds multiple intellectual properties in the industry, including the Dakar Rally and the Formula One Saudi Arabian Grand Prix. As the IP holder for these international events, we are at the forefront of shaping the future of motorsports. Additionally, as a semi-government company, we have the resources to create and host world class motorsports events for the benefit of both the sport and the country. All of it, while being adhered to the VISION 2030 of the country.
What are the factors you take into account when developing effective strategies and leading your team?
My event management approach focuses on creating a comprehen
sive and immersive experience for attendees. To achieve this, I consider various factors when developing effective strategies and leading my team.

First, I prioritize the target audience analysis to add unique and memorable elements to events, such as motorsport activities, celebrity/Artist performances, immersive shows, diverse food options (multiple cuisines fine dining to street food), and interactive activities. I believe that a holistic approach to event planning, incorporating elements that engage all five senses, enhances the overall experience for attendees.

Additionally, I emphasize innovation and experimentation to stay ahead of the curve and offer something truly exceptional. Also, recognize the value of building credibility and trust with clients, which can be achieved through a commitment to providing a seamless and enjoyable event experience from start to finish. We are creating an environment that gives them a cherishable experience as they enter. From the time you get your tickets until you go back to your home, we put umpteen efforts into giving the best experience throughout the whole journey.

What is the future destination you are heading towards?
I aim to establish an educational institute to impart my knowledge and experiences to others. I envision creating a platform where people can learn and benefit from my learnings, just like I have learned from various experiences in life, especially from my time in Saudi Arabia. In addition, I aim to give back to the community as much as I can and help others grow.

Sajid Sayeed,Event Director, Saudi Motorsport Company
Sajid Sayeed is an experienced event management professional with a 15-year track record of successfully leading and organizing large-scale motor sports events, including Formula 1 and Formula E. Currently leading the projects for Saudi Arabia at Saudi Motorsports Company, he has a deep understanding of the market and has expertise in delivering memorable events in the region. In his free time, he engages in research on AI and enjoys watching documentaries.