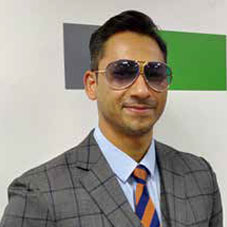 The Tax, Audit & Consulting firm market is highly competitive in the world. It presents numerous challenges including the need to stay up-to-date with constantly changing regulations, keeps pace with advances in technology, and deliver highquality services to clients. As a Leader – IT, Cybersecurity & Data at RSM SAUDI ARABIA, Sadeqh Saleem has proven to be a skilled leader who is able to navigate these challenges effectively. He is an Indian leader who is currently based in Saudi Arabia. Sadeqh completed his graduation in India, and Master's degree in the UK. With his extensive experience and indepth knowledge, he has become a well-respected figure in the industry. Known for his exceptional leadership skills, analytical abilities, and pragmatic approach, Sadeqh continues to make valuable contributions to the organization and is widely recognized as a key figure in the industry. Let's hear more from him in below interview snippets.
Take us through your professional background and experience. Tell us about your experience working at RSM thus far and what motivates you as a business leader today.
Back in 2000, I left behind the comfortable lifestyle I had in Saudi Arabia to pursue my academic degree in India. Since then, my work has been my main source of inspiration. After graduating, I held various positions in multinational companies, but I was constantly striving for knowledge and excellence, which eventually led me to pursue a master's degree in the United Kingdom. Upon returning to Saudi Arabia, I partnered with my mentor Medhat Tawfik to establish and grow a consulting business.
In 2019, I moved to RSM SAUDI ARABIA, where I worked as an Assistant Manager. This turned out to be a pivotal point in my career, as I was able to launch an IT/ Cybersecurity & Data practice with the guidance of the visionary Mohamed A. Nader, who helped create a comfortable workplace for recent Saudi graduates and expat workers.I am now a Leader IT & Cybersecurity & Data Services at
RSM, responsible for overseeing the IT practice and managing 2000 clients in the IT, Cybersecurity and Data domain, working with various governmentand semi government agencies companies and private businesses.
You have more than a decade of expertise. What has been your strategy for success, and what does it consist of?
As with all tales of triumph, my personal journey has had its fair share of ups and downs. However, I believe that this is the ideal path toward success, every stumble strengthens your resolve to aim higher, and every victory reminds you to stay vigilant for future challenges. To me, success is akin to walking on a knife's edge a delicate balance that requires constant attention.
To me, success is akin to walking on a knife's edge- a delicate balance that requires constant attention
I have been immensely blessed to have amazing parents and family who have supported my aspirations during my journey. Throughout my career, my guiding principles have always been my faith in God and my intuition. I have been blessed with a talent for recognizing business opportunities and nurturing the potential of those around me. I treat my clients & colleagues with respect, provide them with clear goals to strive for, and take pride in their progress. I believe in transparency and prioritize the well being of my team members. Clients are the blood for any organization, maintaining good relationship with them and delivering an effective engagement is very crucial in our industry and at RSM we ensure that.
What would you say about RSM as a company and where it stands in the market? What is the special offer that your company makes to customers?
RSM is an excellent organization to work for. The management is incredibly supportive and approachable, and they go above and beyond to help us achieve our goals. As the sixth largest Tax, Audit, and Consulting firm worldwide, RSM boasts a global network of 57,000 professionals across 120 countries. In Saudi Arabia, we have experienced remarkable growth in recent years. Since joining RSM in 2019, our team has grown from 50 to over 400 employees, and we now serve nearly 4,000 clients across various industries.Our company is registered with esteemed
organizations such as ARAMCO for IKTVA, Cybersecurity Audits, and Industrial Cybersecurity Assessments, as well as NCA, CMA, and SAMA for Cybersecurity and Audit services and are providing DATA services to the likes of NCGR, SEC, SWCC apart from the private sector.

Tell us about your model of leadership. What rules or procedures do you follow as a leader?
I am a leader who prioritizes clients & colleagues. I believe in their potential and give them room to grow, make mistakes, and learn from them. I help shape their careers by providing guidance and supporting their vision. Leading by example, I involve myself in every task and guide my team to work together to achieve management goals. RSM's team's slogan is 'Power of being understood', reflecting our commitment to listening and creating tailored solutions for our client's needs. Before bringing them on board, I handpicked and trained my team for months.

What changes in market behavior are you expecting in the future, and what opportunities do you see?
Current market conditions in Saudi Arabia are booming, and numerous compliance frame works are being introduced. These frameworks will help organizations adopt best business practices, strengthen security, achieve other business objectives.Cyber and data management and analytics are in high demand, this will be the area of attention over the next five years.

What guidance would you provide aspiring industry leaders given your extensive experience in the field?
Young leaders should approach networking and communication with others with an open mind, and avoid relying on rumors or hearsay. They should actively seek out opportunities and identify gaps in the market, and then work smartly and effectively to capitalize on them. Sharing knowledge and offering guidance, are also key components of their leadership approach.

Sadeqh Saleem, Leader – IT, Cybersecurity & Data, RSM Saudi Arabia
Sadeqh Saleem is the Leader-IT, Cybersecuirity & Data Services at RSM SAUDI ARABIA. He has the ability to apply creativity, analytical rigor, pragmatic overview, and leadership. Skilled in identifying business opportunities, he is fostering flexibility, business agility &viability, keeping companies competitive and building value, even in the face of declining or changing markets and competitive threats.