Uday Sinha: A Seasoned C-Suite Professional Strengthening the Metals & Mining, Energy & Auto Comp Sector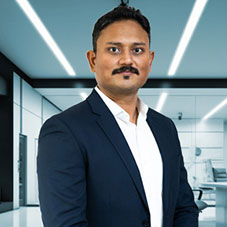 Operational excellence is a growth accelerant strategy that should be spearheaded by the leadership team to bring focus on constantly streamlining the operations within a business from lead to cash. Uday Sinha,Group CFO & Head Family Office of MK Tron Group(one of the industry leaders in Auto Component manufacturing, including the Healthcare and Digital/Tech space in Malaysia), is one such magnanimous leader with a significant stint in finance, strategy and operation excellence across his professional journey. Under the sheer leadership of this seasoned C-Suite professional with 18+ years of experience in the Metals & Mining, Energy, and Auto-Comp sectors, the company is on a greater growth trajectory today. Let's get to know more about him!
Give a brief account of your professional journey.
On the education front, I am a Chartered Accountant from India. Mostly working in the Metals & Mining, Energy, and Auto-Components sectors, my core competencies include strategy, operational turnaround, investing, financial & operational restructuring, and project execution. I also have experience in setting up large greenfield projects, fundraising, and managing diverse groups of stakeholders.
I have led the turnaround of a 540MW thermal power plant in India contributing to an EBITDA uptick of ~2.6x. Identified and drove specific costside efficiency targets, operational improvement measures, and revenue growth at Auto-Comp and Steel companies. Managed portfolio of operating assets >$1.5 Bn covering Steel, Power, Auto Components, Infra, and Tech companies and drove their PL. Have tied-up $3.25 Bn for a Greenfield Integrated Steel Project in India & project managed it. Engaged in the integration and restructuring journey of one of the largest European Integrated Steel Co acquired by an Indian Steel Major. I have also spent over a decade at Tata Steel and five years in Edelweiss Special Situations and Distressed Fund before joining the senior leadership of MK Tron Group. Currently, I am actively working on the growth story of the Auto Components platform of the Group in India and leading the Healthcare and Digital projects of
the Group. I also hold two Board positions in Malaysia's Digital and Food Tech space where our Group is invested.

Tell us about your leadership approach and what has been your success mantra so far.
Leadership is being dynamic, passionate, effective, and aggressive but the approach needs to be taiolred to the organizational needs. My approach varies between being a 'transformational' leader to being a 'participative' leader. Within the same Group, we have different entities which are at different stages of maturity with different management teams and structures and need different approaches. So as a leader, I must be able to lead in customized ways in different environments as every employee is different. Staying clear on the purpose, vision, and goals helps in establishing the leadership approach.

Define MK Tron Group as an organization and what makes it unique.
MK Tron Group comprises companies that produce and sell brass & aluminium alloys, die-cast & machined parts, hot forged & machined parts, and sheet metal stampings & welded assemblies to companies in the automotive and general engineering industry. Having a manufacturing footprint in Malaysia, India, Mexico, and Korea,the Group takes pride in being the supplier of products & services to global MNCs such as General Motors, Volkswagen, Tata Motors, Mahindra, Toyota, Hyundai, Renault-Nissan, Piaggio, Panasonic, and Samsung to name a few. Additionally, Group alsohas an active presence in the healthcare, digital, & tech sectors. Barring healthcare, the group is predominantly in B2B relationships with its customers.

MK Tron Group is unique among its customers due to its shared value of customer centricity, transparency, professionalism, ethical dealings and respect for individuals.

What are the factors you take into account when determining the profitability of an investment?
As the custodian of the returns, commensurate with the risks it carries, as for the key stakeholders of the organization it is very important to see the different investment opportunities with different lenses. The factors for investment for organizational growth, M&A, or more may be different, but the ethos would not change and broadly be aligned with my objectives. The key is to be risk intelligent, not risk averse, so when looking at the cost, I do not overlook the value it drives. For any finance professional IRR does matter but as a strategist I cannot take my eyes away from the macro purpose of my investment which enables me to be ahead of the curve, relishing the real returns and profitability.
How do you foster a learning culture in your team and guide them to ensure the company's positive financial health?
Any organization is as good as its people and their capabilities, hence embeddinga culture of continuous learning, develop-ment, and training in the value system of the organization is important. Well, learning when imparted has a cost attached to it, but this cost adversely impacts the financial health of the organization. when learning takes a backseat. Hence, by driving a culture of learning and contributing to the best of employees' abilities, we drive the performance of the full organization.

Tell us about your expertise in initiating organizational change or restructuring a department.
My professional journey in the last couple of years has demanded mostly making 'reactive' strategic organizational changes across companies. Addressing the need for strategic changes required to give a new growth trajectory to the company, requires assessing the baseline and evaluating the challenges & headwinds the company is facing today. Henceforth new strategy needs to be crafted restructuring the people, products, and target markets, and also organizational communication with stakeholders& others. Well, recalibrating and repositioning the organization is very much a part of the transformation and reorganization journey. Hence, I played a pivotal role here, being proactive, devising a forward-looking strategy, and also determining when to recalibrate and reposition the organization.

Where do you see yourself headed in the upcoming years?
The ensuing years should see me evolve more as a strategist and a proactive leader who can take control of the direction, risks, and future opportunities of the organization, bearing a forward looking approach. Furthermore, my strategic leadership, performance management, and ability to counter corporate challenges should lead to the achievement of the vision of the MK Tron Group and its Chairman.

Uday Sinha, Group CFO & Head Family Office, MK Tron Group
A Chartered Accountant from India, Uday holding over 18 years of diverse experience is a seasoned C-Suite professional with expertise in strategy, operational turn around, investing, financial & operational restructuring, and projects execution mostly in the Metals & Mining, Energy, and AutoComp sectors.

•Hobbies: Nature Getaways, Offroad Driving in difficult terrains, Reading
•Favourite Cuisine: Oriental Food
•Favourite Book: Atomic Habits
•Favourite Travel Destination:
Far-off destinations in the Himalayas