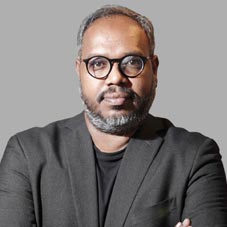 Any enterprise is people-driven and requires problem solvers & innovative thinkers rather than mere followers of instructions, to lead the way. However, acquiring the rare breed of innovative thinkers is easier said than done due to the huge gap between the college curriculum and industry requisites. Bridging this gap, the Chennai-based design research academy, uxmint, renders need-based, result-oriented and objective-defined design training programs that bring about a long-lasting shift in thought process. Novel and innovative, these ideas empower students & working professionals to build better environments through designs.
Kingsley, Founder, uxmint, is a Science graduate who fell in love with designing. He took to 'textile designing' while the internet boom enchanted him to pursue 'digital designing'. An enthusiast in the science of behavior and mind, he earned his post graduate degree in psychology, which propelled him to delve deep into the psychology of design. Despite having a cushy job working at managerial positions and heading global banners for 25 years in design domain, he decided to follow his passion towards mentoring 'misinformed' students, which eventually led to the establishment of uxmint. In an exclusive interview with CEO Insights India, Kingsley reveals how his Design Research Academy has been transforming students and professionals in inculcating research based design solutions .
Firstly, acquaint us with your firm's inception story and its major highlights.
Having worked with global players like Accenture, Cognizant and Satyam, I identified a huge vacuum between qualified professionals from Design Colleges and self-taught design practitioners. As universities akin to NID & IITs are very few and the generic private design colleges are costly to afford, the demand & supply curve has always been sloppy. Self taught designers who don't have qualified design graduation face a huge problem in coping-up with demand that industries need in solving problems through design. The solutions developed by self-taught
designers are function-driven or development-driven, with human focus completely missing. With incomplete knowledge, they are unable to grasp the people's mindset and hence fail to capture the market.
Ideated in 2014, uxmint is an endeavour to train and upskill these resources by filling this void through in-depth topical analysis. With an objective to bring mutually beneficial long-term changes for enterprises & employees, I kickstarted the journey in my terrace. Till date, we have trained over 1000 students (both graduates & professionals) from different engineering domains. Based in Chennai, we train at Bangalore and Coimbatore as well, besides extending our services to corporate firms.
Understand the environment and the root cause of problems for designing solutions to these problems that exist in the society; that's how a designer brings difference
Brief us about the curriculum and methodologies that you deploy to bring-in the requisite transformation.
We have design bootcamps for fresh graduates, with course duration ranging from one to three months for corporates to train campus recruits. For working professionals, we provide a long-term (six months) weekend classroom program, where we explore their limits and stimulate their thought process through practical assignments, evaluation and one-on-one concentration. We do 'in-house' training for corporates for Design Thinking for project managers (aimed at broadening their spectrum), individual need-oriented curriculum like prototyping, Usability Testing, (5-10 days workshop), and other customized courses for corporate teams.
We believe that design & innovation go hand-in-hand. Without knowing the actual reality, it is impossible to carve pathways for students. Hence, uxmint employs only field specialists with industry knowledge & experience to train students in the directions of present scenarios, viable resources, novel ideas and futuristic reforms. This panel constituting of diverse specialists ensures learning from multiple sources that broadens minds. Besides embedding on-field experience, robust understandings of concepts like user case, RoI, and business module, faculties
ameliorate trainees through constant feedback and practical coaching, while also facilitating effective portfolio creation. In the future, we are marching towards a design direction, which is an amalgam of VR and AR.

Can you share with us the requisites of developing applications with great UX?
UX is not about learning a particular application like photoshop or illustrator. Software can execute instructions, but it itself is unable to comprehend human behavior, emotions, understanding, culture or decision making. It is incapable to perceive how people interact with the environment with their five sense organs or what influences them. Connecting the software capabilities to human senses is the key to develop effective user experience.

Understand the environment and the root cause of problems for designing solutions to these problems that exist in the society; that's how a designer brings difference. There are a lot of Cognitive & Behaviourial Sciences that aid in connecting humans and technology. And when the fusion is made possible, the resultant is a successful product with seamless experience. That is why we concentrate on 'field experience' rather than power-point presentations or textbooks in our sessions.

Tell us about the future roadmap that you have set for your firm.
Moving ahead, we aim to eliminate time-bound learning and facilitate education through micro-communities such as peers, mentors, projects and portfolios. Collective knowledge from these sources equips individuals with in-depth subject understanding like the rationale behind building a particular product. Besides, understanding the entire processes empowers them with ability to ask better questions, and better questions bring better quality. Affinity towards innovations ensures that we are constantly updated with futuristic technologies, which may in a matter of five years alter our world. We will continue enlightening people on ways design can solve people's problems and means to interact with harmony.

Kingsley, Founder
A UX Researcher, Practitioner, Mentor and Explorer, Kingsley is an industry veteran with over 25 years of experience in giant firms like Accenture, Cognizant, and Satyam

Headquarter: Chennai

Offerings:
• Certified UX Designer
• Certified UI Designer
• College Freshers Program
• Customized Corporate Training