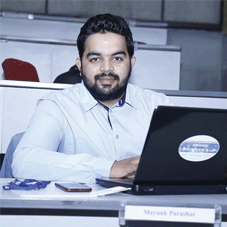 Vahan Logistics (VL) is a leading Indian transport and logistics specialist providing bespoke transport solutions to leading manufacturers, retailers, wholesalers, and distributors. Founded in 2015 by Mayank Parashar, the company offers a complete solution for the daily management and delivery of palletized goods by harnessing the power of technology and expert planning. The company has a strong market presence, and it provides a complete range of logistic services. In an exclusive interview with CEO Insights, Mayank shares fascinating details about the company. The valuable nuggets from the maven showcase his leadership journey as well.
Throw some light on the inception of Vahan Logistics.
Before ideating VL, I was working in IT Sales in a corporate company. I have always been an entrepreneurship aspirant, wanting to build something on my own. While trying to understand business markets, I noticed that the logistics industry in India is unorganized. Ultimately, affecting the efficiency and performance of the logistics industry and the country's economy.
Though this is an opportunistic space, hidden costs, poor stock handling infrastructure, lack of seamless movement, no technology usage, and more are hindering the logistics sector. I forayed into the transportation niche for perfecting the industry on the whole. It all began with just one truck and, today, we have nearly 50 vehicles in our fleet. Currently, we are dealing with transportation of two-wheelers from factories to dealers for renowned brands like Honda, Royal Enfield, Jawa Motorcycle, and others. We are also shipping grains on weekdays. Our services are
available at the Pan-India level, and we are based in Gwalior, Madhya Pradesh.
Apart from rendering services to the auto sector and shipping crops, are there any other services in your portfolio?
We recently started parcel delivery as well. Within the radius of 150 kilometers from our Headquarters (Gwalior), we transport daily household products, FMCG, medicines, and more.
VL offers a complete solution for, Automotives, Agro-crops and other goods by harnessing the power of technology and expert planning
How do you ensure quality in your services? And tell about your strategy for creating a productive work environment.
At our core is timely and damage-free delivery, which is the utmost requirement from the client-side. Beyond pricing, these two are the major expectations and we ensure to not compromise on these aspects. For this to happen seamlessly, we focus on empowering our drivers. They are the assets of the company, and we want them to be 100 percent secure & safe. We take care of all the nuances right from their payments to facilities. We make them feel comfortable even with the delivery routes. This is helping us to offer better services to the clients, without any damage and in time.
We design our trucks to be damage-proof. Our packaging is also efficient to avoid issues in freight. Vahan Logistics has been dedicated to delivering the highest standards of Logistics services. Reliability is in our DNA, forging long term partnership with the customers is dependent on us offering a reliable service at a competitive price. No matter the size or the distance, we work extremely hard to meet our customer's delivery deadlines.
Enumerate on the high-performing team of the company
We have a dynamic and experienced team of professionals, united by
Vision and Passion. They are self-motivated, enthusiastic, and hard-working. We have a talented team of professional that works worldwide. Vital experience, gained through three generations of family ownership and operation, allows us to apply our Gold service to a range of industries.

As a founder, I take care of everything managerial aspects and operations. Apart from drivers, our workforce is categorized into 3 major departments. Firstly, the backend office comprising accounting, operations, and documentation- handled by my wife Prachi Parashar. The maintenance and customer relationship departments are the other two functions of the company.

Share with us the plans you have in place for Vahan Logistics
We have a real-time tracking facility for hassle-free logistic solutions through GPS systems. However, we are planning to inculcate more transparency in the process by allowing the clients to monitor the ins and outs of the trucks in live videos. We are on the verge of placing cameras, in a way to build complete trust between us and clients. Also, I plan to disrupt the Mandi(s) (agro marketplaces). We would be delivering crop materials, directly to the factories/mills for the final product.

This sector is unorganized right now and I'm planning to organize this because there is no fixed system in Mandi(s). Most importantly, there is a demand and supply manner for pricing. I'm planning to organize transportation in a systematic way to offer yearly costs and create a win-win scenario for farmers and all the stakeholders.

The USP
• All shipments are fully tracked by a satellite tracking system and checked by a 24*7 operation center.
• Fleet consists of GPS-equipped containers.
• One of the excellent pickup and delivery providers in the industry.
• Provides industries the most economical Reverse Logistics freight.
• Vahan logistics operates on a Multi-Model Movement logistics system.
• Associated with various charitable trusts for Human welfare purposes.
• Delivery at PAN India level.