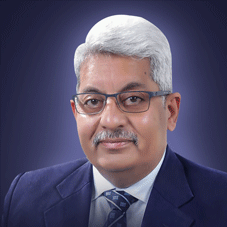 The significant shift in India's latest logistics industry, is linked to the paramount association of both domestic and multinational production and distribution supply chains Enterprises and stakeholders have recently given the logistics system much-needed attention. The way the logistics sector does business these days has shifted radically. As a result of technological advances and optimized systems, the strategy, execution, and monitoring of containerized cargo has become faster and more reliable. CEO Insights interviewed Rajeev Chanan (Managing Director) of Umeandus, wherein he briefed us about the technologies company offers and how are working towards advancements that can transform transportation and logistics infrastructure.
What are the major aspects about your company's & that is the unique offering in the transportation & logistics technologies & services? We would also like to have an insight into the way you run the company.
Umeandus™ Technologies was established in 2018, now a registered MSME and a DIPP recognized startup. The firm has been involved in the development of technology for transportation and logistics infrastructure & services, with an emphasis on ports. Key focus of the technologies is to improve asset utilization and its efficiencies. The technology is expected to maximize utilization of physical infrastructure, fixed assets & rolling stocks to minimize congestion. Another vital benefit of this technology is towards enhancing capacity and performance, and transportation between ports and the hinterland. Additionally, reduce congestion, pollution, and carbon footprint for existing or brownfield ports.
Enlighten us about the various services offered under the transportation technologies portfolio. Also, explain the unique benefits that customers can avail of these services.
The technologies are aimed at specific use cases to decongest existing ports, multiply existing ports capacity, performance & to eliminate pollution & carbon footprint. Further technologies are expected to be beneficial for intercity transportation, access
logistics, and cross borders. e-FTS allows transportation or evacuation of 25 million TEU or 500 million tons of bulk cargo. The system can be implemented in either an existing or new port.
The financial viability and payback of the evacuation infrastructure is typically less than 5 years for existing major ports. Inter City provides on-demand transportation and logistics for all types of cargo with protection, security, and predictability, 24 hours a day, seven days a week. The system boosts the capability and efficiency of existing alignments without needing any additional land or space. Furthermore, technology allows for quicker infrastructure deployment in congested, challenging terrain, and remote hinterlands for linking multipoint and mixed freight, including perishables.
Umeandus is offering technologies to multiplying capacities & performance of the brownfield ports and to reduce congestion in the evacuation infrastructure with commercially & environmentally viable business case
Carri-Port™ is a next-generation handling system for intermodal change between e-FTS & other modes of transportation like rail & road. It offers fast & efficient compared to existing systems to reduce dependency on land. This helps Ports, ICD, MMLP etc. to have greater flexibility in sizing and location selection and avoid getting stuck due to land acquisitions.
DirectPort™ design provides better productivity for the wharf and useful to increase capacity of brownfield ports as well reduce the requirement of land acquisition or reclamation for the new ports. It will reduce capital expenditure to add capacity at brownfield ports as well as greenfield ports.
What are the innovative technologies/methodologies that you leverage to offer your ser-vices? Also, how do you ensure to maintain the quality and authenticity of these services?
To ensure that we deliver the promised results to our customers, we have experts to verify our technologies & services. For example, Delhi Metro Rail Corporation Limited (DMRC) studied our techno-commercial viability and performance levels in depth. Also, we have an agreement with Indian Port Rail & Ropeway Corporation Limited (IPRCL) to evaluate the features and benefits for the usage and quantification at various ports in India and abroad.
Umeandus has signed MoU to establish Center of Excellence with IIT Guwahati, Sastra University, Thanjavur and IIT Bombay to address future challenges.

The aim of in-depth studies with external experts is to keep our technologies & programs up to date and to ensure that all necessary changes are made on time.

What are the rules and regulations that you adhere to while offering your services?
Umeandus ensures the benefits by conducting a study to identify pain points and performs meticulous evaluations and assessments of solutions as well as quantify the value they offer. These opportunities are ascertained for their commercial, economical & environmental viability & sustainability.; Currently we are developing alternatives to make it attractive for private investment as infrastructure development is usually a government spending initiative.

How are you updating yourself with the latest technologies/industry trends in order to make your company reach its future goals?
We are striving to create Centers of Excellence with the best technical institutes in India and overseas. We believe in keeping our ears to the ground and have ourselves abreast with real-time innovations to leap-frog ahead of the curve. The primary reason is to keep ourselves informed about the latest problems that have been found in various geographies, not just in India. For example, in India, infrastructure faces capacity constraints due to higher GDP growth, while advance economies like USA have challenges on the efficiency & sustainability. Similarly, businesses in different parts of the world face different problems, so it's important to be aware of them all.

What is the future roadmap set for your company?
Our long-term goal is to hasten the implementation of the technology into ports and its evacuation system, not only in India but throughout the world. We expect to see implementation of these technologies in Brazil, the United States, Bangladesh, and Vietnam initially.

Rajeev Chanan, Managing Director
Rajeev Chanan is an engineer in Electronics and Communications from MNIT Jaipur. He has professional experience of more than four decades and served prominent companies like HCL Technologies, Hew-lett-Packard, Agilent Technologies, Nokia Siemens Networks and many more. In 2018, Rajeev launched Umeandus™ that offers revolutionary technologies and systems for in-land freight transportation and port logistics infrastructures.
Location: Gurgaon