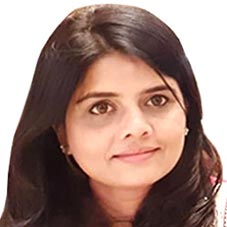 In finance, as career level rises, female representation has showcased a significant presence over the last few years. In India, several successful women professionals are playing critical roles in shaping the country's financial sector. Vaishali Dhankani, the Founder & CEO of Analah Capital, believes that women tend to be better in multitasking and are more honest and ethical in their approach. In her vision, they are calculated risk-takers with foresightedness and are less prone to over-confidence. Vaishali has a positive outlook to amplify the operations of Analah Group across global platforms. It was initially a team of professionals in MBA & Chartered Accountants having niche experience in Pre IPO and Unlisted Markets which set the ball rolling for Analah Capital, later diversifying into a Platform for Global Private Equity and Real Estate Opportunities. At Analah, Philanthropy means giving financial independence to our Investors and Partners.
In a brief conversation with CEO Insights, Vaishali Dhankani talks about her role in establishing Analah Capital and how she perceives the markets.
How did your professional background come into play with the operations of Analah Capital?
I am a Chartered Accountant by profession and have worked with ICICI Bank and National Payment Corporation of India (NPCI) prior to Analah. After taking sabbaticals from my professional journey, I established Analah Capital in the year 2016. We initially started with a four member team and have rapidly grown to a hundred member team within just three years. With my experience in the banking and finance sector, at one point, I felt like I should give entrepreneurship a shot. Initially, I never wanted to be in the entrepreneurial seat, but my family's enthusiastic support motivated me to knock the door. I am grateful and proud of how far Analah Capital has reached, securing a prominent global
presence with representative locations in Dubai and London.
While establishing Analah Capital, what were the significant challenges that you encountered?
We knew we were entering into an unorganized segment. However, our years of experience in the industry is what majorly helped us in overcoming challenges and bottlenecks.
We were the pioneers in the Private Equity segment where big platforms would offer private equity only to institutional clients. We have now made private equity accessible to HNI and Mid Segment investors as well. We offer global products that are not readily available in the Indian market. We still face challenges and understand that change is the only constant. To survive and be successful, you've got to adapt to change. As a team, we are always learning and innovating ourselves and our business. If there are similar products as of India's in the global market, we study them too. We are always on the look out to adapt to global standards.
At Analah, we believe our values shape and define the culture of our company. Our values serve the foundation on how we work with our Investors & Partners and make our business decisions
What did it take to position Analah Capital at the current heights? Share with us your thoughts on the present scenario and future of this space?
I firmly believe that our passion and hard work, has helped us gain a vital position in the market. We are looking to further expand ourselves globally in this particular segment and increase our niche product presence in other markets as well. We are also simultaneously working on our new company Analah21 - A Global Platform for Real Estate, Investments, Immigration and Technology Solutions.
In today's financial segment, the mutual fund industry and equity market segment has only minimal penetration of the investor base. However, despite the lockdown in the last quarter, markets across many industries were still flourishing. There is a vast scope for any industry player in India if they have something unique that can
retain in the market, and has credibility and the potential to meet the need of every investor with a proper justification of evaluation. The other day I was reading an article which stated that, if the inception of an idea for LIC can act as a catalyst that increases the base of investors, then equity market will also increase manifolds. Therefore, I think this kind of base will come to the market, and the millennial investors will start investing as well. For example, Robin hood which is a Financial Services company based in the US has made capital market trading and investment into sections or fractions. With technological advancements, their value escalated to USD 14 billion. At the same time, when we look at India, the country is also getting mature for such new and healthy investment ideas.

What advice do you wish to give for the young entrepreneurs out there?
There are no shortcuts to significant achievements. Whenever you want to do anything, give yourself time and don't get demotivated when things are not falling in place. If you keep investing efforts, then you will definitely see the results. At the same time, you need to have clear vision, goals, and interests set in the right direction. One of the most important aspects is to maintain the credibility factor. It helps in maintaining a relationship with associates, and they, in turn, become the catalyst for your further success.

At Analah, we believe our values shape and define the culture of our company. Our values serve the foundation on how we work with our Investors & Partners and make our business decisions. We believe in the values of Entrepreneurship, Philanthropy, Innovation, Diversity, Transparency and Passion.

Vaishali Dhankani, Founder & CEO, Analah Capital
With over 16 years of rich expertise in the banking and finance sector, Vaishali Dhankani is one of the instrumental founders of Analah Capital – A Tech based Global Distribution Platform for Financial Services, Real Estate and Taxation.

Vaishali is also a firm believer of women empowerment and manages a majorly women dominated team of CA's, CS, CFA's and MBA's – young and bright entrepreneurs in the making. Vaishali's foresight and stock-picking abilities have helped investors and institutions diversify their portfolios, in turn, generating high returns.

Hobbies: Reading and Travel