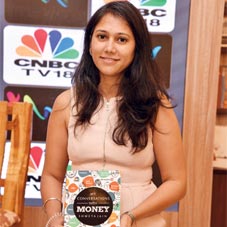 The pandemic has already capsized many lives around the world, causing massive job losses, making people turn into nest eggs & retirement plans, and possibly even racking up debt. Times like these remind us of the dire need for money management skills and articulating what it is that we really want from our money. If you have the right financial plan in place to embrace the future ahead, perhaps it's not too late to build or rebuild. Shweta Jain, a Certified Financial Planner (CFP), and the founder & CEO of Investography Pvt Ltd, is on a mission to uplift the financial literacy of our country by equipping people with money management skills. Her anecdote of breaking the glass ceilings of gender discrimination and succeeding in the finance world, is also the success story of thousands of employees across 100+ organizations. Shweta's passion for creating financial literacy has driven her to conduct over 1000 workshops for more than 35,000 individuals & advisors across organizations like Google, HP, Accenture, JP Morgan, J C Penney, HPCL, and many more. She has also conducted sessions on behalf of SEBI (Securities and Exchange Board of India).
Shweta boasts a stellar academic career that includes a Wealth Management course from IIM- Bangalore and a Behavioral Finance course from IIMAhmedabad, and even more shining professional experience that spans across 16 years, encrusting financial planning, research and client service. Today, she is also on the Executive Committee of COFP - an association of CFPs based out of South India. CEO Insights is delighted to engage in an exclusive interaction with the Young Turk.
What inspired you to establish Investography?
The concept dates back to 2003, when I started off with the only intent of helping people make better decisions with their money. It indeed was an extremely personal endeavor to me, as I have witnessed many, who are close to me, making one bad decision with money, and the whole family suffering. I realized the importance of good money management early on in my life, and ever since then I have been actively involved in helping families define and reach their financial goals.
From starting a company in a male-dominated domain to building reputation and crafting a successful business out of it, the whole journey was filled with multifarious challenge
I love learning from my interactions and the same made me realize that I could engender a bigger impact. That thought led me to start working with corporate organizations and design financial wellness programs for their employees. The idea was to educate people on money management skills, which ideally should be a life skill. We now work with over 100+ corporate companies on their financial wellness programs. We at Investography are dedicated to helping people make better decisions with their money.
Being a women leader in a maledominated segment like Finance, must have stirred up unique challenges. How has been your journey so far and what drives you today?
Yes, every activity in the financial domain comes with its own set of challenges. To move further in my career, I had to fight gender bias at various stages. From starting a company in a male-dominated domain to building a reputation and crafting a successful business out of it, the whole journey was filled with multifarious challenges and I still face some of them. But we today exist as a dedicated team and
our passion for making an impact on people's lives drives us and helps combat all the challenges that come along the way. The contribution of every team-member and our keen focus on financial literacy keep us on our toes, while our clients' confidence in us keeps us moving further. The methodology and style may differ, but we are quick to adapt into new styles and methods to reach out to more and more people, making an impact and making learning about money fun.

Family plays an important role in every person's life. How has been your family's support in your journey?
My family is my rock. All of them, including my parents, son, and husband, have been extremely supportive not just emotionally, but by being there for me. My son has now grown up, often travels with me, and is so accommodative that he has even attended many of my meetings with CEOs, clients, and fund managers.

Do you have any advice/suggestions for the budding entrepreneurs in the same segment?
Keep your focus on your niche and on your product; but don't get too attached to it. Take feedback and keep improvising according to your target market. The integrity of your product is important, but so is the customer experience. Hence, having an open minded approach is of paramount importance.

Shweta Jain, Founder & CEO
A Certified Financial Planner, Shweta possesses more than 16 years of experience in the financial service space, spanning across areas like financial planning, research and client service. She has done courses on Wealth Management and Behavioral Finance from IIM-Bangalore and IIM Ahmedabad respectively. She is also the author of 'My Conversations with Money, which was published by CNBC Network 18.

Hobbies: She is a reader, and loves spending time with her family and friends
Food: Vegetarian Cuisine
Travel Destination: Spain & Ladakh are her favorite destinations. She also loves jungle safaris in the forests of Kabini, Bandipur, and Gir.