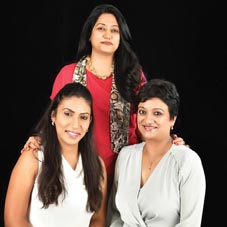 With a clear view on how wealth has to be preserved, reviewed, and managed, Sandhya Krishnan, Padmini B.S, and Nandini Priyanka Loganathan have been playing stewardship roles in leading the prominent establishment Atom Privé. Each has devised their own unique ways to funnel the industry knowledge in helping elevate the company to attain heights in the wealth management sector. The three leaders, in their career life, have been diligent in developing a holistic and enduring relationship with clients.
Here we have an exclusive conversation of the three proactive leaders with CEO Insights, throwing light into factors that involves designing and managing a bespoke portfolio to suit the client's needs.
What inspired you to establish Atom Privé? Also, brief us about the distinguishing aspects of your firm.
When we think about this question, it takes us down to the state of the industry today. We sincerely believe that the process is not just about creating wealth. Wealth should be preserved properly, risks have to be reviewed and managed, and finally, it has to be passed on to the right hands in the right manner too. The entire process, in our view, is a journey from money to wealth. Primarily, it does not involve pushing products for our benefit. Secondly, we believe in a long-term approach- in building client and employee relationships as well as measuring success and growth.
Atom Privé is built on an entrepreneurial private banking model, a first of its kind in the industry. The company takes pride in setting up an extremely robust profit-sharing model, which not just a great tool for incentivizing, but a
clincher in getting the best of the pedigree and retaining them too.
Tell us what keeps you going – what is that driving force or inspiration. Also brief us how you keep yourself abreast with the latest trends and technologies in your domain.
Sandhya:
To take Atom Privé, who is still in her formative years, to unprecedented heights by delivering perfection in all the aspects - accurate data-backed advisory based on deep-rooted research and analysis and upholding fiduciary interests- that is my biggest driving force.
There is constant learning, extensive reading and upgrading of our skill sets to keep abreast with what is happening around.
Padmini:
Working with likeminded entrepreneurs is always inspiring. Achieving new milestones in this journey and spending valuable time with family, especially my teenage daughter and discovering latest trends are some of the factors that remain as my constant sources of inspiration.
The core idea of us coming together to form Atom Privé was to be the change we wanted to see in the industry
Nandini:
Though I have always looked up to so many achievers, the one person who has really inspired me is Mr. HarshaVardhana, Founder and MD of Atom Privé. Having worked with him for many years, I draw inspiration from his clarity of thought and tremendous can-do attitude. Another driving force in my life has been my family and close friends who have always supported and stood by me.
Challenges become a part of life for professionals, especially in leadership roles. How do you think hurdles along the way have helped in creating better strategies?
When one becomes a part of a financial institution, the solutions are always limited to in-house products or a few market tie-ups. Many a time, clients' interest are not aligned with those of the organization you work for. It was therefore the need of the hour for some likeminded people like us to come together with the fundamental idea of creating a platform that is
free from such barriers and limitations.

Today's employee can be tomorrow's entrepreneur. What advice would you like to share with aspiring minds who intend to build their own enterprise?
It has been a year since all of us have embarked upon our entrepreneurial journey and we are savouring every moment of it. Here are some words of advice coming straight from our hearts. Rewards outweigh the risks of starting out on your own. Cast aside all your apprehensions and step out of your comfort zone. Build your own dreams instead of working for someone else's dreams, even as you create your own wealth like never before. Rest-assured, the end result is more often than not magically real!

Sandhya Krishnan, Co-Founder & Executive Director
With a track record of 20 years in the banking and financial services industry, Sandhya has gained tremendous knowledge and growth in the various roles played by her. Her penchant for perfection and razor-sharp focus on the finest of details has helped her go that extra mile to ensure that clients receive the best possible advice.

Padmini B.S, Co-Founder & Executive Director
Walking the tight rope as a leading wealth manager and a homemaker, Padmini has a distinct idea of how to comprehend different investment personas of clients and align them with their wealth management goals. Her meticulous approach in devising financial solutions coupled with the ability to build strong customer relationship has rewarded her with longstanding associations with her clients.

Nandini Priyanka Loganathan, Co-Founder & Executive Director
Nandini believes that the most important aspect of dealing with money is being cognizant of the economic developments, evolving policies processes, and being aware of what may impact a client's portfolio and strategy. With 16 years of industry experience, she keeps updated with information that helps in Headquartered: Bengaluru developing strategies best-suited for clients.

Services: Wealth Management, Risk Advisory, Estate Planning, Tax Consultancy, Real Estate

Headquartered: Bengaluru