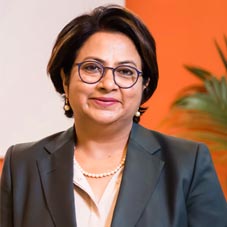 Have you heard of the famous saying – 'Leaders are made, not born overnight'? The transformation from a mere student into a well-versed leader is no piece of cake for anyone. It takes volumes of perseverance, grit, determination and most importantly passion to standout amidst the crowd as a successful business leader. The esteemed CEO & Managing Director of Fullerton India Credit Company Limited - Rajashree Nambiar is one such inspirational, passionate and successful business leader, who currently outshines at the forefront of the finance industry of India. Rajashree has experienced an amazing professional journey of almost 28 years across three completely contrasting environments. All throughout this journey, she has been highly instrumental in bringing business turnarounds and also managing growth and profitability of those businesses she was a part of. She has also constantly provided milestones of success and happiness while being the linchpin behind the success stories of diverse individuals she has worked with.
Disparate Work Environments
Recounting her professional journey, Rajashree articulates, "I've uninterruptedly worked for almost 28 years in the finance industry of India. So far, the journey has been incredibly exciting for me!" Currently, Rajashree is responsible for the overall corporate strategy at Fullerton India and its subsidiaries. Fullerton India is a wholly owned subsidiary of Fullerton Financial Holdings Pvt. Ltd., which in turn is a wholly owned subsidiary of Temasek Holdings Pvt. Ltd., Singapore. Prior to joining Fullerton India, she was serving as the CEO & Executive Director at India Infoline Finance Limited, the NBFC arm of the IIFL Group. At IIFL, which is a leading finance and investment services company in India, she successfully developed and executed a longterm business strategy that is focused on diversification of the retail segment into retail housing, commercial vehicles, gold & SME loans.
The inspirational journey of Rajashree further involves her stint with Standard Chartered Bank, before joining IIFL. She spent a whopping 22 years of time with this bank across the retail space where she wore diverse management hats such as Head of Branch Banking, Country Head of Distribution and General Manager – Distribution & Alternate Channels, India & South Asia, and Head of Retail Products for India & South Asia. Across all three companies, Rajashree has gained wide exposure to international best practices, developed multiple business rules, lead large teams, and always stood at the frontline. But why did Rajashree prefer finance? Well, the predilection for finance sprouted in her when she was pursuing her MBA at Jamnalal Bajaj Institute of Management Studies after graduating with B.Sc (Hons.) Physics degree. Rajashree adds, "Instead of joining an FMCG company given that I have specialized in MBA – Marketing, I chose to join ANZ Grindlays Bank, impressed by their strong preplacement pitch at my college".
It was a matter of chance that
Rajashree plunged into the world of finance by accepting her first job offer on campus at her college. But once she started working at ANZ Grindlays Bank, which was later taken over by Standard Chartered in India, she realized that consumer banking was all about people, transactions and retail customers, and decided to make a good career out of this. Well, she has gone beyond just creating a good career for herself towards contributing a mammoth deal to the finance industry of India. Yet, the journey of any successful leader involves both ups and downs! From the professional front, Rajashree faced challenges with respect to gaining credibility as a business leader, marshalling the resources, and hiring the best talent for the organizations she was a part of. Since she had to work across diverse geographies such as Delhi, Chennai and Mumbai, she was posed with the biggest responsibility of motivating and inspiring a large group of people to work towards a common organizational agenda.
After spending 28 years in the finance industry, maintaining work-life balance doesn't torment me much and I'd say it is a breeze today
Fullerton India's Excellence
Today, Rajashree outclasses as the linchpin behind the end-toend operations at Fullerton India, a leading non-banking financial company with a strong PANIndia presence. A people-first organization, Fullerton India has been a safe, secure, profitable and trusted financial platform for millions of Indians since 2007, especially from the Tier-II and downward markets where the retail credit holds huge potential. With over 648 branches, over 3.6 million customers and 14,000+ employees along with presence across 58,000+ villages and 600 towns, the company offers a wide spectrum of retail loan products under one roof through a clear and straight forward process. This entails both secured loans (property backed & vehicle financing) and unsecured loans (B2B & B2C). It has four lines of businesses encompassing urban, rural, digital and housing finance. Rajashree articulates, "We are AAA rated across all the major credit rating agencies, and recognized in the market for our unique governance framework and set of ethics that we follow". In short, Fullerton India's USP is its contemporary business model that involves being digitally advanced and leveraging the traditional infrastructure in India to offer loans in a very efficient and optimal manner.
Having experienced exceptional growth rates for FY 19 & 20, Rajashree beholds a strong runway for the company to grow profitably even during the next five years. She aims to focus on digital business and digitization across Fullerton India to mould it into a very well penetrated and digitally advanced NBFC in India. The other focus area of the company is data – to efficiently monetize the data of over 3.6 million customers and create a virtuous cycle for future business. Post COVID-19, the main aim of the company is to seamlessly adopt contactless and paperless lending. Rajashree asserts, "As the world reopens, we will continue to strive forward with resilience and determination. We are committed to providing our customers with all the support they need as they get back on their feet to rebuild their businesses, their futures, and their dreams. Together, we can overcome all challenges and move forward to a brighter, better tomorrow".
Being an ardent finance veteran, Rajashree proactively participates in conferences to speak about women in the workplace and shares her knowledge and experiences with them which could inspire them to stay with the organization for long tenures. She also shares insights about the trends and advancements happening in the world of personal finance with her peers in the industry. To further be updated about the industry's trends, she stays connected with Fullerton India's 25+ fintech partners, reads books, publications and newspapers, and closely interacts with the leadership team of 10 ace experts. She and her team are also active members of various industry networks that organize seminars and conferences and thus, keep updated about the world of finance.

Family – The Pillars of Support
Rajashree says, "Nothing would have been possible in my career without the support and love from my family". Her husband who was her business school companion has been her biggest pillar of support right from the beginning of her career. He understood the demands of a full-time job in the finance world and helped her in every possible way. Rajashree's 21-year old son who is currently studying abroad has always been the apple of her eye. The birth of her son was one of her prime milestones in life. She really enjoyed being a mother despite straddling high work pressure at different organizations because she believes nothing is greater than the joy of motherhood.

In the initial days of her career, Rajashree was involved in branch banking that requires round the clock attention since it comprised of a lot of people and customers. Yet, she managed to perfectly balance between diverse responsibilities both at home and work. Today, she has charted-out her life quite well with years of self discipline – to give equal attention to both family and work. As a morning person and an ex-marathoner, she spends the first hour of her day exercising outdoors. Being fit has always been her motive. To take time off work, she drives around some country every year with her husband and son, and has travelled to 36 countries so far. Rajashree concludes, "After spending 28 years in the finance industry, maintaining work-life balance doesn't torment me much and I'd say it is a breeze today".

Rajashree Nambiar, CEO & Managing Director, Fullerton India
With work experiences from three different companies and variegated geographies, Rajashree presently stands at the vanguard of growth & development at Fullerton India.

Favourites:
• Hobbies: cooking, travelling to one country every year, and reading about history & travel

• Cuisines: my mother is from Bengal, my father from Kerala and my husband is a goan catholic; i can't just pick one, i love them all

• Travel destinations: Alaska, Ireland (beautiful country to drive around), and London (favourite because of very friendly & chatty people on the streets, traces of food with Indian history and good shopping)

To The Budding Leaders In Finance:
Finance provides attractive employment opportunities to people. Having worked for 28 years in finance, I believe now is a fantastic time for aspiring people to foray into this space. If you look at retail credit growth, it has been climbing year on year, thereby creating huge headroom for growth. Secondly if you look at Indian finance market, it is a strong robust market with very fast and high digital adoption. This makes finance a great place for budding professionals to plunge into and innovate seamlessly.