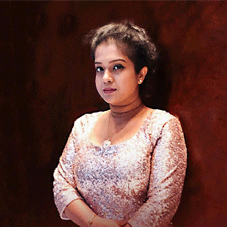 Engaging pragmatically with the business operations at the young age of 14, Varsha Vishnu Prasad was taught and mentored by his father to learn the business nuances that later became the stepping stone for her career. When the foundation stone of Crust 'n' Crumb was laid 16 years ago, Varsha grew up along with it as a part of the system and later resumed her position as its MD. Taking full responsibility to drive Crust 'n' Crumb to the pinnacle of success despite her formal education in different arenas, Varsha's professional journey has been quite challenging till now.
Leaving no stones unturned to lead the brand of Crust 'n' Crumb through turfs and turds, Varsha Vishnu Prasad refers to herself as a second-generation entrepreneur who met the challenges out there with explicit professionalism despite having any prior experiences. Learning about business management through various courses rather than a full-time formal degree has enriched her intellectuality with much broader and unique concepts of business administration. Equipped with out-of-field experiences which have augmented her expertise with comprehensive skills, Varsha officially started running the establishment in 2019 as a full-time MD.
Engaging in an exclusive interaction with CEO Insights, Varsha Vishnu Prasad briefly elaborates about the very essence of being a woman leader spearheading the FMCG sector.
As a woman leader, what are the major challenges you faced in the industry during your journey? How did you overcome them?
For me, the main challenges were not direct discriminations but subtle biases and I feel thoseare harsher. People tend to judge us based on our gender, as they assume that women leaders might be softer or lack comprehending the business. Despite their illogical assumptions that I might not be understanding what happens in the field, I would like to say that I've been able to change those perspectives within a short time. I have triumphed over numerous tough situations because being women we can not only deal with situations with empathy but at the same time can be strong decision-makers as well.
As a female leader, what has been the most motivating factor in your career till now?
I think the COVID situation was one of the main challenges that we have endured so far. I'm also managing another company, Atlantic care chemicals which caters to sustainable and eco-friendly products for housekeeping, industrial and institutional hygiene cleaning, commercial and industrial Laundry/textile processing and finishing/garment wet processing and dyeing, Pharma OTC drugs and so on. Operating in the labour-intensive textile industry we took the hardest hit during the lockdown as we were only catering to B2B industry. To remain relevant, we had to tap into the retail market, and I think during that transformation, leading the company was a challenge as we were entering into a new market and had to get new customers.
In Crust 'n' Crumb, as our structures
in place, we could sail through that hard time. But in Atlantic, when our core customers shut down, we had to ensure that we survive by finding a new market, pushing the products into those markets, and came out of the harsh situation. Ensuring my two companies come out of this turbulent time was a massive thing and I'm happy to say that we came through the pandemic with two contrasting experiences.
Highlight on the USP of Crust 'n' Crumb Food Ingredients. What is it that gives you an edge over your competitors in the industry?
In the baking ingredients industry, we are a parent company. Although we established our company as such as 16 years ago, we were mainly catering to the export market. In the Indian market, we've only been active in the past five to six years. So, within the six years in the Indian market, we've established a very good presence as a team because we are young, flexible and open to the changing marketing conditions. Being a close-knit team where changes can be dis cussed and brought into action within a very short period, we cater to the market demands immediately.
Being women we can not only deal with situations with empathy but at the same time can be strong decision makers as well
Our competitors might be well established, but I don't think they can cater to the market as fast as we can do and this is certainly one of our USPs. Another feature which gives us an edge over the competitors is encompassing a wide range of products in our basket. With more than 150 products in the industrial range and over 70 products in the retail range, we even ensure region-wise catering by formulating specific products based on the taste requirements of our customers.
Kindly throw some light on your flagship offering. What are your strategies to deliver premium quality products to Crust 'n' Crumb Food Ingredients' customers?
We are a global player in baking as well as in the confectionery industry by developing products such as baking solutions for industrial bakers, commercial bakers, food service companies, confectionery manufacturers, flour mills, and so on.
We provide custom enzyme blend along with the major baking industry product such as cake mixes, bread mixes, and custom concentrates. With a very research-oriented approach, we are always innovating and are equipped with a full-fledged R&D department, where each year our products are evaluated and constantly improvised to meet the dynamically evolving market need.
What are the latest technologies you use for efficient operations? How do you ensure that the rules/certifications/regulatory compliances are properly met at your firm?
We have fully automated manufacturing machines and systems and a fully equipped quality control lab to do routine tests. Our complete process of development is subjected to quality and food safety management controls, as we have ISO22:2000, fssc, fssAI and Halal certifications. Starting from our raw materials to semi-finished goods and finished products, everything has a very stringent quality test to ensure that we deliver products as per standard market compliances.
What are the marketing and distribution strategies that you have adopted to dominate the market?
If we are talking specifically about the Indian market then we have a
pan India presence and, in each state, we at least have five people. Forging a very wide range of distributors all across India helps us distribute efficiently to our market. Not just in India, we are exporting to Middle Eastern countries and African countries as well. In the Middle East and UAE, we have a wide distribution form and effectively cater to the international market as well.

What are the milestone achievements in your professional journey that bestow utmost satisfaction upon you?
I think the way we handled the COVID crisis was one of the most satisfactory milestones for me. During the initial phases, even though there were logistical delays, we not only overcome overcame them but also managed to make good growth with the efforts of the entire team. I feel achieving this was only possible because of the timely implementations of pre-emptive strategies to overcome those contingencies. Even during this time, we had ensured that our staff was completely paid, and nobody was let go.

According to me, we were able to do that only because of the strength we have accumulated in the previous years. So, I think that was a very satisfactory period, as our employees supported us through the whole acting as the pillars for the company. It's because of their efforts we have achieved a strong foothold in the industry now and we owe our success to every individual in our company. Even after the lockdown period, we are conjointly working to enhance our sales as well as our production capacity for the upcoming year and I think this is a very satisfying achievement for all of us.

While managing a company involves a lot of stress, skill, and time, how do you maintain a balance between your personal & professional life?
It's very important that we delegate work and give authority to proper departments to take decisions. If we start micromanaging everything, we will not be able to do an efficient job within the allotted time slot as well. So, I feel that each department has tremendously skilled people and they are perfectly able of making decisions.

"For me, the main challenges were not direct discriminations but subtle biases and i feel those are harsher"

A lot of decision-making is delegated to them and for important decisions which require specific attention, we all get together and make a collective decision. Delegation is key here as I always ensure to keep everybody in the loop and they are bestowed with enough authority to act on their own. So, that's how I like to coordinate with my employees which enables me to have a proper balance between my work and personal life.

What advice would you give to women who strive to be leaders in the similar industry or any other industry?
For women who strive to flourish in the corporate sector, it's very important that we believe in ourselves. Even if people try to make you feel like you're not enough, your skills will prove otherwise. Your gender is not what makes you but it's your skill and capability that makes you equivalent to any other individual out there. So, all we have to do is to remain true to ourselves and let our voices be heard.

Women are generally brought up with beliefs that they have to think twice before speaking. But as a woman, I can advise that you don't have to suppress your voice to protect other people's ego and rather be true to yourself. If you feel like you're doing the right thing, speak out and climb above those preconceived expectations of patriarchal society.