Rinka Banerjee has over 25 years of professional experience with the Food & Beverage industry in India and the US. During this time she has been involved with launching more than 200 F&B products for multiple brands across the globe.

Rinka has a Bachelors degree in Dairy Technology and a Masters Degree in Food Science from the United States. As part of her MS, Rinka researched and patented technology to manufacture edible packaging films from milk proteins. She worked in the US with brands like Haagen Dazs and Slimfast and then with Unilever in India for 16 years. At Unilever, her last responsibility was heading R&D for the Foods Business in South Asia.

In 2014, Rinka founded Thinking Forks Consulting, India's first and perhaps only end-to-end R&D consulting firm specializing in Food & Beverages. Over the last 7 years, Thinking Forks has enabled the launch of 25+ new brands and about 100+ products in Indian and Global markets. In 2018, Rinka co-founded Tangy Turmeric with another passionate foodie, a company that makes a range of authentic homestyle and preservative free ready-to-cook products under the brand Tasty Tales. Tasty Tales was launched with the idea of helping consumers re-create delicious heirloom recipes of our mum's and grand mum's in less than 20 minutes.

Below is an exclusive interview between CEO Insights and Rinka.

Tell us about your entrepreneurial journey
My first venture, Thinking Forks, a company I founded with a vision to Bring Food & Nutrition ideas to life. I felt there was a need for an entity in the market that can facilitate creation of new concepts and products in Food & Nutrition. Looking back now, It is gratifying to have played a pivotal role in enabling several disruptive launches in the Indian F&B space. Envisaging and then putting together a model that uses multiple moving parts...a strong in-house delivery team, expertise leads, network of innovators, client base across geographies, and strong eco-system partnerships with suppliers, manufacturers, academic institutions in India and abroad; has been extremely satisfying. Blending the art and science of something like food is never easy, and I feel blessed that I have had the opportunity to get this to work.

At Tasty Tales, I have had such an exciting experience working with in close parternship with my Co-
Founder and our investors who like me have an amazing love for good food and passion for sharing it with the world. As a Co-Founder, I am responsible for creating an exciting product portfolio, which gives me an opportunity to marry my passion for curating heirloom recipes with the technological aspects of Food Science. I loved spending time with families from around the country to understand various traditional recipes, where the ingredients came from, and replicating their process on a commercial scale while being true to the ethos of the brand. It is so humbling and rewarding, when our consumers write in saying "I can't believe it is from a pack, tastes just like how it is made back home".
In 2019, Rinka was the recipient of "Top 15 Women Transforming India" Award from the NitiAyog, Government of India
What inspired you to establish both your ventures?
After having spent a good 19 years in the industry, I felt it was time for me to translate my learnings and help a larger set of companies – startups, mid-size and larger incumbents with my skill set in Food R&D. I realized India did not have an organized industrial R&D set up which is accessible by companies of all sizes. India has very good institutions with good research capabilities but not necessarily the ability to take a technology to market. It is with this desire I set up Thinking Forks which provides end to end R&D solutions to F&B companies across various stages of their journey. A highly experienced team of experts, a young passionate operating, and strong ecosystem partners have helped us bring different Food & nutrition ideas to life from concept to market.
My mother inspired me to think about curating heirloom recipes and make it easy for the younger millennial consumer to prepare authentic homestyle food which are natural and delicious. I thought to myself, with my strong background in Food Science and the amazing recipes from our families, I am sure there is a way to bring to market a range of preservative-free, authentic homestyle curries that are easy to make. It is with this passion and vision of providing preservative free, homestyle food along with my business partner and highly supportive investors we now have a range of ready to cook curry pastes
from Amritsar, Goa, Mangalore, Bengal, Tamilnadu and dessert like Nolen Gur Kheer from Kolkata.
Are we to see any innovations from your side shortly in the FMCG domain?
Currently, at Thinking Forks, we are excited about working with a wonderful cohort of clients on their initiatives in Health & Wellness, Clean Label Foods, Plant based alternatives and Sustainability.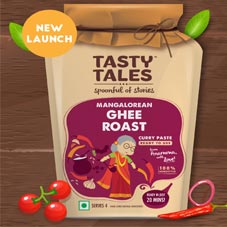 At Tasty Tales, we are seeing great traction in the Indian and global markets like the US, UK and UAE for Ready to cook products, especially in the context of people beginning to spend lot more time at home and experimenting a lot more than before in their kitchens. We are working on a wider exciting range of new cooking solution products that address multiple courses of a meal, while being grounded in the tradition of authentic heirloom recipes. Do watch this space!
Rinka Banerjee, Founder & Director, Tasty Tales
Milestones:
• I have fond memories of the first product I developed fresh out of college, an ice cream called Dulce DeLeche for Argentina, a country I had no idea of. I was fortunate that the product was an immense success.
• While at Unilever, I was again fortunate to work on some iconic products and new launched brands.
• In early 2000's my colleagues and I were responsible for launching the first automated Ready To Eat Chapati plant in India;
• I led the development of products for brands like Bru, Knorr, Kissan etc.
• With my current ventures as an entrepreneur, it has been a brilliant experience to work with disruptive startups, new category entrants in the F&B space. We have been fortunate to work with brands like Too Yum, 24 Mantra, YogaBar, & me, Auric, Kapiva, ENE and of course Tasty Tales and many many more.
• Last year, I was recognized by the Government of India, as one of the 'Top 15 women Transforming India', which is a great honour and responsibility.