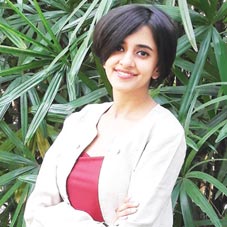 Veekes & Company was born out of the need for standardization and affordability in the HORECA segment.
Her father started a chain of budget continental restaurants in 2009 under the brand name "Veekes & Thomas" that at its peak had 17 restaurants and was the largest euro food chain in India. Driven by the success of the under 100 continental concept, Kavya came back in 2018 and the business assumed a new avatar by taking the same much-loved sauces and soups and turning them into preservative-free instant dry powders.
Recently, CEO insights India Magazine got an opportunity to get in touch with the professional chef and determined entrepreneur revolutionizing the way instant food is perceived and consumed, through her passion.
Tell us about your journey as the Director of Veekes & Company and the roles &responsibilities that you have been undertaking so far.
Product conception and development is my forte. I work closely with food technologists and anyone who knows the authentic recipe of the dish I am looking to create – a chef ora housewife. This marriage of food science and culinary art is what makes our product so tasty and the real deal. Additionally, I oversee business development and sales. The learning curve has been immense- multi-tasking, being involved in every minute detail right from packaging to logistics to managing my small team, and working with vendors, suppliers, retailers and distributors has been quite challenging but it is now a regular day in the life!
Kindly tell us about the initial challenges that you have faced as an entrepreneur. How did you overcome these challenges? And, how has this toil helped you in achieving success in the later phase?
The biggest challenge is getting retailers and distributors to agree to keep your product mid the many VC funded players out there who have really deep pockets. Initially we approached stores where we knew
the owners personally- stores where we have been customers for years. They are some of India's top supermarkets, and even today, they continue to be our biggest supporters for which we are deeply grateful.
Later, once we had these stores under our belt in a few cities, other parties were at least willing to giveus a few minutes of their time, and we grew from there. Currently, we are available in 20+ cities in about 120+ very select outlets such as Reliance Signature, Magsons, Delfinos, NIligiris, Pazhamudir, Ammanaana, Namdharis, The Organic World and Brown Tree. We are also available on e-retail platforms like amazon.in, flipkart, bigbasket and desertcart (middle east). Our presence on Amazon, Instagram and Facebook has really helped us as well, since some of our retailers got in touch with us through one or the other.
Product conception and development is my forte. I work closely with food technologists and anyone who knows the authentic recipe of the dish I am looking to create
The most recent challenge was developing our 2-minute South Indian range. To get the product to a level where are proud of it and confident that it is the real deal, took nearly a year of intensive research at our laboratories and multiple trials in the kitchen. This was in part due to the delays caused by the pandemic but now it is finally here, and I could not be happier.
Where is Veekes & Company positioned in the current food industry of India? And what are your thoughts on the present scenario and future of this space?
Our position as a budget food brand is unique because when it comes to our international range, we offer some niche and gourmet flavors that no one else offers, which are adapted to suit the Indian palate without compromising on taste and at an affordable price of INR 60. Our south Indian range priced at INR 99 each allows people to make a 4-course meal in 10 minutes without any of the grinding, soaking and roasting otherwise required. All our products contain real ingredients, have a 9-12 month shelf life without preservatives, and with just the addition of water and agarnish of choice, can turn into the real thing in just 2 minutes.
The way we approach our business is slightly different. We prefer not jumping on the bandwagon and have been sensible with our
finances, so the company today is debt and PE free and very close to breakeven. There is no pressure to expand for its own sake. We expand slowly and profitably.

Personally, I keep an eye of what competition is doing and keep sampling and trialing new products from the market but even here we always conceptualize and create products that we would like to eat irrespective of what the other players are doing and since everyone cooks well at home, the first and last test is that it must be unanimously passed through our dining table!

Food technology and food engineering will be the future. We sought to revolutionizing the way people cook at home- getting a real meal that remains healthy and stays affordable, and importantly, saves a lot of time and energy.

"While there are many milestones, a few that stand out are being appointed by merit to the UAE Junior National Team and representing the country in international culinary competitions"

Are we to see any new innovations from your side in the near future in the FMCG domain?
We plan to further broaden our geographical horizons and bring non-mainstream dishes from different South-East Asian countries and the Middle East into the homes of our customers.

What are the milestone achievements in your professional journey that bestows you with utmost satisfaction?
While there are many milestones, a few that stand out are being appointed by merit to the UAE Junior National Team and representing the country in international culinary competitions. The food business that my father and I started a few years ago and which I run now is available in over 20 towns across India with a range of 12 SKU's. That in itself I consider a huge achievement.

Kavya Krishnamurthy Executive Director, Veekes & Company
A chef by qualification and profession, Kavya Krishnamurthy graduated from Manipal University in Culinary Arts and then went on to work with the JW Mariott Marquis in Dubai where she specialized in French & Peruvian cuisine, working with some of the best chefs from across the world. She was part of the UAE Junior National culinary team and has represented the UAE in international culinary competitions. In 2018, she came back to start and manage their family-run startup that retails a range of instant foods available today across 20+ cities, 120+ premium supermarkets and on e-retail platforms like amazon.in, flipkart and bigbasket.
Location: Bangalore