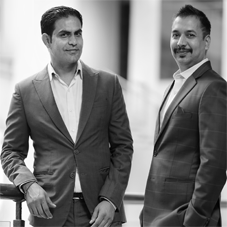 The Atharva Veda says, "Karam Hi Pooja Hai (Duty is God; Work is Worship)." For some, this meant the 9 to 5 job; became their duty, even a place of worship. However, some exceptional minds chose not to walk the straight path. Instead, they set out to find their duty and place for worship. Your work might claim first place in your list of duties. However, for obvious reasons, you might have noticed (once you popped your head up from the cubicle) that the world around you is changing. People switch their jobs more often, economics is enmeshed with social issues, and employees want to be respected for their interests, skills, and values - not just for what they produce.
Vikram and Virender Tanwar ventured out to do more with their lives. Hailing from a humble background of farmers and defence, from a village called Tigrana in Distt Bhiwani of Haryana, the Vikram and Virender, during their college years, were prepared to lead a professional life with a 9 to 5 job, relaxing weekends. Few years into the dreamt of life, the duo saw the need to revamp their lives. They realized that life as they knew it has much to offer beyond job security.
Thus, NeevBuildtech was born. NeevBuiltech is an independently owned real estate service brand dealing with residential, commercial, and industrial buyer and seller-related services. The services include sale, purchase, and rental management to ensure the entire experience of buying, selling, and leasing is seamless with a world-class service experience. Derived from the Hindi word that translates to 'Foundation' in the English language, Neev truly lives up to its name. At Neev, the focus is laid on establishing a solid foundation of the relationship with customers. Neev is a real estate solutions company wherein 'Fair & best deal' is the essence of every relationship, and delivering end-to-end services under one roof is a promise.
Beating the Odds to Redefine Real Estate
What started as a 2 member setup soon grew into a 10+ is today a 120+ people strong organization. In less than a decade, NeevBuildtech has 7 offices in Gurugram. However, the road to this juncture was not all smooth. As Vikram says, "The journey has been through some rigid sails where our non-business background, on the one hand, gave us tough times. On the other hand, it also helped us think unconventional. At times we were even unaware of risks and acted that gave us both success and brickbats. But I feel we have been ahead of the curve most of the time. A clear example is Nitara Projects Ltd, our flagship construction company under NeevBuildtechPvt. Ltd".
Nitara was conceptualized when the Neev team realized that except for the high-rise buildings or mega projects, houses were made with a cookie-cutter approach.
Clearly, the construction industry was highly unorganized. Vikram adds, "In our observation, this impacted the trust a customer could place in the mid-size but quality projects". To bridge this gap, NeevBuildtech launched its first construction project in 2014. Six years into operation, the construction arm of Neev has delivered almost 30 residential independent buildings in Gurugram. "This growth story makes us feel that we have been both blessed and destined to have taken this entrepreneurial challenge and successfully built a fast-growing enterprise that has grown beyond the real estate business," adds Vikram.
Nitara was conceptualized when the neev team realized that except for the high-rise buildings or mega projects, houses were made with a cookie-cutter approach
The Difference between a House & a Home
Virender Tanwar, explains the need for homes, more than just houses, "From the mega projects to the small residential properties, property owners or builders sell houses and pitch it as homes. We all know the emotional association is what differentiates a house from a home. So, are they really selling home? We don't think so. Unless the house speaks your choices, gives the best of the quality material, and is custom made for you and your family, we feel it still stays as a house and takes time to evolve into a home as House needs personalized feelings as an important ingredient to call it as Home. At Nitara Group, we start customizing the moment walls are ready".
Therefore, Nitarahas this 25 Bliss concept. The firm offers 25 unique propositions, both tangible and intangible, transparent and documented along with exceptional service, and customers know what they are paying for. Under the 25 Bliss concept, besides the on paper, on-time delivery guarantee by Neev'sNitara reliable & experienced team, the company gives Vaastu friendly homes in 100% Legal buildings. The homes are located in premium locations that add convenience to the lifestyle and are low in maintenance. The firm ensures that each design is unique and with a best-in-class interior.
Nitara, as an establishment, also understands the importance of a secured environment. Hence, each project comes with a 3 to 5 Tier security cover, while the structures are Seismic zone IV compliant. From uninterrupted water supply to 10 years guaranteed waterproofing, to the use of German technology for uPVC Windows, Kitchen, and Wardrobes, Plywood and laminates, etc. Many minute details are worked upon, which a customer can walk in at the site and see the project's progress at any point of time.
A Partnership that Accomplished Wonders
Vikram and Virender have been childhood friends from as early as it gets. It is this diversity & distinctness in nature that strengthens the duo. As per Virender, 'We totally believe that two of us can progress on our vision in the best way when we don't duplicate efforts or spend our skills and time on the same task.
We are each other's best critics. Vikram adds, 'as we know each other's weaknesses so well, at times we even counsel each other on how we can do better, be a better customer-facing person, and customer-friendly organization. This is what helps us become a better business leader.'

As per both Vikram and Virender, their roles have constantly changed over the years. In the yesteryears, they played multiple roles. But as the business grew, they had to focus on specific leadership roles, and that's when Vikram decided to lead the Marketing and Finance. In contrast, Virender took over the business-critical role of liasoning & team management. Despite growing from a 10 member to over 100, the duo never shies away from rolling up their sleeves and lead from the front. Depending on what is expected of them by the team, they even take a passive role. Besides, these shifts in the roles are not just transactional but also on the strategic decisions.

People Culture
What differentiates NeevBuildtech from most other enterprises is the work culture within. The firm never addressed its people with designations. They consider every person on-board as equal. Virender comments, "A dedicated team with high motivation is the key driver for any organization. We Value our team above each Key tool of growth. Today, the team consists of Key team members from IIT, IIM, engineering, management, and many diverse backgrounds, boosting its growth.

We are a qualified and professional team, highly dedicated towards our work & passionate about customer happiness". Process, Open Door Policy, and the belief that the Learning Constant can come from anywhere have been the factors driving the firm's growth. For the years to come, NeevBuildtech is constantly working on enhancing the Skillset of the team, including training and development by Team leaders internally in the company and training by outside agencies.

Business intelligence and an increase in data volumes are things that the Neev team is constantly working to enhance its deliverables. Being a fairly new venture, Vikram and Virender take pride in being in close association with industry leaders like M3M, DLF, Omaxe, Vatika, AIPL, and others. Time and again, the firm has proved to be one of the front runners in terms of performance and Topline sales numbers in the Delhi/ NCR real estate market.

VIKRAM TANWAR is an MBA-Sales & Marketing. For over 18 years, he has been managing the most critical aspects of a relationship, i.e., the customers' trust. He has worked with ICICI- India's leading bank, SMC, one of the fastest-growing insurance brokerage companies, and the Real Estate business NeevBuildtech, the Construction business unde the flagship company - Nitara.

VIRENDER TANWAR is an Engineer- Information Technology. Though he was not cut out for the corporate regime, Virender truly feels that he had the entrepreneurial DNA and eventually forayed in the same to accomplish success. While he has worked with giants like IBM in consultancy & IT training, the Real Estate business was his true calling. At NeevBuildtech, Virender takes his role of a 'Manager of Relationships' very seriously. He says, "I believe the more we invest in it, the better business we will build tomorrow."