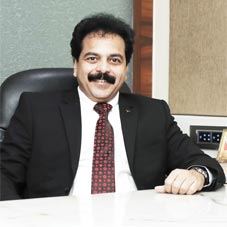 In today's uncertain, ambiguous, and busy world, people are grappling with severe stress, spiking blood pressure, and many other lifestyle diseases. The outcomes of these issues are sensitive to lead a normal life. Addressing the severity, Vinay Joshi established Eldorado Biotech in 2002. Since then, the company has been creating an innovative range of products by believing both physical and mental health to be the master key for happiness.
It is an integrated healthcare solutions provider with a pharmaceutical product basket, catering to over 10 therapeutic areas that include cardiovascular, antidiabetics, analgesics, gastrointestinal, haematinics, antiinfectives and antibiotics, respiratory agents, and more. Under Vinay's aegis, the company provides high-quality, appropriately priced products to the customers and supports all these with dedicated customer service.
In an exclusive conversation with CEO Insights, Vinay Joshi narrates his inspiring leadership journey and how his company is contributing to nurturing physical and mental health.
Tell us the major facets & achievements of your professional journey.
It started in 2002, where I took a complete U-Turn in my growing career and decided to ideate my own company. It began with 4 Medical representatives, 2 HQ, and a couple of products and today, it's a family of 100 employees with HQ all over Maharashtra and some states with around 100+ products in all segments of Pharma. My career began as a Medical Representative and now I am a Managing Director who represented over 50+ National, International Medical conferences.
Brief us on your educational and professional background. How has it helped you in your journey so far?
I am a Science graduate with
Doctorate in Business Management. In my professional journey so far, I worked with some of the reputed pharma fraternities IN ROLE OF MR, ABM, and RBM.
It has helped by empowering me to build a strong relationship with customers, increase passion for pharma sales, learn to-do principles and value-based business, also, gave me a wish to make a "WORK WITH JOY" environment.
The Director of a company undertakes various roles such as a leader, visionary, decision-maker, manager, board developer, and others. What different roles have you been undertaking at Eldorado Biotech?
It's not about any particular role but it's about nurturing the company. Sometimes you have to be in every role as per the need. So it's a combination of various tasks. And when it comes to company - It's like a single person with multi roles.
Vinay constantly believes in making the clients aware of proper scientific upgradations, advanced knowledge, and techniques for adapting to the best healthcare
What key drivers ensure that the company's operations are used appropriately to meet its short/long-term needs?
The key drivers are my team, patient satisfaction, 100% efforts, and passion towards achieving the milestones - all these are the real asset for me. Based on these factors, we are growing.
Can you elaborate on the various pharmaceutical Solutions that you offer under Eldorado Biotech? How do you evaluate the quality & effi-caciousness of the services that you render?
The chronic therapy segment is the need of time. The world is observing a tremendous increase in Lifestyle Diseases. Keeping the same thought in mind, Eldorado Biotech Pvt. Ltd. has enriched its product basket, which has a strong inclination towards Cardiology & Diabetes segment.
We have Six 1st time in India Brands which are in the segment of Cardiology & Diabetes. We aim to increase our contribution to this
segment so that people can improve their lifestyle.

Other than that, we are providing solutions in the Neuropsychiatry, and have products from Ortho, Gynaec, Pediatrics, and more.

We evaluate ourselves through patient satisfaction and our customer's appreciative testimonials.

How does your vast experience in Corporate help you to chalk-out efficient business modules at Eldorado Biotech?
The day-to-day learning process and implementing the outcomes is our business modules.

How do you ensure to steer your organization towards the zenith?
Every day is a new day for us, filled with challenges and problems. It all about looking at those problems in an optimistic view and bringing the most positive adaptation to grow efficiently.

In your professional journey so far, which are the milestones that bestowed your utmost satisfaction.
I feel the utmost satisfaction when we reduce the pill burden on patients and relieve their pain with perfect solutions. It is all about healing the patients with the Golden touch of healthcare.

Family plays an important role in every person's life. How has your family supported you in your career so far? Also, how do you manage to balance between your personal & professional life?
My wife Vandana, daughter Vaishnavi and son Vaishakh are always supportive and understanding. My family has seen all ups and downs. Their positivity inspires me to grow day by day.

Vinay Joshi, Director, Eldorado Biotech
Awards and Honors:
• Young Entrepreneur Award
• Business Leadership Award
• Doctorate of Entrepreneurial Excellence
• Unique combinations
• Patient care and compliant solution
• Innovation and quality
• Work on customer Need
• Positive work atmosphere
• Affectionate work culture
• Positive career growth
Personal Front
Hobbies: Reading books, Listening to music, Traveling
Favorite Cuisine: Butter chicken and Indian home cooked food
Travel destination: Konkan, Mauritius