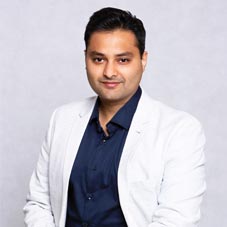 Mumbai has been long regarded as the financial capital of the nation - courtesy to the business stalwarts in the city. On a magnified view, enterprises today wouldn't have achieved much without being backed by great leaders. Kunal Shah the Director of Rank My business, India is one such corporate leader who is not just leading his company by passion, but also outspreading the presence of numerous organizations and shoving the future unicorns in the business ecosystem through digital marketing. His profound strategies and technical knowledge facilitate an encouraging business culture with constant success rate of his clients, thereby, contributing to the business ecosystem to a larger extent.
Rank My Business (RMB) is a leading digital marketing company offering services across Mumbai and is part of the Appsbizz Group of companies that operate across Melbourne, Sydney, Perth, Brisbane, Adelaide, and Hobart. CEO Insights engages an exclusive conversation with Kunal Shah to explore more about the company and his strategies of leading Rank My business.
Brief us on your educational background and professional background and how has it helped you in your journey so far?
I am a computer engineer from Rajiv Gandhi Institute of Technology Mumbai and did my Masters in IT from Swinburne Melbourne. Though it is nowhere related to the marketing what we do today, it gave me a good understanding of how to face technical challenges and effectively manage my resources (staff) in my business.
What differ
A varied spectrum of roles right from the Leader and motivator to my team members, Sales director, Account management, problem
solver, and decision-maker on a day-to-day basis.
Highlight some interesting facts about Rank My business.
Our company has always been client-centric and we believe in high-end customer service and support. There have been a good amount of case studies or professional successes, which we have had but the one which stands out has been this year. In the pandemic, where companies were cutting on staff and salaries, we ensured all our employees are paid on time and their full salaries. Also, we achieved the highest growth this year where our team strength has grown to 85 employees this year from 60 employees. I believe this was the largest achievement we had in this unprecedented time. We have achieved the growth and success that not many companies have been able to do in our space.
Team Rank My Business is fortunate enough to work with some of the high-end corporate clients in Australia and also surpass 500+ active clients at present
As the Director of Rank My Business, what are the key drivers you deploy to ensure that the company's operations are used appropriately to meet its short/ long-term needs?
We have strict KPI's and Service levels agreement within our company to ensure our customers are looked after with our exceptional service from our employees.
What were the initial challenges that taught you the basic lessons of managing diversified functions of organizations? Also, how did you manage to achieve the success that you had in the later phase?
Initial challenges were about streamlining and growing the company and also ensuring that our service-levels are also maintained. Today, we have mastered the service levels, response times, and all-around support to our clients, which has helped us spread good word of mouth and achieve exceptional results for our clients.
What are the differential factors that set your services apart from your competitors? Kindly explain your USP.
Our USP is our expertise on how we achieve rankings and leads for our customers. Also, how we ensure support and exceptional service levels.

Elaborate on the various services that you furnish as a Digital Marketing Company? How do you evaluate the quality & efficiency of the services that you render?
We are a Digital Marketing expert and Website Development Company with services across Search Engine Optimization, Google AdWords management, Retargeting, Website Development, Content Marketing, and Social Media Paid Ads Management. The best way for us to evaluate the effectiveness and impact of our services would be by improving on client results, adding to their bottom line, and customer valuable feedback.

In your professional journey so far, which are the milestones that bestowed you utmost satisfaction?
Some of the milestones achieved by us were to be fortunate enough to work with some of the high-end corporate clients in Australia today and also surpass more than 500+ active clients today. Also, growing our company to the strength of 85 employees has been an achievement in itself. The difficult decision has always been investing more into the growth and sustaining it while ensuring Rank My Business as one of the best places to work.

Family plays an important role in every person's life. How has your family supported you in your career so far? Also, how do you manage to balance between your personal & professional life?
As they say, behind every successful person there is a woman- this is so true in my case. My wife Manshi who is the joint director in the company has been an inspiration and one of the key reasons where we are today as a company. Not only she looks after the business with me but she is a great motivator and stands like a rock behind any situation with me and it's amazing how she manages work @RMB plus the family. It is because of her I can manage my work-life balance.

Kunal Shah, Director, Rank MY Business
Favourite Cuisine:
Indian, Thai and Mexican
Interests:
Playing Tennis and Cricket

Favourite Destination:
Iceland, London, and New York