Disrupted by technological advancement, infrastructure development, and innovative service providers, the Indian logistics sector is enduring a tremendous transformation. Mitigating the challenges confronted by the pandemic, few disruptive brands are performing well and affirming their roots in the industry. Today, in the era where we are accustomed to everything being online and right at our fingertips for immediate access, a smart logistics company, which has been outfitting its fleets by offering extraordinary services is - Vinsum Axpress.

The company is yearning to relish the industry's burgeoning growth. Having acquired significant knowledge and expertise, the founder of Vinsum, Vinod Sarma - is pitching the industry by perfecting freight management, route optimization, and sustainable solutions. With such encroaching strategies, innovation, and enduring risks, today, he is recognized as one of the top leaders in the logistics space. CEO Insights engages an exclusive conversation with him to explore more about the company.

Throw some light on the inception of Vinsum Axpress
I was born and brought up in a middleclass household from JIND, Haryana. I started my journey with a core transportation industry and hustled for 18 years in pursuit of creating a large logistics network around the world. In the year 2002, Vinsum Axpress was conceptualized and started its operation into courier & cargo segments providing multimodal transportation. Gradually moved to warehouse solutions while providing value-added services through 3PL & inventory management. To offer end-to-end supply chain needs of the customers under the single umbrella - Vinsum Axpress India Pvt. Ltd., we further diversified into returnable packaging, 4PL, Inplant logistics & project management segment.

We strive to facilitate hassle-free services from start to end, i.e., between the point of origin to the point of consumption. Vinsum provides all-inclusive services that deliver excellence & adds value to the customer business, coupled with the technological endeavor, the committed and credible workforce and the inherent sense of dedication and perfection has made Vinsum Axpress India's leading name in
providing end-to-end Supply Chain Solutions & services.
Who are the target audiences for your services and how are you ensuring client satisfaction?
As the preferred supplier for fortune 100 automobile companies and the first point of contact to increase efficiency in India, we are proud of our reputation and will always strive to maintain it. With over 18 years of experience in the market and dealing with different verticals and projects, our constant commitment and value delivery have enabled us to earn the trust of our clients. We are working across Automotive, Pharma, Chemical, Textile & apparel, eCommerce, FMCG, Solar & Energy, Personal care, Telecom, Electronics, and others. And our clientele includes Mahindra, Tata Motors, Maruti Suzuki, Honda, JBM Group, Ashok Leyland, Nissan, Ford, Volvo, Daimler, Hyundai, Hero, Yamaha, Harley Davison, Bosch, Bajaj, Vasu healthcare, and more.
Vinsum provides all-inclusive services that deliver excellence & adds value to the customer business, coupled with the technological endeavour
I would like to thank all our customers for their continuous support, especially during our formative years. As the Founder and CMD of the company, I wish to reinforce our commitment to serving every customer with passion and pride. We ensure that customers enjoy our unmatched service offerings to their utmost satisfaction and delight.
Share the details on the geographical presence of Vinsum.
Vinsum is headquartered in Udhyog Vihar, Gurugram, a prominent area of the NCR, and empowered with a powerful and integrated distribution chain capability enabled by a massive network of numerous distribution-hubs and branches across the country, we have grown as a strong national logistics brand over the years. We have 20 Million Sqft owned space, 75+ Branches &53+ Warehouses, and 15000+ serviceable pin codes.
Enumerate on the aspirations, vision, and mission you have for Vinsum Axpress.
We are working towards catering to end-to-end supply chain services ranging from MMT, warehousing, 3Pl & Inventory management, Returnable packaging, 4PL, Inplant logistics & project management. We envision establishing global leadership in the supply chain industry by 2022.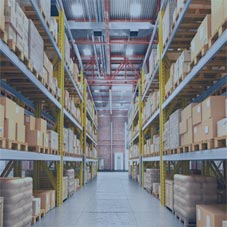 We are dedicated tocatering to sustainable supply chain solutions for future generations to come. Our goal is to reduce overall supply chain costs of products within the country and globally and to grow in diversified markets, innovative products, and operational excellence with a continuing commitment to our customers and employees. We see ourselves at a different level in the next couple of years with regards to new products and services, more locations, and increased revenue figures.
Highlights
• Vinsum spread its wings at the PAN INDIA level to reach out and extend support to its valued clientele with utmost sincerity and dedication.
• Since the inception, the company has benefitted from a superior leadership team that comprises strong, active, and independent board members and a globally-distributed senior management team
The Focus of the Company
Service Excellence -
Zero productivity loss in the supply chain process.
Delivery Commitments -
Economically efficient and time-bound deliveries.
Diversity, Integrity, and Accountability -
Ethical standards and liability towards work.
Sustainable Solutions -
Biodegradable packaging such as corrugated boxes, PP, FLC, Steel trolleys.