Waseem Hamad: Inspired By A Dream Of A Healthier World With Global Secured Societies Empowered By Sustained Well-Being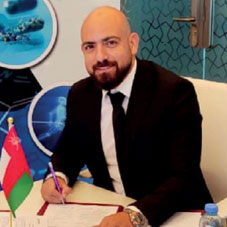 Driven by its ambitious 2040 national vision, Oman is taking quick steps towards achieving an essential part of that vision creating a competitive and diversified economy. The pharmaceutical industry is at the core of the industries leading this economic diver sification. A new company with a great vision is initiating its activities in Oman with a strong belief and connection to the country's vision. Philex Pharma is an example of the private sector's active participation in achieving the country's national vision of economic diversification and is a unique addition to the fast growing healthcare sector in Oman.
Check out the snippets from the interview with Waseem Hamad, Chief Executive Officer & Co-Founder at Phelix Pharma.
Throw some light on your professionalism and experience. How has been your journey so far with Phelix Pharmaceuticals, and what drives you today?
My journey in the Pharmaceuticals industry started more than 22 years ago in my home country Jordan with Hikma Pharmaceuticals, where I began to pursuing my dream of a healthier world, which has always been the driver of all my career steps.
I have always aimed to be a professional, leading a change in the healthcare industry in the Middle East, supporting our local sociates healthcare security, allowing our nation to enjoy sustained well being, and becoming a competitive player in the global family. My journey in the pharma industry allowed me to travel across geographies conducting pharmaceutical projects in different areas of the world, including the MENA, Europe, and the United States. Today I am grateful to have partnered with visionary investors from Qatar and Oman to create this pharmaceutical hub in the Sultanate of Oman.
Define Phelix Pharmaceuticals as an organization. How is it currently positioned in the industry?
Phelix Pharmaceuticals is a Generic Pharmaceutical company with a robust asset base of the industrial state-of-the-art 7000 sq mt facility
of SDF lines and ongoing building of the first injectables manufacturing lines in the country. We manufacture and pack a variety of pharmaceutical dosage forms covering a wide range of therapeutics. We are working on a mission to become a regional leading, a value adding pharmaceutical manufacturing hub in the MENA and East Africa region, utilizing our state-of-the-art facilities and unique strategic geographical position in Salalah-Oman.

High light the responsibilities you have to handle as a CEO of Phelix Pharmaceuticals. How are you implementing your learning and expertise acquired from the industry across your current responsibilities?
As any leader, my role is to inspire my team and all the stakeholders in the journey's vision and be committed to leading the way to achieve it by setting a clear vision and strategy. My capable team in PHILEX Pharma was successful in achieving our operational objectives to create a state-of-the-art pharmaceutical hub in SFZ-Oman.

Philex power comes from the belief of its shareholders, partners, and team in the vision Philex management is leading. As the company CEO, with the help of my board and operational team, I implemented various strategies to ensure that the Philex Pharma business model got off to a quick start with a crucial synergy methodology that sets the PHILEX business model apart from other players in our sector in the region. I did this by drawing on my prior experience in starting up generic pharmaceuticals in the GCC.

Reflect on some of the major challenges you have experienced in your journey so far. How did you overcome them, and what did you learn from them?
The lack of industrial/pharmaceutical programs that can produce young generations of professionals who can serve the business in the country and the region and enable it to flourish was one of the major issues I had to deal with in the pharma industry. As part of my commitment to Oman's national vision 2040 in creating a society of creative individuals, I have been working with a great team of industry and academic professionals on increasing the integration of industrial pharmacy into the current education curriculum.

Aiming that this effort will generally result in the new graduates becoming ready to explore the world of the pharma industry with passion and confidence and support the Omani Privet sector pharmaceutical industry's current and future projects.
Highlight the industry trends you think the present and upcoming leaders of the automotive domain should remain aware of. How do you remain aligned with the ongoing industry trends of the Pharmaceuticals segment?
According to my view of the industry in the area, it is becoming less reliant on the conventional method of centralizing all the industry's components in the firm or the nation and is more logistically oriented. Consequently I believe that global cooperation will emphasize joint ventures between businesses, and you will see a new generation of business people in this sector who believe in synergy and integration rather than a traditional startup from scratch and building our own business in this sector in the region.

The Biological immerging portfolios and the integration between technology and AI and the new vaccine development programs is also at the top of the industry changing drivers that will shape the Pharma industry in the coming future.

Who is your role model in Pharma Industry, or who inspired you to become who you are today?
Well, it is a difficult question because I was blessed to have so many mentors from whom I've learned a lot. However, there is always one person that comes once in your career life and inspires years to come in your life. This person for me was the great entrepreneur and global business leader Dr. samih Darwazah the founder of Hikma Pharmaceuticals. Even after he left us, his legacy and dream continue to inspire generations of pharmacists and healthcare professionals in the Middle East and the globe and I am one of the lucky persons who were blessed to work under Dr. samih Management and be part of his team in the great company he built in Jordan-Hikma Pharmaceuticals where I started my dream, my career and my vision of what I wanted to do in my life.

Waseem Hamad, Co-Founder, Philex Pharma
Waseem is the Chief Executive Officer & Co- Founder at Phelix Pharma. He has been in the pharmaceutical industry for the last 23 years. He was nominated in 2016 by the World Health Congress as one of the 100 most impactful healthcare leaders in the world. A passionate people with a mission to educate and cure people around the world and make the world a better place to live in.

Role Model: Dr. samih Darwazah
Hobbies: Motorbiking & Reading
Favorite Book: The psychology of money by Morgan Housel
Favorite Travel Destination: Oman