Tariq Mohamed Al Balushi: Determined To Collaborate With The Finest To Establish A Reputation For Superior Goods & Services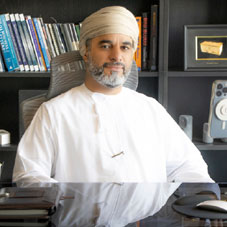 Ex-military officer Tariq Mohamed has an established history of working in both the business world and emergency management. He brings a wealth of knowledge to both of these fields. He has a Master of Science degree from the University of Portsmouth in the United Kingdom with a concentration in Crisis and Disaster Management. In addition, he is an accomplished business development specialist.
Below is an excerpt of Tariq Mohamed Al Balushi's exclusive interaction with CEO Insights magazine. What motivates you as a new-age leader?
It is not simple for all businesses to adjust to the new era in fact, you read about several businesses going out of business because they were unable to adapt to operating in this time and age. Every so often, I have to re-evaluate my leadership style and make modifications, since a successful leader adapts their approach to suit the requirements of
those they lead.
The growth of the business and the development of my workforce are constant sources of inspiration for me. Mentoring and advising them till they realize their full potential is a top priority of mine. Working with up and coming talent and seeing their careers flourish is rewarding.
My team was instrumental in my success in overcoming the professional obstacles that I was up against; without them, I would not have been able to achieve what I have
Define Molecules as an organization and its current position in the industry.
A young company, Molecules is expanding rapidly to meet the needs of customers and the market. After 12 years of hard work and commitment, the company is seeing fast and healthy development. With its continued expansion, Molecules has become a market leader in a wide range of industries including Medical (pharmaceuticals), food ingredients, skincare and beauty.
What are some of the most captivating difficulties you have encountered so far in your professional journey? What did you learn and how did you overcome those challenges?
For me, the most difficult obstacle I've had to overcome is setting up a firm and ensuring that it continues to function properly. What I've learned is that if you keep at it and put in the effort, you can do whatever you set your mind to. My team was instrumental in my success in overcoming the professional obstacles that I was up against without them, I would not have been able to achieve what I have.
The most difficult part of the process was getting the company off the ground and gaining a strong reputation in the industry, but just because you have a name in the industry does not imply the struggles will end there. Furthermore, maintaining the company's brand and the sterling image is crucial.
What has been the success mantra that constantly helps you arrive at positive outcomes?
To go ahead, you have to make your luck if it doesn't come your way. I have learned that in the business world, you cannot wait for chances to present themselves. You are responsible for locating them and nurturing them all on your ownin addition, you must have faith in your team and serve as a mentor to them.

As the CEO, how are you planning to adopt new tools/technologies to revolutionize the company's services to be at par with current industry standards?
It is important for Molecules, as a new company to stay up-to-date with technological developments and industry trends. Currently, Molecules is converting all manual processes to its ERP software. Keeping up with industry standards and ensuring we can satisfy rising demand requires leveraging technological advancements.

Our company is excited to be one of the few in Oman to have a smart workplace, and we have just moved into a brand new building with several advanced technological capabilities.

Based on your strong professional experience, what advice would you give to the upcoming leaders in the same industry
The most useful piece of wisdom I can provide is to remain patient since success seldom comes immediately. To be an effective leader, you must also accept the fact that your education never ends and that you will continue to grow and develop right up until the day you pass away.

It's important to always take in input from employees since there is something to be gained from every one's perspective.

Tariq Mohamed Al Balushi, CEO, Molecules
Tariq is an experienced Chief Executive Officer who is equipped to manage the day-to-day operations of the company. In addition to possessing more than ten years of experience in positions pertinent to the topic at hand he has a great capacity to handle complicated corporate challenges by using exceptional judgment and decision making abilities.