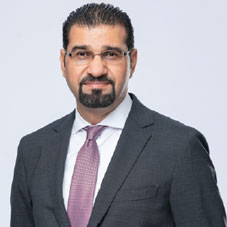 A highly accomplished accounting and finance expert with a rich experience in the banking sector Khaled is a forward thinker and continuous learner who is leading the bank to be the financial partner of choice for the people and enterprises of Oman.
Khaled Jamal Al Kayed engages in a one-on-one interaction with the CEOinsights Magazine, here's the highlights.
Tell us about your educational and professional background. What inspires you as the new-age leader?
I have completed my master's in international accounting and finance from the University of Liverpool and the executive management program at Columbia business school. I am also a holder of CMA CFM from IMA, USA, also holder of ACMA, CGMA UK and have rich banking experience working in Jordan and Cyprus. In Jordan I joined Standard Chartered Bank as a CFO, then Jordan dubai Islamic bank as Deputy CEO, Chief of finance and finally moved to bank Nizwa as GM finance first then I have been CEO for the last five years. I'm most inspired by the progress of the institution Bank Nizwa and the
Islamic finance industry. I feel motivated to see that we are adding value to all the stakeholders and this industry by establishing and growing. Every day, we are trying to lead, learn, benchmark, and get something new to be added to the institution.
To lead by example, one must keep learning and add value daily
Define Bank Nizwa as an organization and its current position in the industry.
Bank Nizwa is Oman's first dedicated Islamic bank, with fully Shari'a compliant products and services, which opened its doors in 2013. Since its inception, I have worked with the management and the different boards for the last 9 or 10 years to take the bank in three phases: startup, growing, and being a strong bank. We started the bank with a capital of 150 million in 2013, and today, we have 1 billion and a half of real money as a total balance sheet.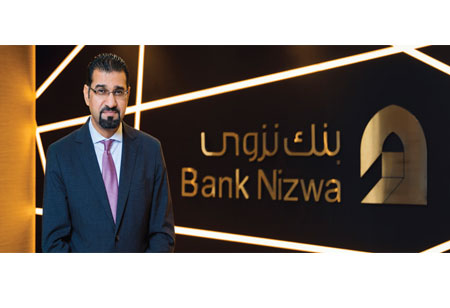 One can see the contribution of bank Nizwa to the industry, economy, and society of Oman. We deepen the client relationship by identifying new services and products to meet their expectations. Bank Nizwa expects this growth to continue and will continue leading the way forward to add more value to the industry. We are well known not only in GCC but globally in the Islamic industry. Bank Nizwa has a good reputation and is now responsible for meeting its stakeholder's expectations.
What values are most important to you as a leader, and how would you define your management style?
Being an Islamic Bank, it is taking care of all the stake holders and applying a balanced approach in managing the value and the objectives of our shareholders and customers, regulators staff, so all stakeholders will be in our target and objectives to achieve their goals. We are trying to reflect our way of leadership by simplifying the matters. Our leadership style is simple, direct, and easy, as we do not believe in complicating things. Bank Nizwa use leadership by
communications because we strongly believe in keeping people updated. Our institution is trying to engage more people to get feedback and learn so that we can enhance the decision making daily as we move.

That success mantra has been that constantly helps you arrive at positive outcomes?
Leaders should be good listeners and communicators to simplify the strategy, vision, and mission. They must work on building a good culture and a positive outlook in the organization. I always look back and forth to check the organization's growth chart and confirm that we are progressing and contributing to the industry. It keeps things moving ahead and will help us move on and continue the journey despite any challenges we may face

What's the technology roadmap of Bank Nizwa? What are your short and long-term goals as the CEO?
Bank Nizwa did the refurbishment of all infrastructure on the networks and servers supporting the cybersecurity infrastructure. We upgraded the core banking system because this is needed to adhere to the new technologies. The institution added more platforms into the system to capture Omni channels for retail, transactional banking, and corporate trade finance. Looking forward to the future of banking, We are planning to increase our distribution networks, currently 17 branches, to more than 20 in less than one year. Our team successfully started the process of a fully digital branch with the support of the regulator, the central bank of Oman, and are engaged with FinTech companies. We are targeting to meet the Oman 2040 vision by contributing not only through the Islamic banking sector but through Islamic finance. Our long objectives include asset quality, liquidity management, and profitability.

Khaled Jamal Al Kayed, CEO, Bank Nizwa
A master in international accounting and finance with banking expertise, Khaled is an experienced Chief Executive Officer who believes in building strong relationships with clients with integrity and a positive outlook.

Awards of Recognitions won so far: Best CEO, Islamic bank, Oman
Favorite travel destinations: Oman, Italy
Favorite book: Give and take by Adam Grant