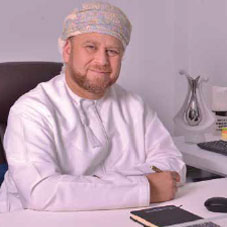 Extreme determination, courage, focus, & hard work; these four aspects describe the journey of Hilal Salim Al Hajri His humble and never-give-up attitude has laid a foundation for his leadership journey. Today, he is leading one of the renowned names in Oilfield and playing a significant role in creating a world of possibilities for himself and the Union Integrated Co. He has been through a unique journey and gained the wisdom of thoughts, principles, and strategies indeed, there is a lot to learn from him. Starting his career in the O&G industry as a roustabout to climbing the success ladder as an Executive Officer, his voyage stands as an inspiration to many who want to outshine. In fact, he is a growth master who incorporates great strategies to stay relevant in business by ensuring employee retention, people centric initiatives, and more.
The valuable nuggets from this maven reap win-win situations for both people and clients. The following excerpt is an exclusive conversation between Salim & CEO Insights. Below are the excerpts from the interview. Hope our endeavours will be helpful to many budding leaders in the O&G sector.
Take us through your educational and professional background.
I am a graduate of Chemical Engineering from Teesside University. My professional career began in a reverse osmosis plant and later I moved from the water treatment business to oilfields. The entry into the O&G industry was as the lowest level worker a Sewage Plant Operator, Roust about, Floorman, and Derrick man. Subsequently, after completing my masters in Petroleum Engineering from Heriot Watt University, my professional appellations scaled. I joined MB Petroleum Services as Safety Advisor and then worked for a decade with Petroleum Development Oman as Petroleum Engineer. In bouts of career
attempts with companies like Weatherford, SEPICO, Al Sahari Oil Service & now Union Integrated Co.,
my profession progressed slowly from being a Chemical Manufacturing Manager to Business Development & Quality Manager, Operation Manager & GM, and Chief Executive Officer, respectively. I joined the family business, Union Integrated Company full time in 2017 as a Senior Technical Director. In a short span of 3 months, I became the CEO of the company. The overall journey of close to 25 years has been full of ups and downs extremely challenging and rewarding at the same time.
We want to be the 'First Choice' for all the chemical needs of leading global Oil and Gas companies.
Despite having a good qualifications, what made you start your career as a low level worker initially?
I started my profession with a lot of eagerness to learn everything from the scratch. I believe that my choice was right for my career growth and for proving my potential. Having been through all the hardships any least qualified labourer would face, now I'm capable of leading my business because it has been helping me understand even the smallest nuances of the chemical business.
Moving and exploring in the same field in different companies and various countries, finally, I returned to Oman to work for myself and contribute to the progress of our nation. The experiences and learnings I gained from various roles and capacities are helping me achieve the purpose successfully.
Define Union Integrated Co. as an organization and its current position in the industry.
Union Integrated Company was ideated as a chemical trading brand a decade ago. Today, we are an integrated chemicals manufacturing company. We are focused on delivering value to our local and global customers and position ourselves as 'Partner of Choice' for the clients.
We are driven by innovation, collaboration, excellence and precision and have turned into the most reliable distributor of
chemicals for our esteemed clients.

How would you describe your leadership style and what values are most important
to you as a leader?
In my opinion, attitude comes first and qualification is next. I am very cautious about hiring talents and choosing business partners. I always try to have a good mix of talents and delegate projects only when I'm sure that they are well-trained and job-ready. The key is to have people who are really active and get their hands dirty without thinking that they are overqualified for any task.

Also, I do not appreciate micro management. Work is all about efficiency and not the time of login or logout. Personally, I enjoy watching people grow within the company and reach greater heights in their careers. A happy, satisfied and progressive team is a leader's armour.

What has been the success mantra that constantly helps you arrive at positive outcomes?
Empowering the employees to make decisions &supporting them without focusing on the outcome has been my success philosophy. I don't judge an employee's performance based on the outcome but by the efforts they put to achieve some thing.

What's the roadmap of Union Integrated Co.?
All our endeavours have a laser sharp focus on becoming the first choice for all chemical needs in the region. We would like to expand beyond GCC and keep up with the market demands. Apparently, the O&G segment is ageing, so have to be prepared for enhanced oil recovery and adapt relevant technologies. We are trying to be ahead in terms of our preparations to face the future based on my knowledge as a petroleum engineer and continuous knowledge sharing.

Unlike other commodity businesses, we would like to be a solution provider and solve customer problems with customized products and solutions as per their requirements.

Hilal Salim Al Hajri, CEO, Union Integrated Co.
With a persistent entrepreneurial spirit, laser focus, aggressive ambition, sheer will & the willingness to take calculated risks, Hilal Salim Al Hajri earned his position as a top CEO in Oman.