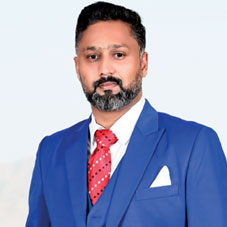 Oman has been a pivotal destination and transit point for trade for many centuries. However, the logistic industry in Oman faces many critical challenges especially due to the disruptions caused by technological advancements in the sector. Businesses need to embrace these advancements to facilitate the future growth of the logistics industry in the region. Harish Sakthi, CEO, Global Corp Logistics is a distinguished leader who is addressing these gaps & challenges and ensuring sustainable growth in the logistics industry of Oman from a global perspective.
Harish Sakthi, from a very young age, grew a fascination for the shipping industry. Though he started his career with IT Industry, he never stopped dreaming of working in the export/import business. His love & passion for this industry brought him to Oman as a salesperson and he grabbed every opportunity to learn valuable insights on logistics, air freight, sea freight and vessel handling. Seven years later, after conducting copious research on the subject, eventually, in 2010 he took the chance to leverage his extensive knowledge of the industry and established GCL with the support of his investors and good friends to lay the foundation for his vision of bringing appreciable changes in the logistics industry. Ever since then, he has majorly contributed to setting up integrated & intelligent logistics facilities for the region that are incorporated with the next-generation features.
Harish Sakthi is a futuristic leader who learns from industry pioneers and encourages his team to adopt the best practices to overcome ongoing challenges and continue growing in the market. His unmatched ability to handle key technologies, implement effective strategies, and actively collaborate with stakeholders has taken his organization to scalable heights. Under his leadership, GCL has grown to be one of the prominent logistics & freight forwarding service providers with its presence in the global market. Harish Sakthi aspires to connect Oman with major geographical locations and ensure continued growth in the industry. Below is a snippet of CEO Insights' exclusive interview with him.
Define Global Corp Logistics as an organization
Global Corp Logistics was initially incepted with the motive to support one of my partner's companies stationed in Oman. I started as a business development manager in the same organization but in a period of five years, Management gave me the opportunity to lead as the CEO taking forward the vision of transforming this company into a global organization. Our first international office was set up in China in 2014, then we moved on to Saudi Arabia in 2019, and later to Kuwait & Bahrain in 2020. We
started our operations with only four people as a team and today have over 100+ employees working with us.
We were one among the shortlisted companies in Oman to go along with the port to remove the flaws in the industry and implement EDO in logistics services
Global Corp Logistics initially after its inception, offered only customs clearance services but later in 2011, it started venturing into NVOCC, freight forwarding services, project cargo, trucking, airfreight services and the liner agency. So, over some time, we added new services and ensured we bring in the right person who would contribute effectively to delivering our promises to the customer. Our expertise lies in customizing our services based on the market requirements.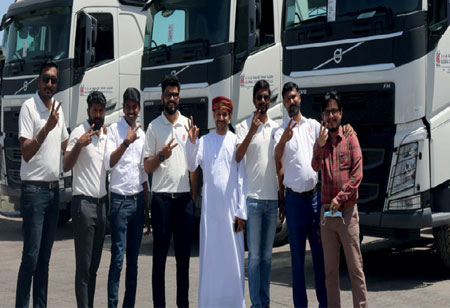 What changes did you bring into the organization that is driving the company to grow fast?
We brought a couple of changes to the old way of working in this industry, where, communicating with the overseas office, understanding their requirements, shooting the right rates, and meeting their request is taken care of by a reformed department called the Pricing Department. Here, the sales team is only responsible for bringing in the customers which gave more time for Sales to be with their customers. The customer service department is responsible for ensuring a timely update to the customers about their consignment. We were one of the first few in Oman who launched the WhatsApp updating system when such applications were not as popular as they are today. We used state-of-the-art technology like cloud-based ERP in our operations a long time before it dominated the industry. We adopted the work-from-home models in early 2016 which is why we never really had to worry about our operations during the pandemic.
How has your response to the challenges posed by the COVID-affected market been?
When the pandemic hit the world, the Oman market was not geared up for an IT-based logistics industry; Oman was still running with the physical delivery order system. It was COVID that made all the logistics companies in Oman move 10 steps ahead and adapt EDO and other development in its remote operations. But what worked wonders for us is the very fact that we were the one of the mid-sized companies that approached the idea of implementing EDO way before the pandemic. The idea which was rejected by the ports in 2019 got its recognition in 2020. So, when COVID was at its peak, we were one among the short listed companies in Oman to go along with the port to remove the flaws in the industry and implement EDO in logistics services.
What has been the success mantra
that has been helping you arrive at positive outcomes?
We never micro manage the team/people; We believe in making a team capable enough to take their decisions regarding their work and give a free hand to my managers to run the show. In this organization, we have a policy that gives my employees the authority to change any decision that they feel is not effective enough to benefit the business. We welcome new ideas with goodwill and have a debate on the same with all the employees before implementing them. In the process, we get to learn new things about the market, the way people in my organization are thinking, and also the way clients are reacting to our services.This helps us to continuously modify ourselves and grow with the changing ecosystem. 'Change which is inevitable' if we don't change Customer is going to replace us.

What are your future objectives for GCL?
We are planning to grow in three different verticals; one in terms of building an additional number of branches, secondly in terms of expanding our service space, and thirdly in terms of bringing in the right leaders to enlighten the existing team. We aspire to build a proper GCC trucking company because the logistics industry here does not have a common trucking company that can service the whole GCC. We are targeting to become one such company. Though we started with Oman, we have not stopped thinking about the GCC and expanded our operations in Saudi Arabia, Kuwait, Bahrain, India, and China.

What advice would you give to the upcoming leaders in the logistics industry?
Logistics is one such industry that is in the business for centuries. Probably it has not evolved as fast as the IT industry but it is gradually moving ahead with the emergence of e-Commerce and with the distribution network getting more liquidating. If one desires to enter the logistics industry, he/she must be clear on their targets and be aware of what is happening in the industry. Not everyone can come up with all the services on hand, this is why we need to complement our competitors for the missing services and grow along with them.

Harish Sakthi, CEO, Global Corp Logistics
Having a degree in Management, Honors Diploma in Computer Science, Certified Quality Management professional with a great passion for new technology, Harish Sakthi has almost two decades of global experience in delivering unique services in the logistics industry by leveraging technology.

Hobbies: Biking, gardening
Favorite Biking Spots: Two mountain roads in OmanJabal Shams and Jebel Akhtar.
Favourite Cuisine – Chinese "Golden Oryx"

•Awards & Recognition:
Recognised as one of the Best Mid Customs Brokers under the small & medium-sized companies.
Recognized as the Best Guest Lecturer at the Vivekananda Institute of Management & Science in 2017.
Awarded as Best Partner in Oman by JGC Line in 2019.