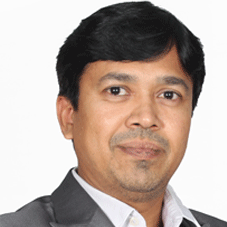 The rich and vibrant handloom industry of India is far from just being an industry offering largest employment here. It is revered all over the world for its unique, unparalleled, rich heritage and the spectacular craft of our artisans. Though for long, the industry was under dark clouds due to the increasing power looms, it is now due to e-Commerce platforms like Weavesmart that people within India and globally are not just respecting the art more but also adopting it in their daily lifestyles. On the other hand, better and increasing business prospects have infused new life in the weaver community as well.
In an exclusive conversation with CEO Insights, Mahaveer Jinka, Co-Founder & CEO, Weavesmart discusses on how the company is playing its role in improving the lives of the weavers while taking the industry to new heights each day through integration of technology.
Tell us about the journey of Weavesmart and the challenges it faced during the initial years.
Weavesmart runs with the goal to restore the lost glory of culturally rich Indian Handloom industry and provide online identity to weavers in remote places of India who have been taking forward this skill across generations. By leveraging the power of internet, we are connecting these handloom weavers in remote areas with customers across the world through our e-Commerce platform and online marketing competency.
Just like others, our journey wasn't that smooth. Our biggest challenge was educating the weavers about the latest trends in e-Commerce and to adapt to new business models in internet era. Convincing them to leave the traditional, unorganized business model and to move to digital business model where they need to create a good photo catalogue of their handloom products and publish on our website was a tough nut to crack.
So how did you overcome this challenge?
We employed tech-savvy youth from their own community who can
handhold these uneducated weavers in the new digital business era. Over a period of two years, weavers were able to learn and gain confidence in the new digital business model. Thanks to their efforts, most of the weavers are now able to take care of their online business on their own without any help from our team,which is a positive social trend. Through our platform, weavers are able to earn 25 percent more income compared to traditional sales channels.
We employed tech-savvy youth from their own community who can handhold these uneducated weavers in the new digital business era
That is commendable. But how are you contributing to this growth through your experience?
Having seen handloom industry very closely from my childhood in my hometown, I always wanted to make a positive impact to this industry using technology as an enabler to improve efficiencies and reduce overheads. Thanks to Weavesmart, I got the chance of my lifetime!
I joined Weavesmart in 2017 as a co-founder. I reorganized the internal operations of the company and realigned the strategy to use technology as its core competitive advantage to significantly minimize marginal cost of scaling. With these technology changes, product sourcing function could scale by 2000 percent without any extra headcount.
For Weavesmart, the priority has always been delivering a positive customer experience from first interaction customers have with our brand till they get their product delivered. Even our logo,which is a lotus flower, symbolically represents purity of our handloom products. Our ratings on Facebook page is 4.9/5, which is a testament to the experience that we deliver to our customers.
This is how we have become one of the largest e-Commerce marketplaces for handloom and have spread our services to 26 clusters (Kanchipuram, Banaras, Pochampally, Gadwal, Maheswari, Uppada, Sambalpur, Chanderi and more) in India and has improved the financial position of 4000+ weavers. Despite being bootstrapped we are profitable and today enable thousands of weavers across India to directly sell their products to consumers globally.
How do you ensure to deliver the
best quality material to your customers?
We partner with weavers who are registered with India Handloom Brand (IHB) launched by Ministry of Textiles, which defines quality in terms of raw materials, processing, embellishments, weaving design and other quality parameters and by ensuring social and environmental compliances in their production. We are also registered with Silkmark and Handloom mark to guarantee our customers on our product offerings. We connect our weavers with National Handloom Development Corporation to source quality raw material and dyes at affordable prices.

With the growing handloom demand, how do you leverage the best of the opportunities?
Weavesmart help customers to find good quality handloom products along with an experience of directly buying from weavers partnered with us. We are reinforcing our position by complying to standards and partnering with Government associations like DCH, WSCs, IHB, Silkmark Organization, Handloom mark and others, to address information asymmetry concerns of customers. Despite being online-only store, we participate in various State and Central Governments conducted exhibitions where we display products from our weavers across the clusters and provide them opportunities to connect with customers.

What does the future hold for Weave smart?
We have always been ahead in adapting new technology and business trends to provide best-in-class customer experience. We are investing heavily in tightly integrating with our logistics partners as well to provide one-day delivery time to directly ship products from weavers to customers within India and three-five days for international shipments. We are also partnering with financial service providers to offer easy EMIs to our customers on high value products.
On the other hand, we are expanding to other handmade crafts akin to fashion jewellery and organic beauty products, which complement our existing offerings and provide value to our customers.

Key Management:
Mahaveer Jinka, Co-Founder& CEO
An MBA graduate from IIM Bangalore, Mahaveer holds 18 years of experience in the technology sector and uses this experience to integrate technology to help Weavesmart and handloom weavers grow profoundly.

Quick Facts:
•Date of establishment:2015
•Office:Hyderabad
•Offerings:Handloom products