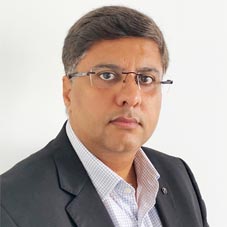 Rajul Mehrotra
Director - Strategy, Marketing, Business Development and Product Management
Xylem Inc. is a leading water technology company committed to "solving water" by creating innovative and smart technological solutions to meet the world's water, wastewater and energy needs. Xylem's Smart Cities and Smart Infrastructure business focusses on the segments like Municipal and Smart Cities, Real Estate and Townships, Irrigation Infrastructure, Industrial Infrastructure and Mobility Infrastructure. Xylem truly believes in listening, learning and adapting to local environments, and working in close partnership with its customers.
CEO Insights interviews Rajul Mehrotra (Director - Strategy, Marketing, Business Development and Product Management), Xylem India.
Tell us about your professional journey and experiences. How do you leverage those learning to lead your company?
I have over two decades of experience working on smart cities consulting, system integration and core infrastructure projects around the globe. Along with this, I also have extensive end to end experience in Smart Cities Business Strategy, Blueprint/Architecture and Implementations. I have worked on multiple Smart Cities, Smart Townships, Smart Real Estate, Smart Infrastructure, Smart Business & Industrial Parks, Public Safety, Emergency Management, City Shared Services and Citizen Services projects across geographies such as India, China, Middle East, Africa, and EU. Before Xylem India, I have served in several prominent companies such as IBM, Accenture and Dell and have led respective Smart Cities and Smart Infrastructure Businesses.
What opportunities do you foresee in the cur- rent water industry, and what are your strategies to make Xylem India leverage the best of these business opportunities?
Water stress is increasing in India. Government of India has identified 'water' as a priority sector and has come up with mega investment plans for creating as well as modernizing water infrastructure under initiatives such as Jal Jeevan Mission, AMRUT Mission, Smart Cities Mission, Inter linking of Rivers
(ILR) Programme, Clean Ganga, Swachh Bharat Mission and more. Xylem acts as a one-stop solution provider where we work with our EPC partners to provide end-to-end solutions to achieve the vision defined by the government.
What additional benefits do your company's solutions & products offer to customers that other companies in the market fail to deliver? Explain your USP?
We design, manufacture and service highly engineered products and solutions ranging across a wide variety of critical applications primarily in the water sector. We have differentiated market positions in core application areas which include water transfer, pumping, water and wastewater treatment, water quantity and quality measurement, smart metering, pipeline condition assessment and leak detection services, commercial and residential building services, industrial services and other digital solutions.
As a part of the Xylem Smart Cities and Smart Infrastructure Go-to-Market Approach, we provide end-to-end solutions for Core Foundational Infrastructure, Instrumentation and Smart Solutions for different endusers and businesses
At Xylem, sustainability is at the center of who we are and what we do. As a responsible citizen of the global water community, we address one of the world's most urgent sustainability challenges - responsible stewardship of our shared water resources.
Kindly throw some light on your specialities offered at Xylem India with key emphasis on your flagship offerings.
We have three reportable business segments that are aligned around the critical market applications they provide. Our Water Infrastructure segment primarily supports the process that collects water from a source, treats it and distributes it to users, and then treats and returns the wastewater responsibly to the environment through two closely linked applications: Transport and Treatment.
Applied Water encompasses the uses of water in two primarily applications: Building Services and Industrial Water. These applications serve a diverse set of end markets including residential, commercial and industrial. Residential consumers represent the end-users
in the residential market, while owners and managers of properties such as apartment buildings, retail stores, institutional buildings and, restaurants, schools, hospitals, hotels are examples of end-users in the commercial market.

Measurement & Control Solutions segment develops advanced technology solutions that enable intelligent use and conservation of critical water and energy resources. The segment delivers communications, smart metering, measurement and control technologies and other critical infrastructure technologies that allow customers to use their distribution networks to effectively deliver, monitor and control their critical resources such as water, electricity and natural gas.

As a part of the Xylem Smart Cities and Smart Infrastructure Go-to-Market Approach, we provide end to end solutions for core foundational infrastructure, instrumentation and smart solutions for different endusers and businesses.

Name some of your clients, along with a case study/client testimonial that depicts the efficiency of your services. Also, mention the awards and recognitions achieved by the company.
Xylem India offers its products, solutions &services at all levels -State, National and International. Some of our prominent projects for global clients are - Water transport for the memorial pool at new World Trade Center complex, Submersible pumps to protect Great Pyramids and Sphinx, Booster pumps for Burj Khalifa, the tallest building in the world and Analytical instruments to study water quality near Marcellus Shale Natural Gas site. In India, some our key projects for prestigious clients include- Custom Column Pumps APPDCL Krishnapatnam TPS, UV Disinfection Plant at Rashtrapati Bhawan, Water Quality Monitoring Buoy in Chilika Lake, Odisha and many more.

Xylem India has bagged multiple awards and titles such as Top 10 Smart City Providers, CIO Insider - 2020, WEF Innovative Technology Award - 2020, Forbes Most JUST Companies - 2020, Top 25 Fortune's Changing the World Companies-2019 and many more.

Rajul Mehrotra, Director - Strategy, Marketing, Business Development and Product Management
Rajul Mehrotra has completed his Bachelor of Engineering degree in Computer Sciences and MBA in Finance & Operations from XLRI Jamshedpur, India. He has an extensive experience of more than 20 years working in smart cities consulting, system integration and core infrastructure projects across across different regions such as India, China, Middle East, Africa, and EU.

Office: Bangalore