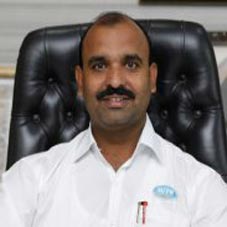 With the government's initiative of Make in India and its emphasis on 'Atmanirbhar Bharat Abhiyan' (self-reliant). And in the last decade, there have been multiple opportunities arising in the manufacturing facilities in India when compared to the other developing countries. The opportunities are only increasing with the government instructing strict protocols and norms on environmental impact and assessment. With over an experience of 13 years of industry exposure across various sectors, WTE Infra Projects have successfully completed 4000+ projects at Domestic and International level for Water ans Waste Water Treatment Plants.
CEO Insights Interviewed Vinod Bhole (Chief Executive Officer), WTE Infra Projects, and the key person behind the establishment of this company.
Kindly enumerate on major points or factors about your organization.
WTE Infra Projects Private Limited earlier known as Water Treatment Equipments was founded by me, that is, Vinod Bhole and Prasad Kulkarni in the year 2007. We established the company with a mission to serve Environment Industry by providing a smart, innovative and environmentally friendly solution which is also economically viable. In its initial days, the WTE entered in producing fabrication units and over the years has established its brand identity in the industry. Our well-known company is a part of over 4000 projects serving in areas like water and wastewater treatment like STP, ETP, WTP, RO, UF, DM, CPU, Clarifiers, Tube settlers, Pressure Vessels & Storage Tank, Electrical Control Panels, Surge Vessels,
Operation & Maintenance and many more with a wide range of products and variable capacity. WTE is committed to providing round the clock customer services.
Kindly enumerate on your expertise and passion for Manufacturing water management products and how are you, through WTE, tackling the global water issue head-on?
At WTE, we offer environment-friendly and unique solutions for Water & Wastewater Treatment. With the state of the art Manufacturing Facility area with modern machinery supported with advanced technologies, we are capable to treat the effluents of worst quality having toxicity, chemicals and other pollutants.
WTE is committed to providing round the clock customer services
We take pride that our plants can treat with Zero liquid discharge effluent which ultimately helps the environment. We adhere to the strict norms of the Pollution Control Board (PCB) to treat the wastewater at our Sewage Treatment Plant, Effluent Treatment Plant, Zero Liquid Discharge Plants. The water once treated, can get reused for various purposes including Flushing, Gardening, horticulture and more, which eventually allows saving clean drinking water in huge volumes like lakhs of litres. As per the industrial needs, our plants treat effluent from Chemical, Pharma, Rubber, Paint, Steel, Tyre, Residential, Commercial and other high polluting industries. The treatment done helps to minimize the harm done to nature. Moreover, as the newly treated water is ready for reuse, it prevents the use of freshwater helping to save lakhs of litres of clear water.
Kindly elucidate on your manufacturing & exporting wastewater treatment plants with key emphasis on your core expertise. Do you engage with organizations to enable community mobilizations? What is the process involved in executing such large scale programs?
The WTE's manufacturing facilities are spread over 100000 Sq. Ft. area. We have over 200+ successful export projects stretched over more than 15 countries in our basket. We have engaged in projects with variable capacities with Community Water Supply plant. Our project works include capacities like 33 MLD, 18 MLD, 12 MLD and 10 MLD Water Treatment Plant for Community Water supply at Malavi, Bhutan, Srilanka among others.

Also, to cater to our clients, we are equipped with in-house expertise of design, manufacture, execute and commission the works. The in-house expertise allows us to monitor and ensure quality work with the utmost supervision and guidance from our Senior Management in successfully executing such large projects.

What is the future roadmap set for WTE? How are you updating yourself with the latest technologies/industry trends to make WTE reach its future goals?
For over a decade since the WTE's inception, the company has always envisioned bigger goals and challenges. With a robust and reliable young team serving the WTE, the company is ready to take more challenges & will serve the industry. The automation and state of the art infrastructure have helped the company to keep up with the times. The issue of addressing environmental concerns are at the core of the company's philosophy. We are constantly updating and evolving not only in terms of infrastructure but also our thinking and changing global demands. The positive attitude helps us to prepare us for the future and keep updating our functioning regularly.

Vinod Bhole, Chief Executive Officer
Vinod Bhole completed his graduation as Chemical Engineer from Amravati University in the year 2003, and after which he began his venture at the age of 25 with WTE Infra Projects Pvt. Ltd. which was earlier known as Water Treatment Equipments. With immense and strong industry knowledge backed by the customer's faith, today, WTE has grown to get recognized as the most trusted brand for Water & wastewater across the globe.

Office: Pune