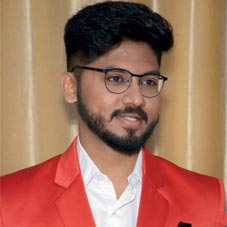 Start-ups are known for their innovation and new technologies. However, there has been a slow shift towards start-ups that can create profit, earn higher margins, and have as little debt as possible. Managing a fast-growing startup is not easy. Company leaders must have passion, drive, smarts, and an ability to see around corners. They wear different hats and must navigate through the ups and downs of start-up life.
Yax Sheth started his entrepreneurial journey in March 2014 with purchasekaro.com and then established YAKS Group in 2019. YAKS Group enables businesses to transform the way they market, sell, operate, and improve their efficiencies. YAKS Group is one of the highest-rated MLM Software developers in India and has been awarded as Most Innovative Company of the Year in 2020. Recently, the company has 10 million marks within 11 months of their operations. Further, Yax has exclusively narrated a spectrum of aspects about himself and his firm with CEO Insights. Here are the excerpts!
What inspired you to take-up entrepreneurship, especially in a populous segment like Information Technology and Services? And what were the initial challenges that taught you the basic lessons of entrepreneurship and helped you achieve the success you had in the later phase?
When I have started my first company at that time, entrepreneurs and start-up were not that fashionable words. However, when investors pumped USD 9 billion into Indian start-ups, I realized that people like me have a tag of entrepreneurs. But being an entrepreneur is a challenging task. To start my entrepreneurial journey, I remember going for a tie-up with big companies like FedEx, blue dart at the age of 22. No one entertains me much as I was too young. Secondly, the biggest challenge for Indian start-ups is funding. My sister was the big support as she helped me with the funding.
More so, I had a simple philosophy in life that do everything on your own. I started my company named purchasekaro.com. In those days, we had a sale name Purchasekaro Day in which we were offering 100 percent cashback first time in India. On Purchasekaro day, we were expecting 5000+ hits. However, I don't know what happened; somehow, our event got viral on coupon sites, and people started calling on my number that it's fake or real.
At the moment of sale, we got 50,000+ hits, but all our servers got crashed as we got a tremendous response from the audience. We couldn't deliver what were expected. From that day, I have learned the power of the internet and formed rules for myself that use your best tactic (when you are fully prepared). Afterwards, we introduced YAKS Group which is one of the most famous direct selling consultant company in India. We consult the giant companies of direct selling also.
Direct selling is now the world's 15th largest industry, and recently I have made a YouTube video on our company's channel with all statistics
Where is YAKS Group positioned in the current technological innovation and marketing industry of India? What is the unique proposition your company offers that other companies in the same segment fail to deliver?
Direct selling is now the world's 15th largest industry, and recently I have made a YouTube video on our company's channel with all statistics. In India, five million-plus employment is generated through direct selling, and YAKS Group is India's one-stop solution for direct selling companies. We are the only company where direct selling company owners can have all types of software, service-based products, and even FMCG and health products. We have made disruptive changes in technology, which is used in direct selling software. We are the first company to introduce serverless architecture in direct selling software. We are also launching our manufacturing unit in Diwali for cost-effective and quality white label healthcare and home care products with the brand name of Ayusafe & Clin.
What innovations are you currently working on at your company? Also, brief us about your company's future plans.
Direct selling companies have unorganized selling systems that are not driven by technology. We have encountered this problem in the past two years, and we are working on this solution for the last one year. We are in touch with large-scale organizations that have 2L+ direct sellers working, and they are very excited about our SAAS platform. We call it Smart Digital Dairy; in this solution, Direct sellers will have a system driven sales cycle, and all sales data can be digitally stored. YAKS Group always has innovative thinking and vision.

Furthermore, currently, we have our offices in Vadodara, Gujarat, and Melbourne, Australia, but we plan to expand in the US market and Europe market. I want to grow YAKS Group in an online brand as well as an offline brand. We have plans to grow our TekyDen software development brand to a minimum of 20 percent YOY till 2025 to make it 100 Million yearly turnovers. Additionally, we will be launching our own FMCG brand in 2022 with our outlets, as well as our distribution channels. Overall, we are aiming one billion market valuation of YAKS Group till 2025.

What advice/suggestions do you have on mind for the budding entrepreneurs in social networking?
If you are thinking of starting something or you have something in mind, just go for it. There will be many hurdles, problems, priority, complaints from loved ones, and sacrifices in your journey, but it worth living; trust me. Patience is the key to become a market leader in your industry. You need to be very smart with your move like a lion when to attack and when step back that you can learn from your customer's psychology. Use social media for your branding business and utilize it; don't get addicted to it.

Yax Seth, CEO, YAKS Group
Yax Sheth is an experienced chief executive officer with a demonstrated history of working in the internet industry. He is skilled in e-commerce, sales, entrepreneurship, customer relationship management, direct selling expert, and team building. He is passionate for public speaking, till now he has conducted 50+ Entrepreneurship talks as well as Self-help talks in Colleges.

Office: Tourism, Health, E-commerce and Entertainment, and Innovation Initiatives.