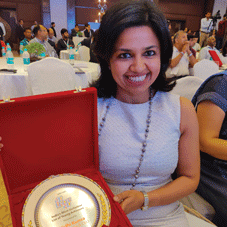 Over 40 percent of India's population is below the age of 20 hence the education sector will witness a huge surge with students migrating from small towns and cities to the urban education hubs. But are the colleges and universities prepared to housethis influx of students? According to a report, 89 percent of the students in Pune depend on accommodation off campus, while IIT-Delhi has partnered with OYO and Airbnb facing hostel crunch. Such arrangements will only accommodate students, but what about their academic life and learning? When three friends Nidhi Kumra, Shubha Lal and Karan Kaushish came to India post their decades of experience studying and working abroad, they joined hands to fix this huge gap in the student residential space where on-campus and off campus including PGs were not doing what they exactly should be doing.
Hence, they founded Your Space in 2016 post a detailed market research and surveys across colleges hostels and PGs to understand the real needs of a student. Today,within three years of its inception, the company has become a reliable place for every student who wants to stay with the like minded peers and grow academically. In an exclusive conversation with CEO Insights, Nidhi (CEO), Shubha (COO) and Karan(Head - Brand Strategy & Marketing) speaks about their unique features and the plans for YourStay.
Your-Space is a very unique concept. How did you bring about the difference in an area that people never felt to deal with before?
Karan Yes, it was quite an untouched space. When we decided to venture into this we mapped demographics, understood requirements, searched for buildings that were fit for purpose and set out to build what we deemed would cater best to a student. We putin our savings to bootstrap Your-Space, developed SOPs, and launched our brand in
August 2016. We were 100 percent occupied the same day. We knew that Your-Space is here to stay for very long, continuing to cater to the needs of students, standing on the four pillars of safety, comfort, community and health.
The core idea of Your-Space is to cultivate a student-first environment that promotes overall holistic well-being
We made mistakes, but rectified and learnt fast. We started with Greater Noida, and expanded into Delhi with two additional buildings, with parallel entry into Mumbai. In the process, we raised half a million dollars. In the next two years, we opened more hostels alongside expanding in cities we were already operating in. Three years later, we have 2400 students across 21 locations in seven cities Delhi-NCR, Mumbai, Pune, Chandigarh Jalandhar, Indore and Ahmedabad.
Tell us more about Your-Space and its features.
Trio Your-Space is India's premier student housing brand, delivering an award-winning student experience. The company was born with a purpose to change students' world for better and add value in the way they live when studying away from home. Today, Your-Space fosters holistic living through carefully chosen facilities and services by creating a jovial atmosphere. The company stands-out in the cluttered paying guests and hostel rooms market by introducing the use of paperless technology to store data, biometric access to enhance safety, laundry services and multicuisine menu.
Karan The core idea of Your-Space is to cultivate a student first environment that promotes overall holistic well-being. We offer safe, comfortable, standardized, private student living. It provides an ecosystem beyond accommodation and is trusted by parents students and institutions across India. We cater to two sects parents & students. Hence ensure parents of their kid's security, whereas for the students, the look and feel of the room alongside the'fit with YS community' is very important. Our student application form even collects basic medical information, such as food allergies so that we ensure the food is prepared differently for him/her. We even request for parents, guardians and distinct relatives' pictures while also capture mobile contact details so that if a student uses the SOS feature on our Your-Space mobile app, alerts are sent to all listed numbers in parallel with notifications to our on-ground
teams.

We continually endeavour towards raising the bar across food a clean and hygienic environment, a community of like minded people and hassle free living. At the time of admission itself, we try matching residents with other fellow residents who are pursuing the same course to enable them help each other during studies. Your-Space is a horse of different breed altogether. Hence, we organize events, parties, seminars talks,career counselling sessions, Zumba classes and much more. We have tie-ups with nearby hospitals and medical clinics to deal with any uncertain health situations. Additionally we offer tailor-made insurance programs.

Highlight the amenities Your-Space provides.
Nidhi Every Your Space facility provides 24x7 warden on site, CCTVs, biometric access, medical convenience, AC, Wi-Fi, walk-in closets along with personal washrooms, well appointed kitchens serving multi-cuisine meals, laundry, gym and proximity to major markets, apart from several other benefits. When a resident faces difficulty with their course work, we create study groups and foster group learning.

We are working on further improving the experience through product improvement. We are also adding a serious tech element to the entire living experience, and brining more exciting new offers, classes and experiences for students.

Sounds interesting! Could you highlight on the revenue growth of Your-Space?
Shubha – We have clocked Rs.16 crore topline for FY19, and envision a topline of Rs.35 crore for FY20 apart from looking to be EBITDA positive. Such features have helped us maintain 85+ percent retentionrates with same percentage of utilization rates. We aim to grow exponentially and cross the mark of 75,000 beds across India in the next five years.

Nidhi Kumra, CEO
Nidhi is a gold medallist who has worked in London as a trader for almost a decade, and has recently been recognized as one of the 40 under 40 by BW Magazine.

Karan Kaushish, Head - Brand Strategy & Marketing
A post graduate from University of Oxford, Karan has worked in Strategy Consulting at Deloitte before returning to India to join his family realestate development business.

Shubha Lal, COO
An Economics graduate, Shubha holds an MBA from IIM-C. She has worked as a strategy professional at McKinsey & Company and Nomura across India and Europe.