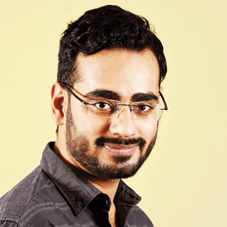 Social networking apps have proved their worth as an indispensable communication tool in the lives of an individual, as well as an efficient marketing strategy for businesses. While the internet ubiquity and the increasing affordability of smartphone have taken these sites to the doorstep of the people in the far flung corners in India, the focus of almost all of these content platforms are on the top-tier English-speaking people in metros. Catering to this humungous yet overlooked semiurban & rural demography is ShareChat, India's leading vernacular social networking platform. In fact, it is the first good quality social app that didn't (still doesn't) have an English option, which is a very bold move.
Currently covering 15 Indian languages and receiving over 60 million monthly active users (predominantly from India & South Asia), who are creating & consuming content under diverse genres, ShareChat was established in 2015 by IIT-Kanpur alumni Ankush Sachdeva (CEO), Farid Ahsan (COO) and Bhanu Singh (CTO). Ankush, besides taking care of the overall vision & company growth, stays close to the product & datascience in terms of day-to-day operations. In an exclusive conversation with CEO Insights, Ankush reminisces on his journey, delineates ShareChat's offerings and shares his aspirations. Here are the excerpts:
What inspired you to embark on this entrepreneurial venture?
Although the Computer Science degree I attained from IIT Kanpur played an instrumental role in building a pure tech company, it is all about the institute's environment, where you get to interact with like minded people who aspire to create a big positive impact on the world. I met both of my co-founders at IIT during a college event. One fine day when we were working on an
entirely different idea, we stumbled upon the fact that countless people on Facebook are posting memes & inviting people to join their WhatsApp groups where an incredible amount of content in Indian languages is getting shared. We discovered that there was a serious gap in the market, where non-English content is not getting served on the internet by any other media player. Hence, we launched ShareChat with the idea of building an app that would allow people to share great content to WhatsApp, but eventually it metamorphosed into a fullfledged social network.
We're a platform where people can come and find content that interests them, share their passion, interact with like-minded individuals and eventually make friends
Please tell us about the unique elements that set you apart from the rest.
We're a platform where people can come and find content that interests them, share their passion, interact with like minded individuals and eventually make friends all in the comfort of their local language. To demonstrate, if they're into playing piano, they can post their content, find other community of piano enthusiasts and interact with each other on the platform. We identify the content's context and recommend the relevant content the users might like through a powerful Machine Leaning algorithm.
From the very beginning, we have been targeting only the non-English content consuming market. Considering that many of these users are just taking baby steps into the internet world, they don't understand the nuances like how to consume the media or how to behave in the cyber social space. Hence, the entire product's UX, designs & processes were built keeping in mind that the big portion of our audience will be holding the smartphone in their hands for the first time and don't follow the unset rules of the internet community.
Tell us about the challenges
involved in maintaining such a unique platform.
Not only the Indian smartphone operating system market(especially Android) is heavily fragmented in the tier-II & III cities, some of our languages have some very unique patterns (Urdu for instance, is written from opposite direction). Hence, ensuring a smooth & consistent experience for all the 15 languages across all devices is a humungous technical challenge. Technology being the heart of our company majority of our workforce is tech-savvy, wherein most of the senior folks are former Silicon Valley techies and the juniors are smart & fresh graduates with a knack for solving these hardcore ML problems. We are probably the only pure tech company in India that is working on problems which can be found only in social networking sites.

Having said that, it's extremely fulfilling to see when one of our users emerged above his financial challenges & grew his business by selling his products on ShareChat or getting invited to a wedding in Punjab, where the bride & groom met on ShareChat & bonded over the comments.

Kindly throw some light on the road¬map you have charted out for Share Chat.
India has hundreds of dialects within our diverse languages. Hence, we are building a Machine Learning algorithm that could figure out a particular dialect based on the frequently used phrases (for instance, identifying that Khamma Ghani sa, Ram Ram sa is the Rajasthani Marwari way of greeting) to recommend hyper local & extremely relevant content for our users. We are studying the nuances in the dialects of Indian languages to constantly improve our feed engagement.

Given that the non-English market in India is huge, we are gearing-up to capture our next wave of users by broadening our territories further into even remoter areas of India. We are keen on identifying interesting business modules that would enable our content creators to earn money as well as create a revenue stream for ShareChat.

Location: Bangalore & Delhi
Location: Best Mobile App in Social Networking Award Best Emerging Brand & Best use of Social Media Marketing Campaign Award at ABP Brand Excellence Awards