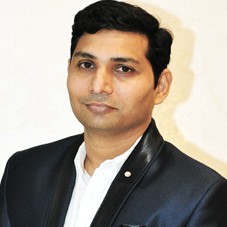 The world is on a roller coaster ride today! With the rapid, innovative advancements in terms of products & solutions, the average working life of people is decreasing significantly and life expectancy is on a constant rise. What's the result? More than ever before, people clearly comprehend the importance of financial planning and wealth management, while opting for low interest rates. Hence, the pressure builds on wealth management advisors to not just offer bespoke services to people but also handhold them throughout their life journey.
One such pioneer is Zenith Financial Services, a 30-year old independent investment, wealth management and insurance advisory firm that is strongly committed to guide its clients throughout their life journey. Right from wealth creation, protection till preservation, Zenith ensures to handhold them on variegated aspects of finance, thus placing their financial lives at the zenith. No wonder, the company has been fostering more than 3,000 happy clients since last 30 years!
Nitin Wasurkar, Founder Director of Zenith Financial Services,hails from a technology background. He has worked in the field of Information Technology across BFSI space for almost 13 years. Recollecting about Zenith Financial Services and its journey, he speaks volumes regarding the company during an exclusive colloquy with CEO Insights.
Share us the major inspiration behind establishment of Zenith Financial Services.
Till 2005, my finances were managed in a very haphazard fashion and I observed the same amongst most of my colleagues too. But in the same year, I was introduced to a CFP professional by my friend. That was when Zenith Financial Services had a turning point in its journey! Since the
company previously held a legacy in insurance advisory, we wanted to formally establish an advisory firm that can deliver end-to-end services and thus, outshine as a one-stop for all financial needs of people. Today, we are focused not only on insurance advisory, but on goal-based financial planning, products like mutual funds, stocks, bonds, real estate planning, debentures and many other brackets.
We always believe that each client is unique and requires individual attention as well as customized financial service
Could you throw some light on Zenith's idiosyncrasies?
Sure! We always believe that each client is unique and requires individual attention as well as customized financial service. Hence, our mission is to help them achieve their financial goals considering their risk appetite and implement prudent strategies to achieve their dreams. To accomplish this mission, we offer bespoke services to our clients under four categories namely protecting, investing, financing and advising. Basically, our portfolio comprises of compressive goal based financial planning, wealth review & investment strategy services, equity review & investment strategy services, wealth planning for retired individuals, tax planning and estate planning. This indeed covers the entire spectrum of all services a Retail/HNI investor would require!
Brief us on your team's expertise in wealth management.
At Zenith Financial Services, our team consists of CAs, financial planners, investment professionals, lawyers and other experts with not just professional qualification but multigenerational experience in wealth management. They ensure to provide the right guidance and the right financial planning to each client by staying abreast of the latest trends and innovations in the wealth management industry. We even have dedicated professionals who take care of accounts, which help us in maintaining closer relationships with clients.
Continuous monitoring and feedback mechanism further enables us to closely manage each client's portfolio. What we do here is
collect the feedback data, identify the possible actions that can be taken and finally address them through our technological innovations. To present a seamless experience and also stand as a one-stop-solution for all our clients' financial needs, we have also partnered with a few service providers in the financial planning segment.

To stay updated, our team participates in a range of seminars and also enrolls for mandatory certifications that are decided internally at the company.

What technological innovations do you deploy at your firm?
Our technological innovations are developed with the main motto of providing hassle-free services to our clients round the clock. In fact, we have built our proprietary technology platform to offer services right from asset allocation, rebalancing till review of portfolio on a timely basis to them. To ensure the provision of unbiased financial advices to them, we recommend the product which best fits into the overall financial plan of the client, post a meticulous research. Even our pricing models are truly transparent and customized according to the client's needs. Moreover, we assure to seamlessly track each client's financial goal in tune with their financial plan and thus, achieve their final objective.

Currently, we are working on a ticketing system where each client can raise his/her concerns while we promise to address them on a timely manner. We are also exploring possibilities on automating different elements so that our customers can relish a seamless experience on our platform.

Do you have any future plans for Zenith Financial Services?
To establish Zenith as one of the leading wealth management firms in Central India!

Key Management:
Nitin Wasurkar, Founder Director
In his career spanning 13 years, Nitin, a well versed finance doyen, has worked on diverse projects on building insurance and fund management products.

Quick Facts:
•Office: Nagpur
•Services: Protecting, Investing, Financing & Advising