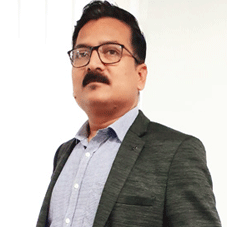 Wealth management is a people oriented business and wealth managers often have to double up as a guide,friend and confidante to their clients. The people facing job requires wealth managers to understand the pulse of clients and render them with requisite solutions instead of pushing specific products. Such understanding and clarity pertaining to personal investment and the mechanics of money can only be achieved through experience in the industry. Demonstrating the wonders that ample industry experience can create is Pramada Advisory, the brain child of Rajneesh Kumar Singh (Founder & Director), a veteran in the financial services industry. Bringing to the table two decades of experience in the Indian financial services industry, Rajneesh's firm is a single point services provider of financial, investment and tax planning services to individuals and corporates.
Building on Rajneesh's expertise, Pramada recognizes that every investor is unique, with different financial goals, different tolerances to risk, different personal situations and different desires. Factoring in these elements, Pramada designs and monitors its clients' portfolio in a manner that is appropriate to their risk level and allows them to achieve their specific objectives. The Ranchi headquartered organization has amassed tremendous growth since its inception in 2017 and is now marching towards cementing its presence across tier two cities in Bihar and Jharkhand. In an in-depth conversation with CEO Insights, Rajneesh speaks about the organization's origin, its unique aspects and its journey so far.
What inspired you to found Pramada? What opportunities did you foresee in the respective industry that led you to take up the entrepreneurial route?
I have always been fascinated with the mechanics of money and markets. Consequently, I earned an MBA degree from IMT Ghaziabad and completed a PG degree in Equity Research from ICFAI. I then
went into the Indian financial services industry where I spent close to two decades and had the opportunity to work with reputed organizations such as SBI Mutual Fund and Bajaj Capital. Throughout my journey, I have always been driven by the desire to help people achieve financial freedom and attain financial well-being for the rest of their lives. Gradually I realized that India and especially smaller cities are home to several individuals who are keen to invest but lack the confidence and know how to make the right choices. Since a tiny fraction of the Indian population was being served by wealth managers, the market required expert professionals with proven expertise. A culmination of all these factors led me to found Pramada Advisory in 2017.
Throughout my journey, I have always been driven by the desire to help people achieve financial freedom and attain financial well-being for the rest of their lives
Tell us about the various services that Pramada offers to its clients. How are these services designed and rendered to help clients achieve their financial objectives?
Our objective at Pramada is to bring value to the investment process; not just at initial stage but throughout the investment's time horizon. Our able team is well versed with the fact that understanding point of maximum financial risk and point of maximum financial opportunity is the key to any investment processes. Therefore, we focus on adding significant value to the portfolio selection and review process including tax consequences of buying and selling various investment products and also develop strategies to minimize tax.
Our solution portfolio can be segregated as serving financial functions which include services such as general insurance, loans and more; investment functions such as mutual funds, debt equity and FD among others risk solutions including various forms of insurance; and retirement functions such as NPS, and customized mutual funds. As an organization, we strongly believe in providing solutions and not selling products. Our team of experts first understands the client's requirement, conducts their due diligence and then suggests solutions and products that suit their needs the best.
In your opinion, how does Pramada differentiate itself from its contemporaries in the market?
Most organizations focus on things that they do, but at Pramada we have established a few ground rules about what not to do, which makes us different from our competitors. For starters, our team refrains from predicting market movement which is something that nobody can forecast. Instead, we use asset allocation to get the best of both worlds in investing i.e., equity and bonds. We also do not try to find the best fund but focus on total portfolio return. Unlike other firms that go in the flow of the market's current favorite product, we at Pramada lay emphasis on rendering solutions and products that fit into our client's requirements and goals. I am also a firm believer of the fact that by behaving ethically, organization can create competitive advantage, increase team retention, build reputation and also create legacy in the long term.

How has Pramada's growth story shaped over the years and how do you plan to build on this growth momentum in the years to come?
Our journey began in 2017 as a two member team that catered to about 25 families. Owing to our dedicated personalized financial advice to both individuals and companies, Pramada's client base has increased manifolds and today we manage over 150 families. Our team strength has also gone up to six members with collective experience of over 25 years across market cycles in the Indian financial market.

Our company's mission in the years to come is to become a research based investment solution provider rather than being just a product selling organization. Our focus will remain on consolidating our presence in smaller cities in Bihar and Jharkhand a new office in Bhagalpur, Bihar is also on the anvil. Additionally, we are gearing up to launch PRAMADA, a robo advisory mutual fund app for on boarding of clients and initiating their investment process.

KEY MANAGEMENT
Rajneesh Kumar Singh, Founder & Director
Armed with 19 years of experience in the Indian financial services industry, Rajneesh has held various senior leadership roles with renowned financial firms and possesses deep understanding of financial products. A dedicated leader, he leads Pramada from the front and is responsible for its overall growth.

Offerings: Wealth Management, Mutual Funds, Insurance, FD & Bonds,and Taxation

Offices: Ranchi & Ramgarh