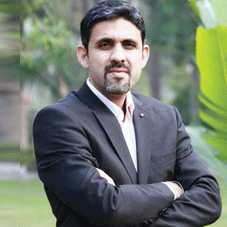 Investing is serious business. Vishal Vij, a financial market whiz and Co-Founder & Managing Partner of Nestegg Wealth Solution, a new age wealth advisory firm, agrees wholeheartedly. He cautions investors against trend chasing, which is an important behavioral bias which influences most investors to extrapolate past returns in future. Instead, Nestegg constructs forward looking portfolios for clients which ensures that portfolios are not designed based on rear view mirror data but upon considering the potential risks in future. The New Delhi headquartered firm relies on tailor made investment solutions that are rendered keeping in mind individuals' goals and objectives.
Founded in 2014 by experienced senior bankers, Nestegg simplifies wealth management for high net-worth individuals & families and makes their experience smooth so that they stay the course while genuinely gaining from compounding over the entire investment cycle. The judicious firm that undertakes a portfolio approach rather than product approach guarantees that investors commit minimal errors while constructing portfolios. In an in depth interview with the CEO Insights, the young entrepreneur speaks about the various strategies adopted by Nestegg to ensure its clients'success.
Tell us more about Nestegg as a burgeoning wealth management firm.
Nestegg is a wealth advisory firm built on the strong foundations of honesty, hard work and experience. We are a team of ex-bankers who have managed client banking and wealth relationships for over a decade and a half each, which allows us to manage complex client issues with ease and arriving at solutions quickly. Technology plays
a crucial role in our service delivery and we have adopted a multichannel approach that amalgamates physical, web based and mobile apps for viewing and executing investments.
Nestegg is a wealth advisory firm built on the strong foundations of honesty, hard work and experienc
What are the various services that Nestegg provides? Also, what strategies does the team follow to ensure best results?
Nestegg focuses on constructing complex goalbased portfolios which can cater to multiple goals and help investors access their funds at various important milestones of their lives. This involves creating the right mix of conservative and aggressive assets in the portfolio while giving due weight age to safety, liquidity and return aspects. Our portfolio construction begins with asset allocation and then graduates to scheme selection. We also emphasize on building forward looking portfolios and refrain from relying on trend chasing bias. Constructing forward looking portfolios ensures that investors don't overpay for any asset class which they are buying.
Our clients can access the best mortgage solutions across the market spectrum with no specific biases to any bank/mortgage provider. Nestegg's expertise in wills/ estate planning allows clients to plan an efficient transmission of their assets to their legal heirs through our empaneled lawyers. Additionally, through our associated chartered accountants, our clients can access taxation related solutions if needed, thereby enabling us to offer one-stop-shop for all their financial matters.
Technology and digitization have been game changers for wealth management sector. How does Nestegg incorporate innovative and cutting edge technology tools to serve its clients better?
Today's financially and technologically savvy investors are looking for accessible, easy to use digital offerings that can provide them a full view of their finances, plus a convenient way to manage and move money in pursuit of their goals. Heeding this need, Nestegg
has launched Nestegg Pro, our proprietary mobile app that enables the onboarding of new clients digitally and lets them transact on the same day just by uploading the documents on the app.

Additionally, we use advanced portfolio analytic tools to dig deeper into the composition of portfolios/schemes and conduct various simulations to arrive at a portfolio which takes lesser risk to generate similar returns. This lets us ensure that investors don't end up having a serious mismatch between what they had planned for and what they got at the time of withdrawal.

What opportunities do you foresee in the Indian wealth management industry in the years to come? How is Nestegg gearing up to leverage the same to stay ahead of its competition?
Last two years have witnessed the rise of robo-advisors, which enables new investors to enter the investment world who otherwise were deprived of portfolio construction capabilities. Once these investors grow to a certain size, they look for experienced human advisors to manage their funds which helps independent set ups like ours.

We believe that investors value holistic advice on how to achieve multiple, often conflicting goals through a range of investment strategies and technology plays a crucial role in taking service to a larger investor base. In the years to come, we will use emerging robo/tech innovations and combine them with our human advisory element to create more robust & scalable wealth proposition for our clients.

Key Management
Vishal Vij, Founder & Managing Partner
A trailblazer in the Indian financial services industry, Vishal is a revered advocate of ethical principles in the financial industry and an astute entrepreneur. Armed with over 14 years of experience as a wealth manager and senior investment advisor, he brings to the table deep industry expertise, specifically in advising High Net-worth Individuals.

Offices: New Delhi
Offerings: Private Wealth Management, Real Estate, Estate Planning, Insurance, Financing & Risk Management