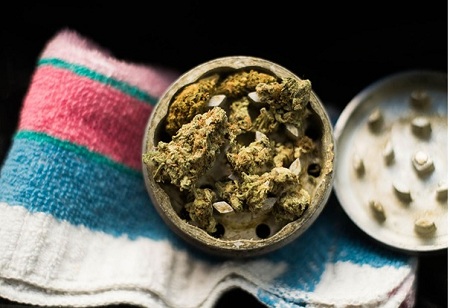 Alien Dutchess
is a hybrid of the Dutch Treat Haze and Alien OG strains developed by Cresco Labs. It brings together the effects of strong euphoria and deep relaxation so as to create a potent and refined cannabis strain. It exhibits a spicy, herbaceous smell with just a hint of lemon and pine. Its earthy and citrus tinges are evident when it is consumed. It will stimulate the appetite and help fend off nausea, headaches, and stress.
Specifications
● Symbol: Adt
● Category: Sativa
● Mx: Indica 30% Sativa 70%
● Rating: 4.27
Sativa dominant Alien Dutchess is a rare strain of cannabis from Cresco labs that promises a strong sensation of euphoria. Due to its potency and its highly addictive flavour, Alien Dutchess is considered to be a cannabis strain that comes with a certain aspect of danger. The onset of Alien Dutchess strain's high is a mind-clearing experience that invokes a feeling of euphoria. When its developers gave it a THC level of 26-28%, they gave it the ability to overcome conditions like nausea, headaches, loss of appetite, stress and ADD/ADHD. It also gives you a feeling of relaxation and leaves you with gentle hunger pangs. The earthy woodiness of Alien Dutches's strain gives it a herbal scent combined with a citrus tang from its burning nugs.
What Type of High From Alien Dutchess?
The high you receive from Alien Dutchess will give you a sense of cerebral euphoria at the same time as totally relaxing you. On consuming this strain, its earthy citrus flavours radiate throughout your body, helping to relieve stress and overcome nausea.
Alien Dutchess Strain Flavor
When eaten or smoked, the flavour of Alien Dutches's strain has a sweet, earthy, and lemonish taste to it.
Health Benefits of Alien Dutchess
The strain is a 70% Sativa and 30% indica hybrid. The presence of the 26% to 28% THC in Alien Dutchess level renders it a dangerously potent weed. Smoking this strain will give you a noticeable increase in your level of motivation and your ability to maintain focus. If you need to get a task done, and done quickly, then this is the weed for you. It will improve your taste buds along with your appetite, so you may need to up your exercise rates to keep the weight from piling on. Regardless, it will give you a feeling of euphoria as it boosts your mood and leaves you in a calm state of mind. Due to its high level of THC, it is ideal for overcoming a rough day and/or achieving tough project deadlines. It will also benefit people that are suffering from a headache, pain, loss of appetite, and feeling dizzy.
Medical Benefits and Side Effects
Some common side effects and medical benefits of consuming Alien Dutchess are as follows:
● Feeling of relaxation reported by approx 80% of users
● Feeling of happiness and satisfaction reported by around 92% of users
● Feeling of creativity reported by around 70% of the users
● Uplifting feeling
● Improvement of appetite
● Reduction of stress
● Reduction of insomnia
● Reduction of anxiety
● Reduction of pain
● Reduction of depression
● Boost in a feeling of euphoria
Some of the more negative effects of consuming it were cotton or dry mouth and dry eyes. Users can also feel a little anxious when they first start consuming this strain.
Tips for Growing Alien Dutchess
With the right conditions and soil, it can grow well indoors or outdoors. Using organic plant food a strong lighting is recommended for best results.