Introduction
Ignoring digital marketing is like opening a business but not telling anyone. Although, it is not the only factor still the most important factor. Digital marketing can build a successful business. The word itself is so powerful that its influence doubles that power too. Its potency and contribution in elevating a business and making the business a profitable one can't be judged at all. Digital marketing advertises nothing and everything; this is a metaphor that means that digital marketing helps you advertise through a website, video, text, song, image, GIF, almost anything and everything via various platforms. The medium can be email, traffic to websites, social media, display banners, influencers, content marketing or any digital channel. A true
digital marketing company
knows how to hit the target audience and convert them with the best possible digital marketing channel available.
The copious amount of capability that digital marketing possesses is insanely remarkable. Through digital marketing, you can easily keep a track of the impact your business is bringing in. You can monitor every step of your digital campaign effectively and efficiently. The strategies you use during online marketing should be well- researched and strategized so that it works in your favor and bring fantastic ROI.
How can you make the most out of the territory of digital marketing?
Unlike the traditional cricket, it isn't restricted; in fact the pitch of digital marketing is infinite that allows all kind of businesses to play in it. From the giant brands to the smallest of startups, you can play in it on your own. The only difference in this game is the strategies, and its implementation.


If your strategy hits the chord of the right target audience then boom, you are on the right track. So, the tactics of your business is just as important as the kind of business you are doing; to implement it, you should rely on the correct tactics as that will help you leave your mark in the digital world. For example, when to land in the inbox, where the
banner should be displayed, what keywords to rank on, sources to generate lead and many other factors because every businesses have unique requirements. The quality of product is important, but to convince people to buy it is equally significant.


The next step is to maintain the business in the market by constantly updating and changing with the need and trend. Also, do not forget to prioritize your customer's needs and service.


Why it's important to invest your mind, money on digital marketing?
This marketing type is already doing wonders and is here to stay. Though, the methods, medium and technology might change in next 50 years, but it will never be eradicated. The companies exploit digital marketing as much as they can to endorse products, sell products, services and brands.
Now, I will let the facts talk to you-
The extent of accessibility of the internet all around the world is huge. Do you want to know the number of people who go online every day? Would you believe? It is constantly increasing and according to Pew research, the constant internet usage among adults has increased by a staggering 5% in just the last three years.


Quite evident, how much people stay online; everything is done online in this era, from shopping, to working, to studying, and tones of other things. This shows the effectiveness of digital marketing and ineffectiveness of offline marketing.


Marketing is about letting the people know about your brand, why they should opt for your services, why they should stay constant with you. Today's way of meeting people is different. You are spreading a word about your business online and with people already spending most of their time on the internet, it would be an added advantage. By 2021, more than 3 billion people are estimated to be on social media alone.


Google's marketing insights show that 48% of the consumers start their enquiries on search engines, 33% see the brand
website, and around 26% search within mobile applications.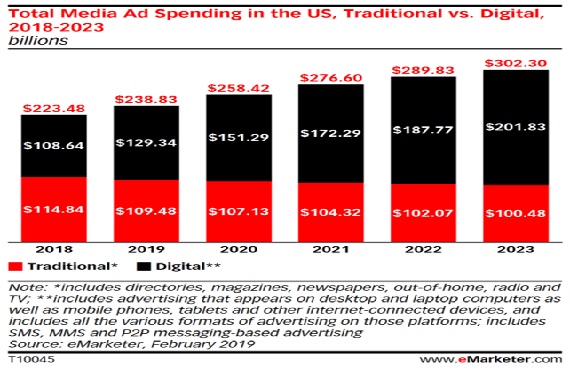 How DigiExcel can help clients to grow digitally and its offerings?

Of course, there are lots of digital marketing companies in india who provide several services that can help in elevating your business but DigiExcel, with its unique approach, experienced staff and proven track records stands apart from other digital marketing agencies. At DigiExcel, "We do not apply a plain vanilla approach to promote businesses. For us, every business is unique and thus needs unique strategy to boost brand visibility and sale. And that's what we do - said Gitesh Chawla, Founder & CEO, DigiExcel." Our professionals understand the business requirements first and come up with a proper strategy, channel to adopt and execute every campaign in a proficient way. It doesn't stop with the execution. Our digital marketing experts work very closely with our clients and optimize every campaign based on their feedback. Be it
seo services
, social media, email marketing, lead generation, content marketing, display ads, pay per click campaigns, video ads, influence marketing or any cost per campaign like CPL, CPS, CPV, CPI, CPC and other, DigiExcel is pioneer in delivering results.
Gitesh Chawla, Founder & CEO, DigiExcel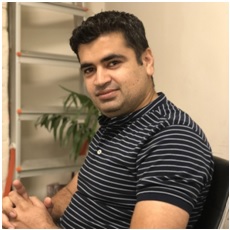 Graduated from Kurukshetra University in 2005, Gitesh Chawla started his carrier in digital marketing. After heading digital marketing, directly or indirectly, for reputed brands like Magicbricks, HomeShop18, Naaptol.com, Aegon Religare, TheMobileStore, CashKaro.com, SquareYards and many others, Gitesh started DigiExcel in the year 2014 and serving clients in various domains which include e-commerce, real estate, education, travel, BFSI, automobile, FMCG and all.
Gitesh is an experienced digital marketer and a blogger who manages to see the positive side of all situations. He loves to pick up the challenges and go the extra mile to deliver results. He is visionary in taking advantage of digital media for any business to increase its diameter in a cost-effective way. His unique strategy helps small-to-mid-to-large businesses achieve their digital goal.
We believe in providing solution rather than services - Gitesh Chawla.
DigiExcel has its head office in JMD Megapolis, Sohna Road, Gurgaon and clientele across the globe. Follow DigiExcel on social media for latest updates.