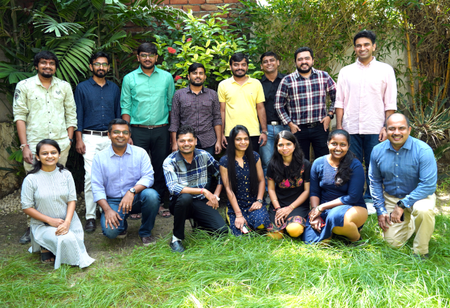 CEO Insights, Press Release
Pedagogy, Ahmedabad based Ed-Tech platform, has raised $400,000 led by Inflection Point Ventures (IPV). Ideated by Archin Shah and co-founded with Abhilash Sonwane and Ritesh Gandhi, Pedagogy is revolutionizing the way students purchase and consume books while preparing for Engineering and Medical Entrance Exams. The platform has a Netflix-like single subscription model that allows its users access to the most popular books and digital courses from Trusted Publishers and Coaching Centres across the country along with a personalized study and a practice platform.
Abhilash Sonwane, CEO of Pedagogy says, "Pedagogy wants to make education accessible and affordable to all students whereby they can get access to all types of content they need to prepare for their exams at a price they can afford. Bringing this idea to IPV helped us with its varied group of investors which provides an ecosystem that a startup can lean on for help in scaling up faster."
"Pedagogy has 50,000 registered users in a span of 9 months. We are the only platform in India enabling content creators like Publishers, Authors & Coaching Institutes. We enable Publishers to offer their physical books in a digital Smartbook format, allow Coaching Institutes to conduct live lectures, generate personalised tests and provide students with an e-library. We are leading the charge in purchase and consumption of authentic content for examinations" says Archin Shah, founder of Pedagogy.
Abhinav Singhvi, an IPV investor says, "Pedagogy not only makes education more accessible but also provides enough ammunition to students that can help them succeed. The education system is evolving from averages to edges and Pedagogy's solution to consolidate the fragmented education market with personalized content is a driver for students' success."
We are leading the charge in purchase and consumption of authentic content for examinations
Abhinav also added, "The way in which due diligence of Pedagogy was performed by IPV is commendable. IPV has made Angel Investing easy, accessible and more transparent."
In a country like India where education is given due importance, students are under pressure to find the right resources at the right price to help them score better in their exam. Pedagogy makes this easy by partnering with Trusted Publishers & Coaching Institutes to bring their expertise on a single platform and marketplace. Amidst COVID-19, Pedagogy has managed to adapt facilitating book distribution for Publishers and helped make coaching classes ready for the eventuality of hybrid learning system. This disrupts the status-quo making Pedagogy a leading enabler in Education.
Inflection Point Ventures is an initiative of accomplished CXOs & Angel Investors who firmly believe that 'Everyone can Grow with Startups'. IPV, set up as a digital first organization, is one of the only few angel networks still active through these difficult economic times. IPV has invested / committed approximately $3.5 Mn across 8 investments since January 2020, especially in sectors like health-tech, online grocery delivery, media & entertainment and online education that are expected to outshine during and post COVID-19 pandemic.
Source : Press Release