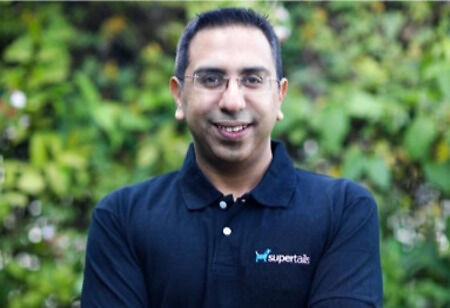 Varun Sadana, Co-founder, Supertails, 0
Bringing a pet home is an emotional decision. When we talk about pet parenthood, we always say that this is one decision that has the potential of changing one's life. The petcare industry in India has been on a stellar growth path in recent years, with a 28.11 percent growth in 2020. As a petcare brand, we see this rising demand everyday when we interact with our community of pet parents, largely made of GenZ and millennials.
The Market Breakdown
Clearly, this shows that there is a huge opportunity driving growth in this segment. India now has a pet population of 32 million, with a growth rate of 12percent annually. This brings us on the cusp of a breakthrough that, if managed well, can take the Indian petcare industry to global heights.
A large part of this market opportunity is currently fragmented. The packaged food penetration in India is less than seven percent, as compared to the 70 percent availability in the US and Europe market. The current organized market accounts for less than 20percent space against the total opportunity size. This gap can be further magnified as India accounts for only 100-120 pet food brands whereas the established markets have more than 700 brands in the sector.
Interestingly, the penetration of the industry, or the lack thereof, acutely affects the lifespan of the pet. It has been observed that in western countries dogs enjoy a 25-30 percent longer average life span as compared to the dogs in India. Even though there is a large gap that needs to be bridged in the industry, with the upcoming trends and rising awareness around pet care, it is estimated that in the next 5-10 years a large organised market will be created.
Likewise, US healthcare offers a comparatively balanced proportion of one veterinarian per 1500 pet households, which in India has a distribution of 1 veterinary for every 5000-6000 pet households.
The Pet-Friendliness of India
The disparity we talked about earlier can also be observed in the ease of regulations. Unlike in countries like the US and Singapore, where there are proper laws for pet care in place, in India, there is no separate regulation for pets. Unfortunately, all rules that apply to domestic pets come under the livestock regulations, limiting the rights and care that we offer them as a country.
Beyond the regulations, currently India does not even allow the entry of pets in public places like malls, parks and many a time have restricted their entry even in gated communities. We know that even travelling with a pet within a city becomes a challenge for pet parents who don't have a vehicle of their own because hailing cabs with pets is not that easy.
As petcare providers, there is a gap to be filled within the
accessibility segment as well.
GenZ - the Driver of Change
I personally very interested in the GenZ and millennial generation - they're tech savvy, conscious of where they get their information from, vocal about issues they relate to, and when it comes to being pet parents, ready to spend on their little ones for quality supplies. Above all, they understand the value of belonging, of being a part of a community of people who have similar challenges. What the generation needs most is a convenient platform for supplies, trustworthy and accessible pet care, and a space where they can share their experiences and feel represented. A super exciting challenge for any brand in this space today.
Young people make up for a large part of new pet parents in the country, driving the change that is coming in the sector. With access to credible information and the rising awareness of health and wellbeing, this generation has become sensitive to nutrition and its impact on their lifestyles. We've all seen a rise in protein-rich diets, gummy supplements, and superfoods. This is definitely driving the choices pet parents from this generation make for their pets. We're seeing a rising demand for premium ingredients, exotic proteins, natural and organic food. As this nascent industry in the country finds its footing, food and healthcare will remain the topmost priority for pet parents.
In order to ensure bolstering of the pet care industry in India, it is important to eradicate the existing resistances and bring about improvement in the pet care environment effectively
Beyond Food
Having said that, there are a few other verticals that indicate a growth in sectors beyond a pet's diet. Pet parents today are showing a considerable inclination towards professional grooming services, health consultations, and training facilities to keep track and monitor the proper growth of the pets. At Supertails, we strongly believe that pet training is an essential service and not an optional one, in a similar manner as schools are critical for the upbringing of human kids. It is currently one of the most underrated needs of a pet parent in the country. If you look at countries like Singapore, pet training is mandatory, as it rightly should be. At this point Supertails is the only digital platform to come up with a pet training service in India, where we train the pet parent to train the pet. With our online vet care service, online dog training is getting overwhelmingly positive responses, confirming the need for this kind of support for pet parents.
In order to ensure bolstering of the pet care industry in India, it is important to eradicate the existing resistances and bring about improvement in the pet care environment effectively. This has to be initiated by educating the pet parents, which will further amplify aggressive commerce in the segment. It will create an opportunity for the emergence of various pet care brands in the Indian market. This category is under-served currently, so the more players enter this space, the sooner we'll get to becoming a pet friendly country.